Expectations will be met and shattered in a visit to this richly diverse island nation. Cuba's story unfolds through its food, flora and fauna, and most of all, its people.
---
C
uba was everything and nothing that I'd imagined.
On my first trip in March, with my daughter, Madeline, I expected remarkable art and architecture, cigars and rum, faded '50s-era casinos and T-shirts bearing the likeness of revolutionary Che Guevara. I immediately began looking for evidence of defections and détente, of clamp-downs and compassion.
We found all of it — on the cobblestone streets and back alleys of Havana, in the Museo Nacional de Bellas Artes and in the Museo de la Revolución, in private restaurants and tobacco farms.
We also found it in the stories told by the people we met, including a tour guide who was contemptuous of the current regime and a museum docent who told us the Cuban Revolution had led to her emancipation from colonial society.
But many of our experiences bore no relationship to our expectations: Tourists, including swarms of Americans, were everywhere. Restaurants that cater to those tourists frequently doubled as galleries, some with remarkable paintings and sculptures. The rituals of Santería are not merely the stuff of pop culture, as we discovered when we walked down a short strip of street known formally as Callejón de Hamel, with its series of shrines and galleries and murals devoted to the Afro-Cuban religion that combines Yoruba and Catholic beliefs.
When we were planning the trip, we didn't take geography into consideration. Cuba is a Caribbean island, which means beaches and palm trees and tropical fruit, right? But the terrain is richly diverse: Parts of western Cuba — the postcard-worthy mountains and valleys of rural Pinar del Río province two hours west of Havana — resemble a Chinese landscape painting. And nothing prepared us for the contrast of apartments on the verge of ruin next to seemingly well-preserved buildings slathered in Wedgwood blue or pastel paint.
Cuba's story unfolded through its food, its flora and fauna and, of course, its people we encountered in restaurants, hotel lobbies, at the airport, in bars and on the street. They introduced us to the art of hand-rolling cigars, 12-year-old rum and orchids the size of salad plates. They were curious. Welcoming. And voluble.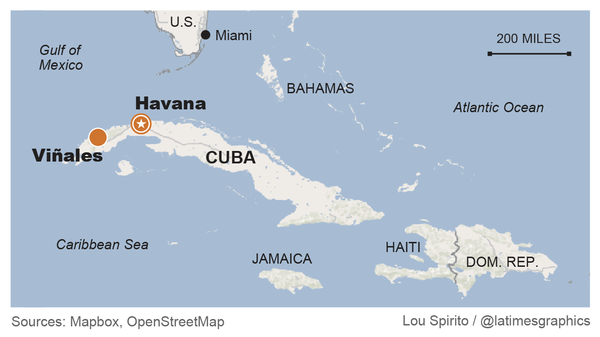 That included our guide for 5 1/2 days, our constant companion who greeted us each day with great enthusiasm, even though he undoubtedly had squired tourists through Meyer Lansky's Hotel Habana Riviera and the Plaza de la Revolución dozens of times. He shared his life story and his opinion of Fidel Castro and his love of '80s pop music. When he dropped us off at Jose Martí airport, he embraced us like longtime friends and shared his email address.
Then he added, "You can quote me, but please don't use my name."
His Cuba, and the Cuba we experienced, remains a beautiful mess: welcoming and beguiling and ravaged by years of neglect. It's a real-time current events course, where change seems certain — but the outcome never is.
---
Dining in Cuba: At least we'll remember the lemon tart and the peacock floor show
If you consider yourself a foodie in any way, know this: If you travel to Cuba, be prepared for a squash fest. At every lunch and dinner, we were offered pumpkin soup or cooked butternut squash or squash stew. It was rarely bad but never great, which was true of much of the food we consumed.
Fruit and vegetables were harvested before their time, fish and meat often overcooked. Cuba doesn't have the agriculture, the infrastructure or the economy to support anything resembling the flatbreads, house-cured pastrami and vinegared cauliflower that we've come to expect in Venice or Los Feliz or DTLA. That said, there was something noteworthy or intriguing every time we lifted a fork.
My daughter, Madeline, and I sat down for our first meal in Havana, lunch, at the Hotel Nacional de Cuba, once a prime destination for Americans and Europeans with the means to embrace the luxe life. It opened in 1930; several years later, a shiny new casino was opened under the auspices of mobster Meyer Lansky.
Celebrity photos attest to the once-glamorous clientele, and although travel guides are not universally kind to the Nacional, the fading elegance of its public spaces is irresistible.
It's still a busy hotel, and one of its greatest charms is La Barraca, an open-air restaurant where our table was quickly covered with dishes including the ubiquitous salad with shredded cabbage and tomatoes, chicken, squash, rice and beans, and bread. In truth, they could have served us anything and we would have been happy.
The restaurant has lovely views of Havana Harbor, the mojitos flowed throughout the meal, and every few minutes a male peacock popped up in the hotel gardens, practicing his come-hither screech.
We ventured out of Old Havana twice to visit organic gardens affiliated with restaurants. Lunch one day was at the Finca Agroecológica el Paraíso, in a photogenic valley on the outskirts of Viñales, a town about two hours west of Havana.
Our meal started with an impressive view of the limestone mountains and an "anti-stress" cocktail (rum was optional, but other patrons must have been at wits' end because they all opted in — several times). It continued with dish after dish: taro chips stuffed with ground beef, squash soup, greens and carrots, chicken, lamb, pork and rice and beans.
Many of our fellow diners looked ready for a lie-down after the two-hour meal, but we revived ourselves with a walk through Viñales, whose main street is lined with tiny homes painted in shout-out shades of turquoise, apricot and lime.
Two dinners in Havana were standouts: On the fourth night of the trip, Madeline and I cabbed it to Atelier, a rooftop restaurant (with indoor seating as well) in the Vedado neighborhood, home to street after street of beautiful apartment buildings and old mansions.
The waiters were young and hipsterish (and thankfully, none was compelled to discuss the provenance of the chicken and beef we ordered). The cocktails were sincere (that is to say, strong), and the entrees were well prepared.
On our last night in Havana, we had reservations at La Guarida, a restaurant on the top floor of a crumbling mansion that was featured in the 1993 film "Strawberry and Chocolate."
To reach our destination, we walked into a once-grand entry and up flights of dimly lighted stairs, all the while staring at the dilapidation.
A visitor might have concluded that the structure was held together with baling wire and a little scaffolding, but worries about building codes faded during our two hours of savory, spicy and sweet. The fish was perfectly cooked, the gazpacho had the right balance of oil and vinegar, and the deconstructed lemon tart could hold its own in any restaurant on Abbot Kinney.
Wherever we dined, the people who led us to our seats, took orders and filled our glasses were extraordinarily polite and sometimes friendly. Most of them spoke English — and several other languages.
Restaurant prices are modest to moderate by L.A. standards — $15 to $50 per person for multi-course meals. And business was brisk at many of the restaurants we visited; we overheard patrons speaking French and German as well as Australian-accented English.
What was missing? Cubans (with the exception of guides and drivers). Our driver, an attractive young woman with whom we dined on several occasions, looked at us pointedly one day after lunch and explained that she had never been in any of these restaurants, with an emphasis on the "never."
---
Venture out for a look at what's growing: orchids, veggies, tobacco
Cuba has more than 3,000 species of plants unique to the island, but it's unlikely that horticulture will come to mind while exploring the streets of Old Havana.
When my daughter, Madeline, and I left that neighborhood, we encountered a little more green — magnificent banyan trees near the University of Havana and the lush landscaping that surrounds some of the embassies in the Miramar neighborhood.
One day we drove to Viñales, two hours west of Havana, where we finally were surrounded by sights often associated with the Caribbean. The landscape started to look verdant and at times out of control. Flowering plants popped up everywhere: Bougainvillea spilled in front of tiny homes, and red-blossomed vines snaked around palm trees.
Our first stop was the Soroa Orchid Garden, which is maintained by the University of Pinar del Río, part of a larger park and botanical garden and home to hundreds of varieties — cymbidium orchids, tiger lily orchids and cattleya white orchids among them — about 30 of which are housed in a small building at the entrance. I could have spent an entire day in that structure, but we had a schedule to keep and a tobacco farm to visit.
About 20 minutes later, we stopped at a private tobacco farm where young men, stooped over in the fields, were harvesting, by hand, the second crop of the season. Tobacco is one of the mainstays of the country's economy and a major moneymaking crop, thanks to worldwide fascination with Cuban cigars. Manufacturers produce tens of millions of cigars each year, and a few of them ended up in our suitcases.
We dutifully inspected the leaves of a mature plant and the drying barns where the first crop, brown and wrinkled, awaited the rolling process. The farm seemed relatively prosperous, with its well maintained buildings and nonagenarian owner observing visitors from a rocking chair, but its homespun charms couldn't compete with the exotica of the orchids.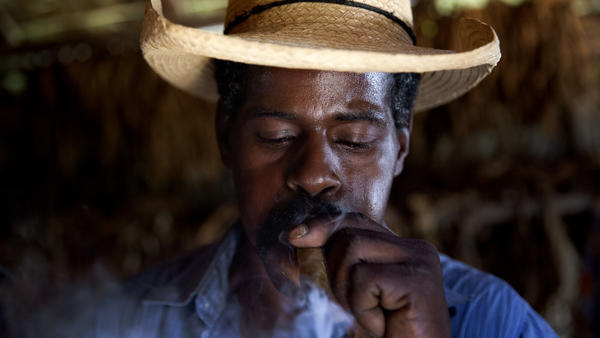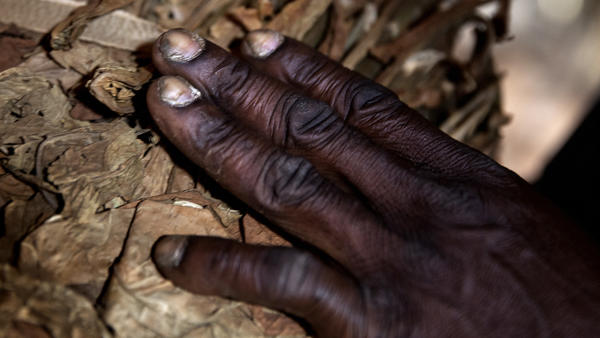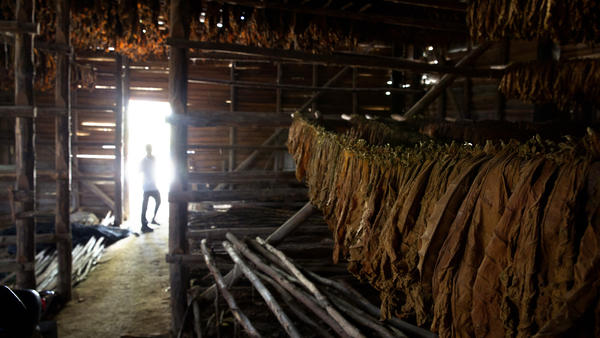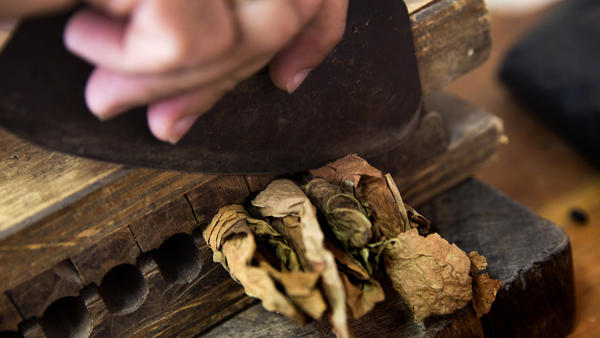 Yovanni Gavilan blows smoke after rolling a cigar at a Pinar del Rio tobacco farm. Top right, he rolls out tobacco leaves as he prepares a cigar. Bottom, tobacco leaves dry inside one of Marcelo Montecino Jr.'s tobacco sheds on his farm in Cuba's Pinar del Rio province. Bottom right, a man cuts the ends off freshly rolled cigars during a demonstration for tourists in Havana.
The next day, we stopped at Finca la Yoandra, an organic garden about 25 minutes west of Old Havana and an example of Cuba's urban agriculture movement, which according to a 2014 report in the Guardian newspaper supplies about "70 percent of the fruits and vegetables consumed in cities such as Havana and Santa Clara."
The two-acre garden is attached to an Italian restaurant called Il Divino, a popular stop for tour buses and groups. The well tended garden, including a lime tree with fruit the size of a marble and row after row of vegetables, was a peaceful respite from our nonstop learning.
---
Working animals, few pets
More than half of Cuba's diverse animal life is endemic to the island. Before arriving here in late March, I had read about bee hummingbirds, butterfly bats and good-sized tree frogs. But what I really was on the lookout for was domestic animals — pets — especially in the city.
A steady parade of dogs and their walkers enlivens any metropolis, but we saw just a smattering of canines on our rambles around Havana. Many appeared to be strays whose scars and limps testified to a hard life. Although Cuba has several pure-breed dog clubs, pets are a luxury, we were told.
Out in the country, we saw a greater array of animals, domestic and otherwise, on the farms we visited. At a tobacco farm, where we stopped on our way to Viñales, the outside wall of a barn was lined with cages housing songbirds, parrots and doves. Chickens were common in the countryside, although our guide joked — quietly — that locals could buy only the legs because the breasts were saved for tourist spots.
Larger farm animals — cows, horses, oxen — were evident on the drive to Viñales, most of them tethered rather than penned. Horses, used for touristic transport in the city, pulled carts on dusty roads in the country — and had nothing to do with photo ops. We spotted water buffalo, which, we were told, were sometimes used for plowing.
But where, you may be wondering, were the cats, a staple of urban and rural life? At Finca la Yoandra, an organic garden outside Old Havana, we watched a glossy black feline sitting on a shelf, preening and waiting for attention. During our 5 /2 days, we spotted just two other cats — flea-bitten specimens that looked as though they might have just days to live.
When I asked our guide about the paucity of cats, he gently reminded us that the early '90s were lean times in Cuba. Then he changed the subject.
Twitter: @aliceshort3
Captions:
Top: A view of the skyline toward Habana Vieja from the rooftop bar of La Guarida restaurant in central Havana.
Bottom: Fisherman stand on a seawall along the Malecón in Havana.