Masked assailants armed with assault rifles opened fire on a holiday banquet for county employees in San Bernardino on Wednesday, killing 14 people and plunging a nation already on edge about terrorism and mass shootings into hours of tense uncertainty.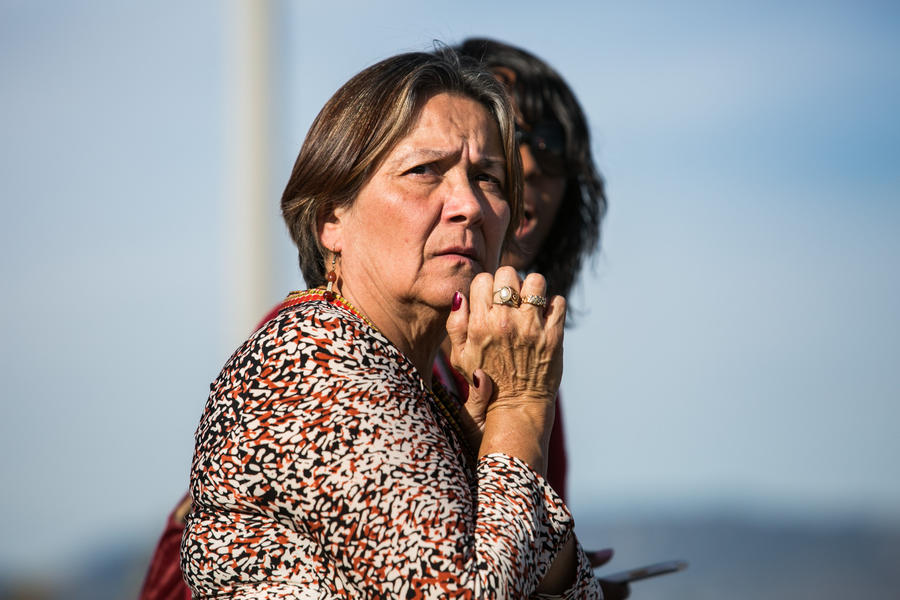 The massacre at the Inland Regional Center set off a surreal day in which hundreds cowered in their offices, schools went on lockdown, SWAT teams swarmed neighborhoods and a four-hour manhunt played out on live TV. The finale was a gun battle on a residential street that left two suspects dead.
San Bernardino Police Chief Jarrod Burguan said investigators had not determined a motive for the shooting, in which 17 people were wounded. But an official at the FBI, which is working with local agencies, said he could not rule out terrorism as a motive.
"It is a possibility, but we don't know that yet, and we aren't willing to go down that road yet," said David Bowdich, assistant director in charge of the FBI's Los Angeles office.
Authorities identified the dead suspects as Syed Rizwan Farook, 28, and Tashfeen Malik, 27. A family member said they had been married for two years and had a 6-month-old daughter.
Farook was a U.S. citizen, born in Illinois, and a five-year employee of the government agency holding the holiday banquet. His co-workers said Farook, a Muslim, had traveled in recent years to the Middle East.
Burguan said he could not rule out that a personal conflict led to the shooting. During the banquet, "there was some type of dispute," and Farook left the gathering angrily, the chief said, and he returned with his wife and they opened fire.
Law enforcement officials said they recovered four firearms, at least two of which were legally purchased.
Farook worked for the San Bernardino County Public Health Department as a health inspector, according to public records and co-workers. One co-worker, Patrick Baccari, told The Times that Farook was present when the banquet began but disappeared before a staff photo was taken.
Live updates: Investigating the San Bernardino mass shooting
"I guess he's missing the photo this year," Baccari recalled thinking.
By the time scores of officers arrived at the shooting scene, the assailants had fled. Witnesses said they left in a black SUV. Another tip led police to a home in nearby Redlands. As officers arrived about 3 p.m., a black SUV drove away.
Officers pursued the vehicle to San Bernardino, where it stopped on San Bernardino Avenue near Mountain View Street. A gun battle between the suspects and about 20 officers ended with the couple dead and an officer wounded. The officer's injuries were not considered life-threatening.
Farook and Malik were dressed in what the chief called "assault-style clothing," and both were armed with assault rifles and handguns.
Police saw a third person running from the area and detained him for questioning, Burguan said. He said it was unclear whether he was involved in the shooting.
Investigators said they were concerned about possible explosives or booby traps at the Redlands home and near the SUV. An object hurled from the vehicle was initially believed to have been a pipe bomb, but on closer inspection it was not, Burguan said.
The FBI's Bowdich said investigators searching the Redlands home were also on guard for explosives.
"We are certainly going to proceed very cautiously into that house to preserve life and limb of our employees."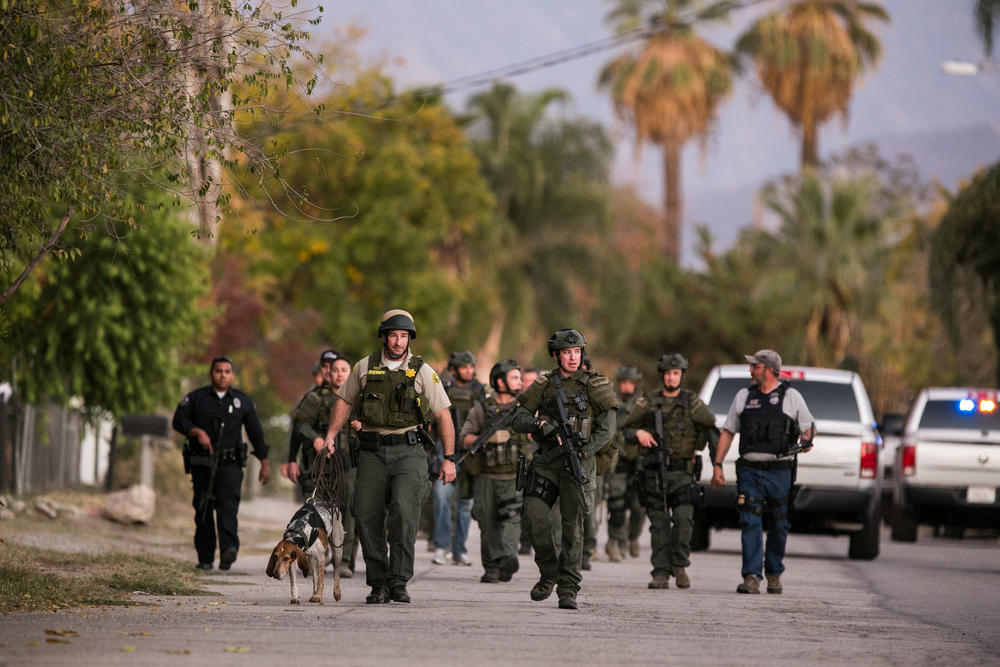 The shooting Wednesday was a grim marker: It was the deadliest mass shooting since the massacre of 20 children and six teachers at Sandy Hook Elementary School in Newtown, Conn., in 2012. It stood apart from many other mass murders in that there were at least two assailants and one was female.
President Obama said the killings were yet more evidence of the need for stricter gun laws.
"The one thing we do know is that we have a pattern now of mass shootings in this country that has no parallel anywhere else in the world," he said in an interview with CBS.
Late Wednesday, Farhan Khan, introduced as Farook's brother-in-law, appeared at a news conference called by the L.A.-area office of the Council on American-Islamic Relations.
"I just cannot express how sad I am for what happened," Khan said. "My condolences to the people who lost their lives. … I am in shock that something like this could happen."
When asked if his brother-in-law had been religious, he declined to comment.
The shooting began at about 11 a.m. in a building on the campus of the Inland Regional Center, a nonprofit that serves people with developmental disabilities in Riverside and San Bernardino counties.
The county public health department had rented a large conference room for its annual holiday potluck. Employees were gathered for lunch when suddenly the doors burst open.
Banquet attendee Denise Peraza, 27, said two people in black clothes and black masks entered brandishing "big ol' guns."
"Everyone dropped to the floor," Peraza said in a phone call from Arrowhead Regional Medical Center. "The guys opened fire for 30 seconds, randomly, then paused to reload and began firing again."
Peraza, who was hiding under a desk, was hit in the lower back. The gunfire eventually stopped. The conference room, scattered with the bodies of the dead and injured, was eerily silent, Peraza said. Then, after what seemed like five minutes, the doors opened again and police officers yelled out: "Anyone who can move, leave immediately and find cover behind vehicles."
Seventeen people were wounded and taken to area hospitals, authorities said. Some were reported to be undergoing surgery Wednesday night.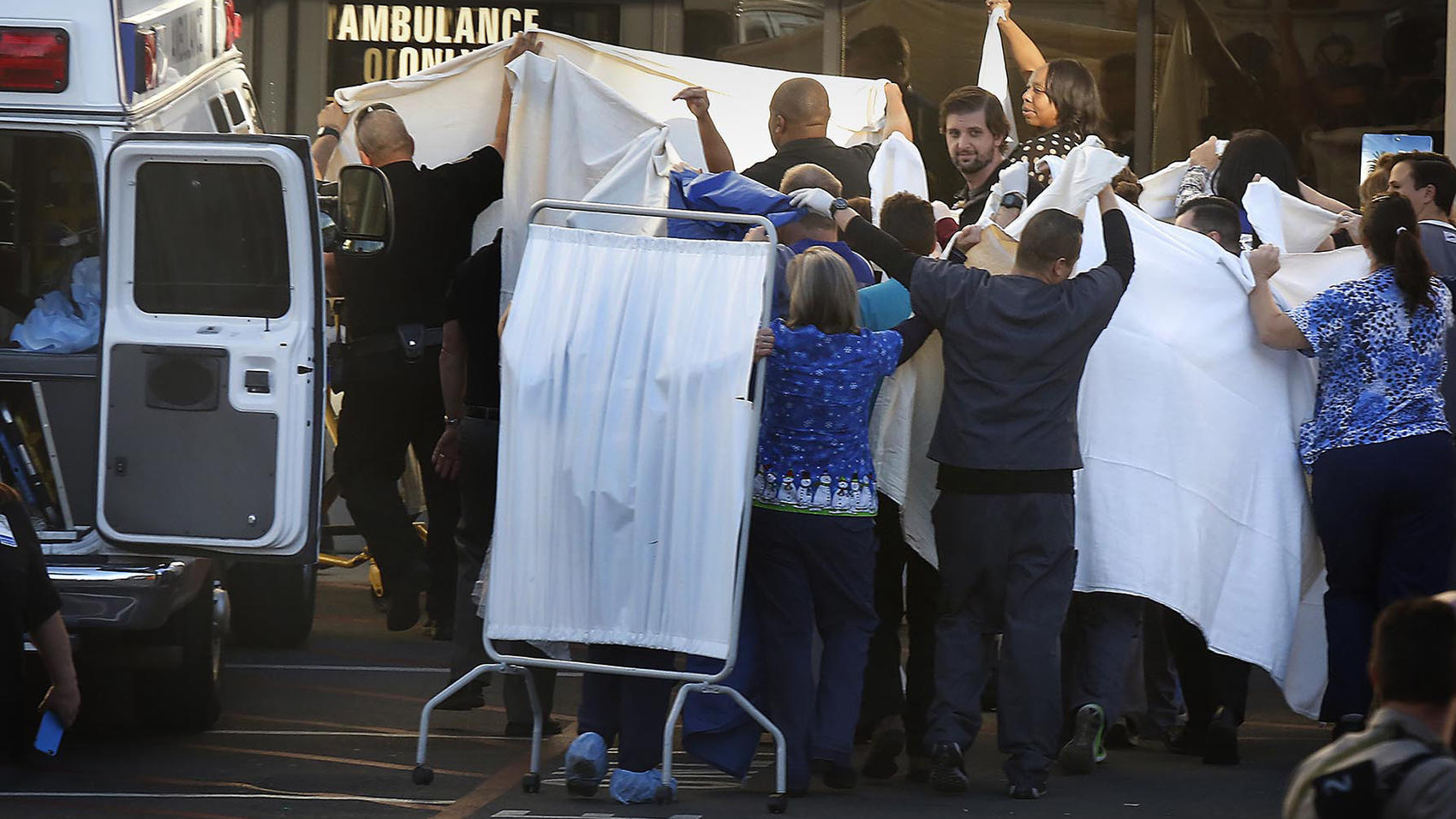 While stunned survivors rushed from the conference room, others in the building were laughing at what they assumed was yet another safety drill. In her second-story office, Dorothy Vong trained her cellphone camera on a swarm of heavily armed police officers sprinting across parking lots and vaulting hedges.
"They're all geared up!" a colleague remarked, according to Vong's video. "Rifles and everything!"
Then the reality set in.
"Well it's real," Vong texted her husband, adding later, "We're in a locked office."
The shooting rippled across San Bernardino. All county schools, as well as city government buildings and courthouses, were locked down as police searched for the assailants.
Hundreds of people on the campus grounds at the time of the attack were evacuated in stages, some on school buses to sites where they were interviewed by police and reunited with anxious relatives.
As night fell, some family members were still waiting for news. Mindy Velasco called hospitals, police, evacuee centers, looking for anyone who might have information about her niece, Yvette Velasco, who was at the banquet.
No one knew anything.
"I'm fearing the worst," Velasco said, her voice breaking. "She would definitely be in contact after something like this."
---