An endless war between water and rock continues to remake this place. During monsoon season in the Southwest, rainwater pours into the alluring sandstone canyons. Trickles quickly turn into torrents.
Keyhole Canyon was formed thousands of years ago by that dynamic, its steep walls carved and re-carved by sporadic bursts of rushing water. Even when the weather is scorching above, cold pools line the bottom. They are reminders of violent rains and floods. People nonetheless flock this time of year to rappel down into the canyon. They squeeze through the skinny parts and wade in the murky water.
The group of seven hikers — six from California — had been planning their descent into the canyon for months. Several had extensive hiking experience. All but one took a five-hour canyoneering class offered by the local Zion Adventure Company on Monday morning.
While three men and three women started the class, another man in their group went down the road to the park visitors center and bought a $15 permit to descend into Keyhole that day.
All of them in their 50s, many had met through the Valencia Hiking Crew, a Meetup.com group that organizes outings ranging from strolls through downtown Los Angeles to long hikes in Joshua Tree National Park.
"We are not a beginner hiking group," Don Teichner, one of the club's founders, emphasized on Meetup.com. "A small amount of danger or risk, while still being safe, can also add to a hike's enjoyment."
After the class, the group made its way to Keyhole, regarded as one of the park's most accessible "slot" canyons.
Wearing wetsuits to ward off the cold water and smiling beneath their helmets, they posed for a photograph in the middle of their descent through Keyhole on Monday afternoon.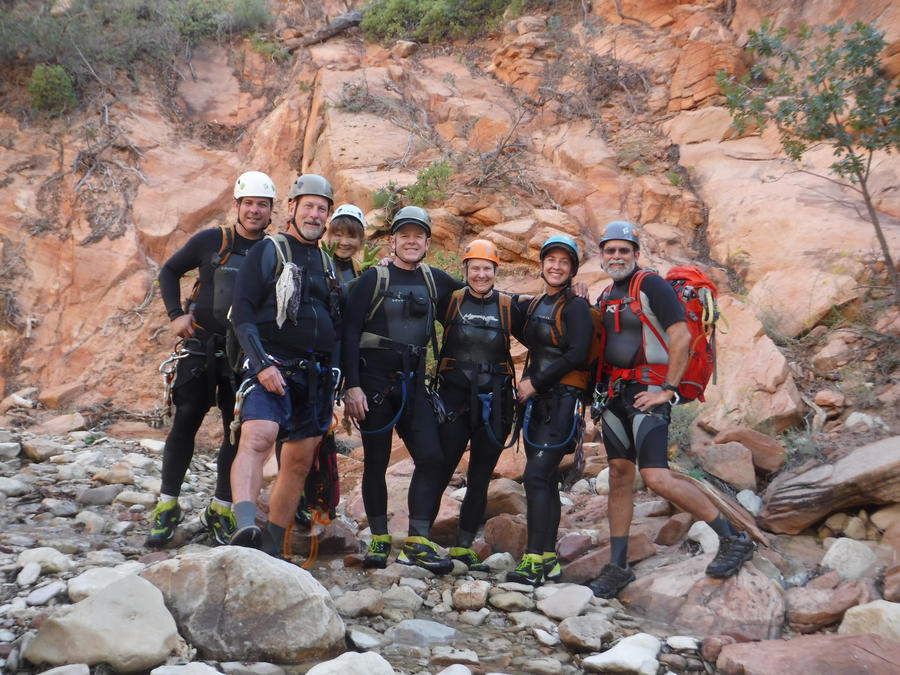 Teichner, who moved from Southern California to Nevada in the spring, stood in the foreground, his right foot straddling a boulder, a gregarious explorer with tree-trunk quads and a bit of a belly. Steve and Linda Arthur, grandparents of seven, wrapped arms with Robin Brum, a hairstylist from their hometown, Camarillo.
Muku Reynolds, who often looked for heart-shaped rocks on her hikes, peeked from behind. Gary Favela, an experienced camper, hiker and skier from Rancho Cucamonga, leaned in on the left. Mark MacKenzie, saddled with a bright red pack, framed them on the right.
It was a picture of ease — of warmth and unpretentiousness — as they prepared to go deeper into the canyon.
"They're just so happy. They weren't scared," said the Arthurs' daughter, Allison Bottcher.
---
The canyon depths of the Colorado Plateau were explored by the Anasazi people for centuries, but canyoneering as a modern sport began in the 1970s. That is when pioneers such as Dennis Turville began making "first descents" — maiden treks into previously unexplored slot canyons, armed with ropes and wetsuits.
Turville and a friend made the first descent into Keyhole Canyon in August 1979, describing it as "a small, inconsequential canyon."
Still, Turville always advises against making descents in large groups and late in the day — too much risk, particularly when the weather changes quickly.
History books describe entire pioneer communities in the area being wiped out by flash floods.
In September 1961, four teenage Boy Scouts and their scoutmaster were killed while exploring slot canyons in the nearby Narrows section of Zion. In 1997, 11 hikers died about 100 miles east, near Page, Ariz., when a storm flooded a canyon.
Despite the risks, canyoneering has been increasing in popularity.
"Maybe 20 years ago, there were 20 climbers at one time in Zion National Park on a given day and 20 canyoneers," said Bo Beck, a longtime search-and-rescue volunteer with the National Park Service. "Now, on a given day, there are 400 canyoneers and the same 20 climbers."
The increase has forced federal agencies to reevaluate how the terrain is managed. Concern has grown over safety and environmental impact.
"We weren't looking in these canyons before," Beck said. "Now, we're seeing hundreds of people go through, drilling in bolts, leaving anchors attached to trees.
"Are they polluting those canyons?" Beck asked. "Are there too many people destroying the experience, which is supposed to be a pristine backcountry experience, and all of a sudden it's like Disneyland?"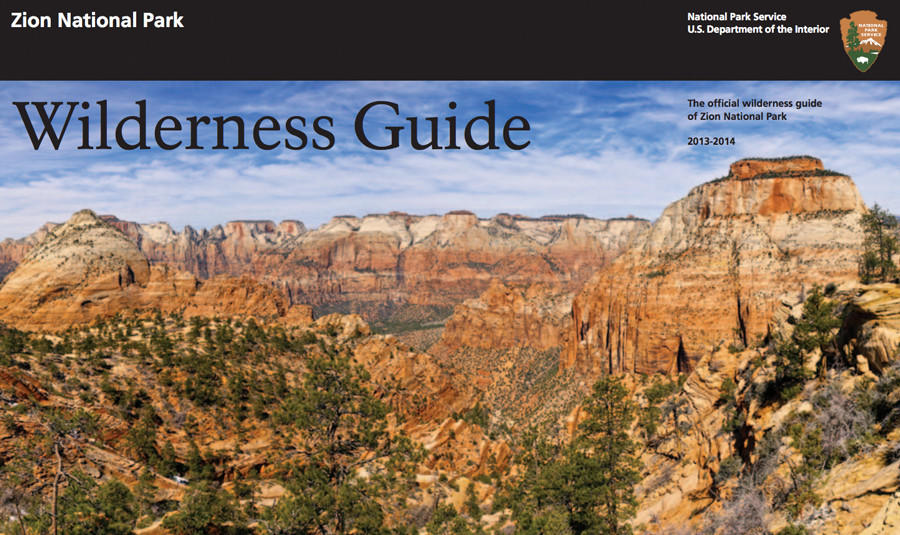 They keep coming because it is not Disneyland. Many describe it as beguiling.
Canyoneering is "a descent into the inner world," conservationist and writer Terry Tempest Williams said in an email. "It offers us a walk through time where canyon walls rise upward like praying hands. The desert is both beauty and terror, never to be underestimated, always to be respected. We live by wild mercy."
---
Shortly before 3 a.m. Monday, the National Weather Service in Salt Lake City updated its forecast for the Zion area: 40% chance of precipitation, with the possibility of heavy thunderstorms that afternoon. It also revised upward the risk of flash flooding — raising it to moderate, the second-highest level. It specifically noted the potential for flash flooding in slot canyons.
Less than an hour after the California group received a permit to Keyhole, the weather service raised the chance of rain to 50%.
At the Zion visitor center, a ranger wrote on a cardboard sign near the wilderness desk that flash flooding that day was "probable." Rangers also informed people verbally when they sought permits. At least one other group also planned to visit the canyon.
At 12:53 p.m., MacKenzie texted his family with a photo showing blue skies and puffy white clouds on the horizon. "Eating lunch, this is my view," he wrote. "Maybe Keyhole this afternoon."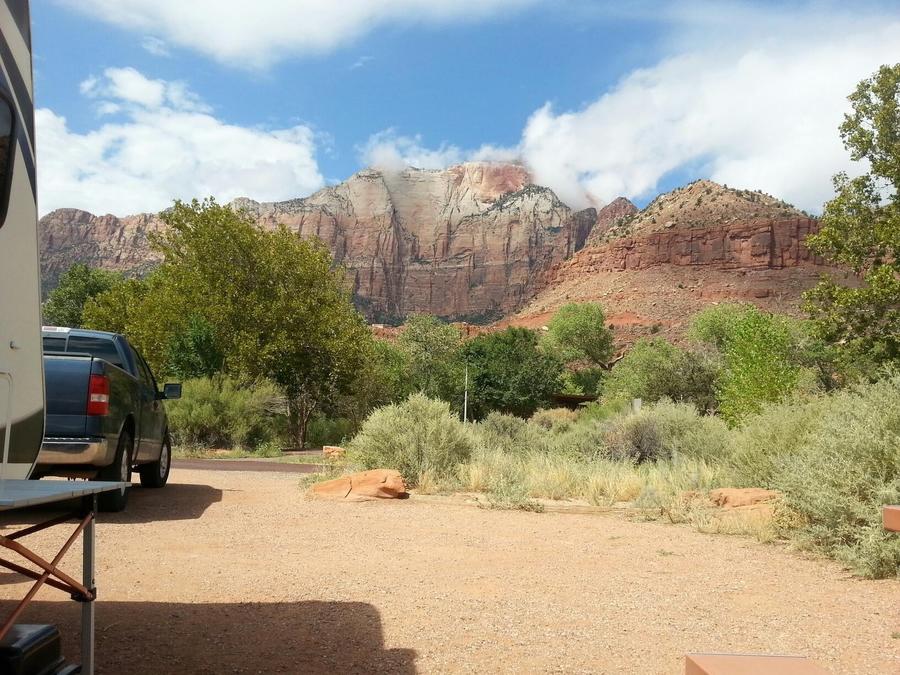 MacKenzie's sons believed his "maybe" was a sign their father was keeping an eye on the weather.
Around 1 p.m., someone in the Keyhole hiking group phoned a family member to ask about the weather forecast, according to Bottcher. At that point, she said, there was still only a chance of rain.
Clearly, she said, "they were being extra cautious and taking every precaution they could."
About 2 p.m., as they drove into the park toward the canyon, they would have lost their cellphone coverage, Bottcher said.
Twenty minutes later, the weather service issued a flash flood warning for southeast Zion, the area that includes Keyhole. "MOVE TO HIGHER GROUND NOW," the service forecasters wrote with their typical uppercase intensity. "ACT QUICKLY TO PROTECT YOUR LIFE."
Forecasters in Salt Lake City say an initial band of weather moved north through the area around 2:30 or a bit later.
A second, bigger band would come about two hours later. Rain streaked sideways. Drivers on highways to the north saw dark gray looming over the southern part of Zion.
"One of the challenges we face in terms of messaging in situations like this is they don't get the warning at 3 or 4 in the afternoon, when they're out of cell coverage," said Randy Graham, the meteorologist in charge of the weather service office. "They may already be in harm's way at that point. That was certainly the case here, because the flood didn't occur until between 4:30 and 5 o'clock."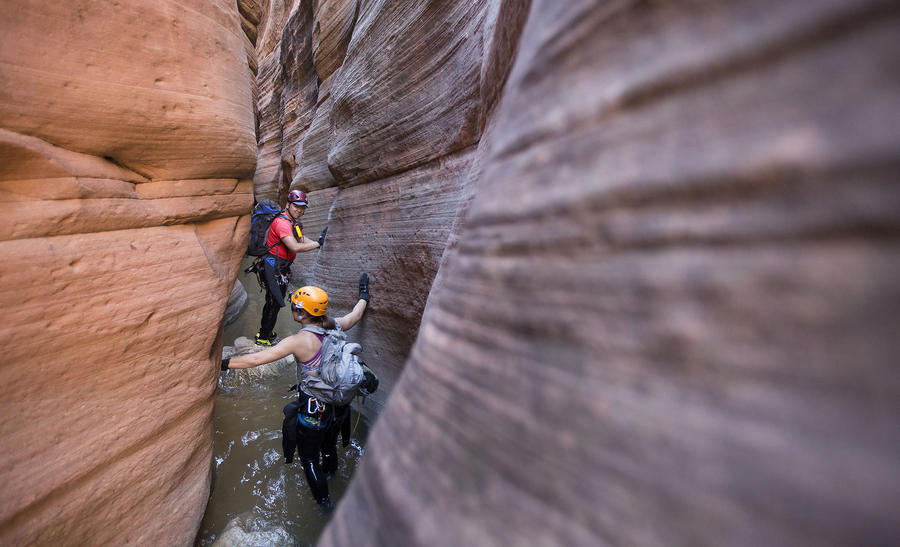 A group of three climbers who started later passed the California group in Keyhole Canyon. After the rain began, they tracked down rangers and told them about the slower group behind them. They worried they had been caught by the weather.
In good conditions, the first part of Keyhole can be escaped by scrambling up rock faces or leaving the canyon at an opening near the midway point. But after the route descends deeper — requiring hikers to rappel — there is no turning back until the canyon opens up near Clear Creek and Highway 9.
David Eaker, a park spokesman, said the group shared a single rope. "With a larger group and you're sharing a rope, to do that canyon it's going to take more time," he said.
It took too much time.
---
Steve Arthur's body was the first that rescue workers found, nearly 24 hours after he and the other members of the group entered Keyhole. Two more days passed before they found the body of his wife, Linda, the last of the seven recovered. All were found in separate places downstream.
No one was left to tell the story of what exactly happened.
Employees at Zion Adventure Co. said they had given the hikers specific suggestions for navigating the Subway canyon, not Keyhole, though the technical instruction for both routes would have been the same. The workers were shocked.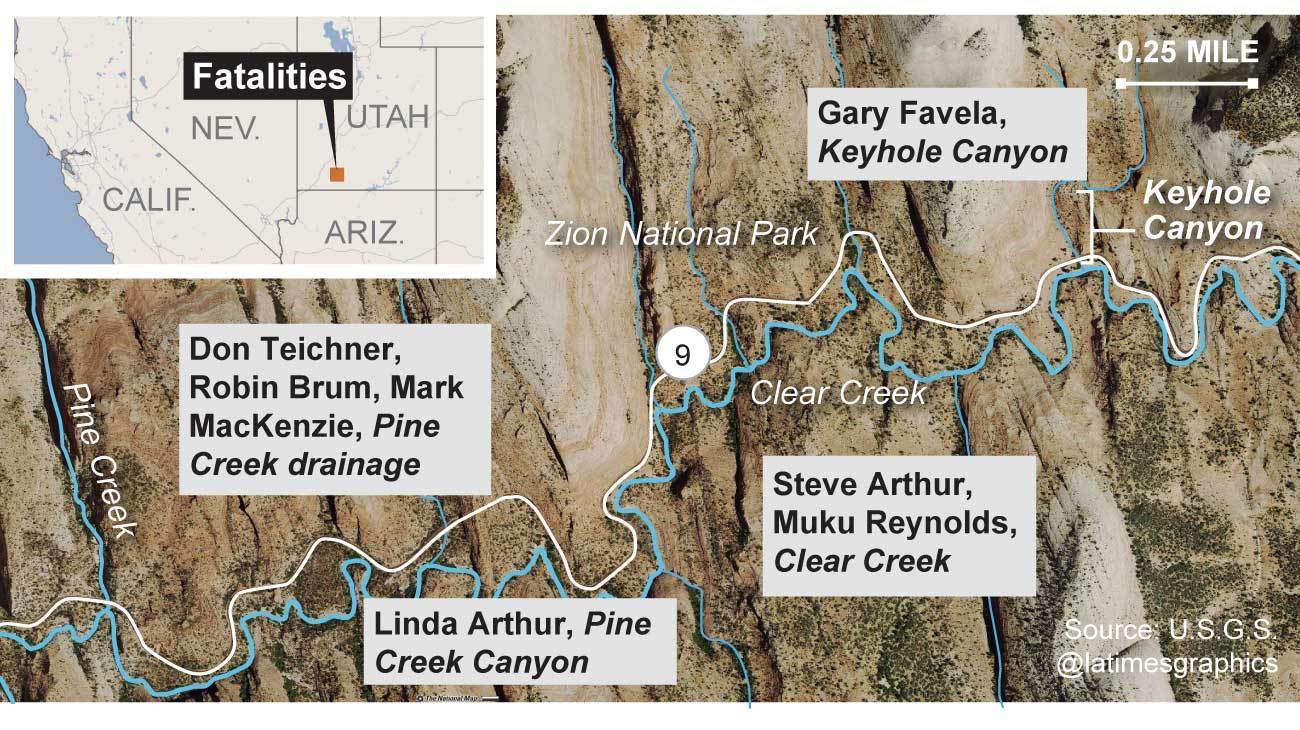 "We've never had a death," said Bill Dunn, the company's outfitting manager. "We've had injuries. Most have been small — bumps and bruises, cuts. We have been here for 19 years."
The same storm also stunned an isolated Mormon fundamentalist community about 20 miles to the south.
Three adults and nine children were killed when floodwaters rushed out of a canyon outside Hildale. Another child is still missing. It was one of the deadliest days of weather in Utah's history.
Family members said the hikers who died were experienced and cautious.
"This wasn't a reckless group. These were parents and grandparents and people who had loved ones at home.… They cared about the wilderness, and they know how powerful it can be," said Bottcher, who hopes the National Park Service will do more to warn hikers.
"There is no way they would have gone in there if they had any thought in their mind it could be dangerous," she said. "There's just no way. They wouldn't have done it."
MacKenzie's sons saw it as bad luck and bad timing. Ryan MacKenzie had hiked Keyhole Canyon at least five times before and regarded it as a beginner's canyon.
"Pretty much if they started the canyon half an hour before or half an hour later," he said, "there's a good chance they would have been fine."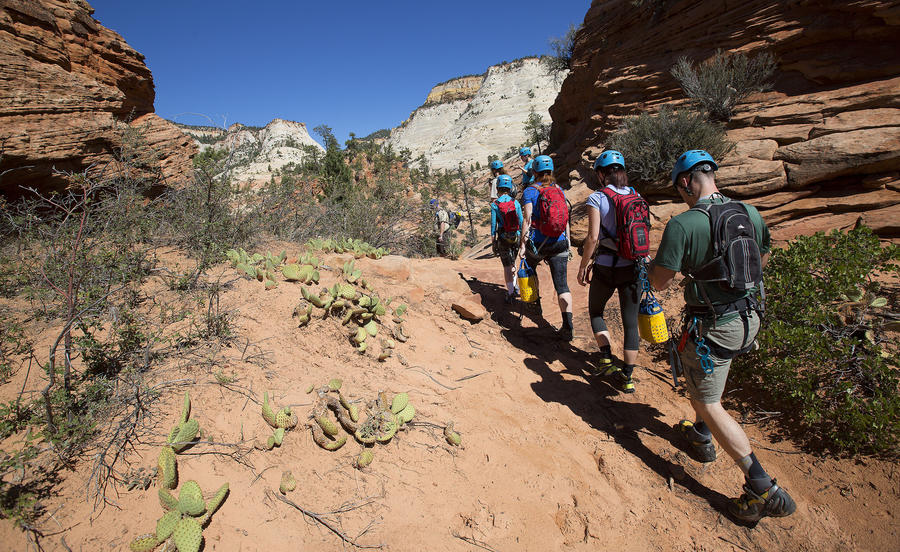 ---