Watch Obama's speech: 'The threat from terrorism is real but we will overcome it'
President Obama, talking to the nation from the Oval Office tonight, called the deaths of 14 people at the hands of Syed Rizran Farook and his wife Tashfeen Malik "an act of terrorism designed to kill innocent people."
[Watch video below]
Obama, making just his third Oval Office address, said the married couple "had gone down the dark path of radicalization, embracing a perverted interpretation of Islam." He stressed that officials are still investigating the attack but there was not yet any evidence they were part of a larger terrorist organization.
In the speech that began shortly after 5 p.m. PST and lasted about 13 minutes, Obama called on the nation to remember that "freedom is more powerful than fear."
Shooting updates: Get the latest on the investigation and aftermath >>

He laid out developments in terrorist attacks on U.S. soil that have many Americans concerned.
"As we've become better at preventing complex multifaceted attacks like 9/11, terrorists turn to less complicated acts of violence like the mass shootings that are all too common in our society," Obama said, citing Ft. Hood, Chattanooga, Tenn. and San Bernardino.
"Since the day I took this office, I've authorized U.S. forces to take out terrorists abroad precisely because I know how real the danger is," he said. "As a father to two daughters who are the most precious part of my life, I know that we see ourselves with friends and co-workers at a holiday party like the one in San Bernardino. I know we see our kids in faces of the young people killed in Paris."
"The threat from terrorism is real but we will overcome it," he said.
The president pledged that the U.S. will hunt down terrorists "in any country it is necessary," as, he noted, the country already has done with Osama bin Laden and other known terrorist leaders.
He also called on Congress to strengthen gun laws and to ban anyone on the no-fly list from buying weapons. "What could possibly be the argument for allowing a terrorist suspect to buy a semi-automatic weapon?" he saked. "This is a matter of national security."
Veteran political reporters David Lauter, Cathleen Decker, Christina Bellantoni and others provide analysis and commentary on the speech below.
Read more: Obama seeks to reassure Americans fearful of terrorism
Analysis: How the San Bernardino attack has reshaped the political debate — and the 2016 election
Transcript: Obama's address to nation
-- Megan Garvey
Have a question? Tweet us @latimespolitics
More: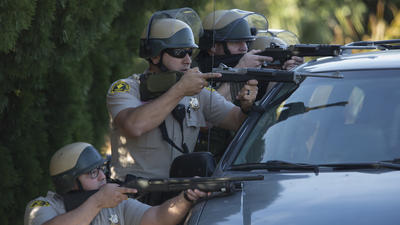 Stories, photos, graphics, videos and more on the shooting.
What we know so far about the shooting that killed 14 people and left 21 others wounded.