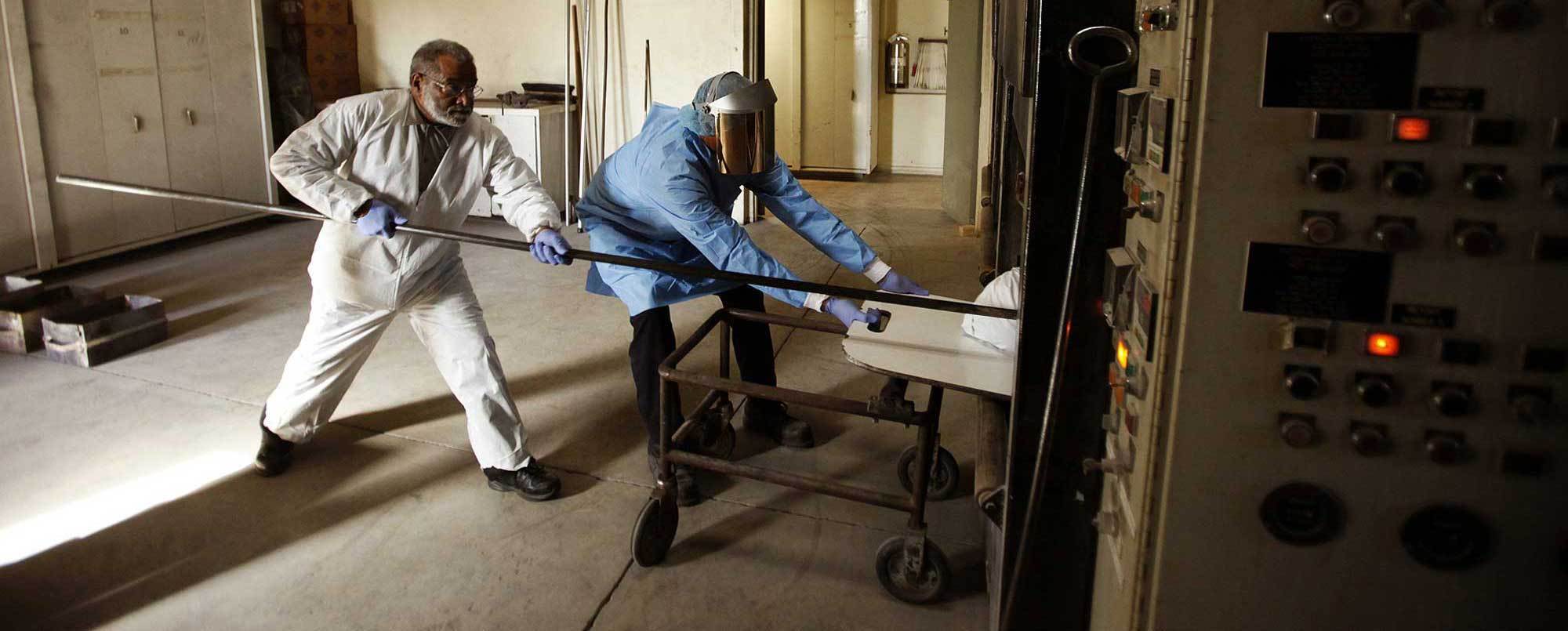 Click here to see the unclaimed list for 2016
In less than a month workers will dig a single grave at the Los Angeles County Cemetery for the remains of more than 1,300 people left unclaimed. Most were cremated in 2012, the remains put in boxes and shelved. Soon they'll be in the ground forever.
They died in nursing homes in Long Beach, on the streets of Pomona and in hospitals across the county. Their bodies were sent to the county crematory in Boyle Heights, reduced to ash and deposited in a plastic box. Babies' remains were placed in small paper bags the size of a folded wallet.
The methods have changed, but L.A. County has been burying its indigent and unclaimed dead for more than 100 years. Since the 1800s, workers have logged each name in large handwritten books. This year, for the first time, they digitized the list.
1,349 men, women and children
941 male 404 female 4 unknown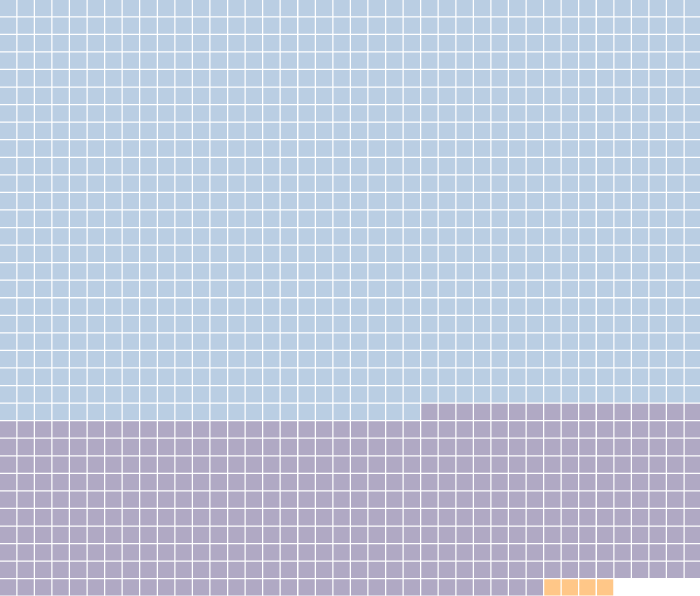 *County officials said 1,379 were buried in early December. Only 1,349 were identified to the Times.
Some died alone without living relatives. Others had lost contact with loved ones. Many families lacked the few hundred dollars needed to reimburse the county for handling and cremating the body.
The dead include 131 babies and two teenagers. But most were older than 60.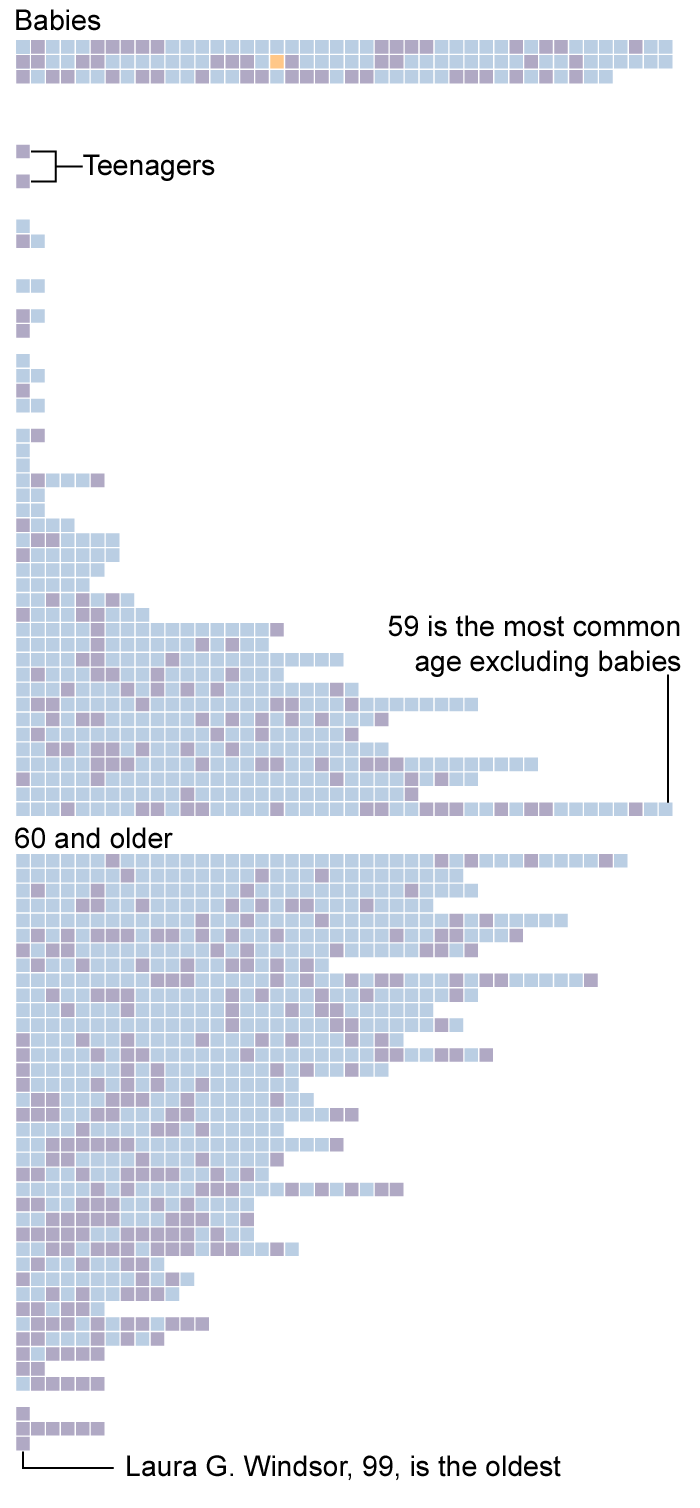 Note: Does not include 31 of unknown age.
More than 450 bodies were inspected by the coroner. Those cases are deemed suspicious. An attempt to find next of kin is made. An investigation into their life is performed.
Eleven are unnamed. Of those, eight were given the last name "Doe." Three more were ashes abandoned without identification. Their names are simply "Unknown."
John Doe
Jane Doe
Unknown
John Doe No. 123 was found on the side of the road in Pomona. John Doe No. 50 and John Doe No. 63 were found near homeless encampments. John Doe No. 193 reportedly threw himself in front of a Metrolink train. Jane Doe No. 52, the only known woman of the group, was found among trash at a recycling center in Chinatown.
Hundreds of bodies were brought from homes and apartments, hospitals and nursing homes.
Most common locations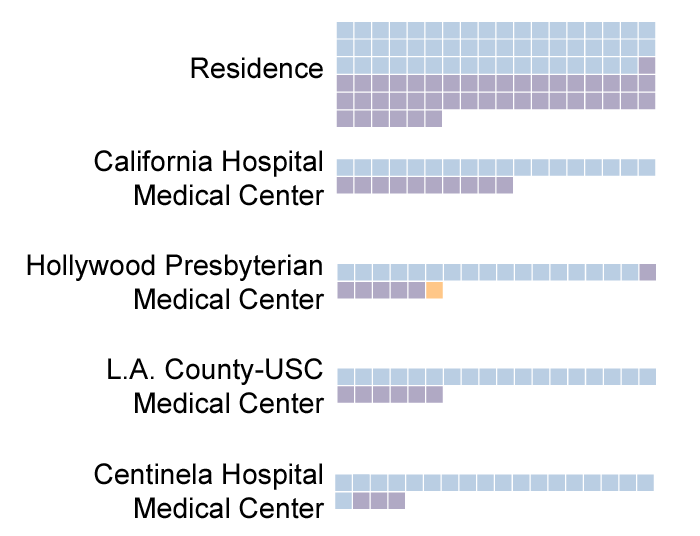 There isn't much time left to claim the remains of someone you know. The ashes are scheduled to be buried together in a single grave before Dec. 9, when a public ceremony will be held at 10 a.m. at the Los Angeles County Cemetery, 3301 E. 1st St. For the record: An earlier version of this page had an incorrect address for the county cemetery.
To claim someone below, call the Office of Decedent Affairs at (323) 409-7161 or email Estela Inouye at einouye@dhs.lacounty.gov.
After The Times published a database of last year's list, 15 people were claimed before burial.
Search L.A. County's unclaimed dead
Abalos
Michael
M
Oct. 31, 1957
Feb. 4, 2012
54
Abbott
Linda
M.
F
Sep. 8, 1954
Apr. 11, 2012
57
Abraham
Louis
M
Dec. 9, 1946
Aug. 5, 2012
65
Ackerman
Baby boy
M
Apr. 30, 2012
Adair
Richard
L.
M
May 14, 1949
Aug. 2, 2012
63
Adams
William
M
Dec. 10, 1967
Mar. 25, 2012
44
Adams
John
M
May 21, 1927
Feb. 21, 2012
84
Adams
Ernestine
F
May 9, 1935
Oct. 1, 2012
77
Aguilar
Melissa
F
Aug. 28, 1988
Aug. 3, 2010
21
Ahearn
Daniel
M.
M
Dec. 4, 1954
Mar. 21, 2012
57
Akers
Joseph
M
Apr. 30, 1960
Sep. 22, 2011
51
Akridge
Michael
L.
M
Feb. 23, 1955
May 14, 2012
57
Alexander
Stephan
E.
M
Oct. 28, 1952
Mar. 16, 2012
59
Alexander
Valter
P.B.
M
Apr. 2, 1920
Mar. 29, 2012
91
Alexander
Ronald
M
Apr. 29, 1959
Apr. 13, 2012
52
Allen
Robert
M
May 7, 1941
Feb. 12, 2012
70
Allen
Lorrie
A.
F
Oct. 6, 1959
Dec. 8, 2011
52
Allen
Virginia
T.
F
Mar. 25, 1960
Jul. 31, 2012
52
Allen
Mycejoi
F
Oct. 22, 1996
Sep. 22, 2012
15
Almanza
Fermin
M
Jul. 7, 1963
Mar. 3, 2012
48
Alomisen
Lito
V.
M
Jun. 8, 1943
Jan. 29, 2012
68
Alsip
Michael
R.
M
May 22, 1962
Oct. 2, 2012
50
Alsup
Annie
L.
F
Feb. 24, 2010
Feb. 3, 2012
1
Altamirano
Armando
Y.
M
Feb. 25, 1942
Dec. 29, 2011
69
Altvager
Richard
W.
M
Dec. 9, 1951
Feb. 12, 2012
60
Alvarado
Lydia
F
Sep. 15, 1938
Jan. 28, 2012
73
Alvarez
Nathaniel
Baby boy
M
Jul. 26, 2012
Amadeus
Wolfgang
M
Jul. 15, 1957
Sep. 6, 2012
55
Amaro
Baby boy
M
Feb. 22, 2012
Feb. 22, 2012
0
Ames
Darla
F
Amin
Yahya
M
Oct. 12, 1929
Dec. 21, 2011
82
Amirkhanyan
Emily
Baby girl
F
Jul. 9, 2012
Amo
Gary
L.
M
Jun. 23, 1939
Jul. 14, 2012
73
Anderson
Wyllard
B.
M
Dec. 22, 1941
Aug. 19, 2011
69
Anderson
Michael
M
Dec. 31, 1966
Jan. 23, 2012
45
Anderson
James
M.
M
Oct. 27, 1947
Apr. 23, 2012
64
Andrade
Nicolasa
F
Sep. 10, 1920
Mar. 2, 2012
91
Andrassy
Elizabeth
F
Apr. 27, 1937
Sep. 18, 2012
75
Angnos
Esther
F
Oct. 21, 1920
Feb. 27, 2012
91
Aplanalp
Jerry
M
Jan. 12, 1930
May 17, 2012
82
Arce
Abelina
F
May 24, 1937
Apr. 19, 2012
74
Archie
Christopher
L.
M
Feb. 27, 1963
Jan. 31, 2012
48
Ariago
Anthony
A.
M
Feb. 8, 1944
May 22, 2012
68
Armstrong
Jo
A.
F
Jul. 27, 1942
Mar. 21, 2012
69
Arriola
Lewis
M
Jul. 6, 1932
Jan. 29, 2012
79
Arthur
Vitu
Baby boy
M
Oct. 3, 2012
Artis
Michael
W.
M
Sep. 28, 1954
Nov. 29, 2011
57
Aubrey
David
Baby boy twin 2
M
Mar. 14, 2012
Avery
Sybil
M.
F
Jun. 16, 1939
Jun. 9, 2012
72
Babino
Nicolas
F.
M
Sep. 8, 1924
Apr. 8, 2012
87
Babino
Baby boy
M
Jun. 12, 2012
Bachman
Deborah
A.
F
Jan. 3, 1957
Dec. 11, 2011
54
Bado
Valdes
Rene
M
Jun. 16, 1938
Aug. 25, 2011
73
Baez
Raul
M
Sep. 7, 1962
Mar. 5, 2012
49
Bagby
Billy
M
Feb. 7, 1945
May 3, 2012
67
Bailey
Robert
O.
M
Sep. 25, 1936
Feb. 16, 2012
75
Bainton
Joyce
F
Jun. 19, 1935
Aug. 8, 2012
77
Baker
Robert
M
Jan. 26, 1938
Feb. 23, 2012
74
Baker
Douglas
M
Jun. 24, 1956
Aug. 25, 2012
56
Baker
John
M
Jan. 17, 1958
Oct. 20, 2012
54
Ballard
Henry
M
Jun. 23, 1926
Oct. 27, 2012
86
Bannister
Harvey
J.
M
Nov. 30, 1952
Jul. 2, 2012
59
Barajas
Baby girl
F
Sep. 10, 2012
Barba
Gerardo
M
Jan. 29, 1957
Apr. 27, 2012
55
Barber
Jordan
M
Apr. 9, 1988
Jun. 4, 2012
24
Barker
Rachael
F
May 22, 1919
Dec. 26, 2011
92
Barker-Parker
Jesus
M
Jan. 1, 1956
Aug. 12, 2012
56
Barnes
Richard
M
Aug. 16, 1936
Nov. 10, 2011
75
Barnes
Gary
M
May 15, 1957
Dec. 28, 2011
54
Barnes
David
M
Feb. 1, 1933
Sep. 20, 2012
79
Barnes
Elmer
M
Aug. 26, 1932
Oct. 5, 2012
80
Barney
Mark
D.
M
Mar. 9, 1958
May 8, 2012
54
Barrento
Benjamin
M
Jan. 1, 1960
Feb. 20, 2012
52
Barret
James
M
Jul. 15, 1949
Sep. 21, 2011
62
Bartlett
William
J.
M
Aug. 21, 1959
Jun. 6, 2012
52
Bass
Irving
M.
M
Aug. 1, 1938
Dec. 23, 2011
73
Bates
Beverly
J.
F
Dec. 17, 1946
Sep. 26, 2012
65
Batson
Marilyn
E.
F
Nov. 4, 1945
Nov. 30, 2011
66
Baudet
Michel
C.
M
Sep. 24, 1950
Apr. 9, 2012
61
Beahm
Kenneth
C.
M
Aug. 30, 1940
Feb. 13, 2012
71
Bell
Alan
M
Dec. 25, 1925
Aug. 12, 2012
86
Bello
John
A.
M
Aug. 28, 1933
May 14, 2012
78
Beltran
Felipe
M
Sep. 24, 1964
Apr. 19, 2012
47
Bennett
Baby boy
M
Mar. 21, 2012
Mar. 21, 2012
0
Bennett
Sharel
F
Dec. 4, 1965
Feb. 17, 2012
46
Bennett
Laura
L.
F
Feb. 20, 1957
Apr. 30, 2012
55
Bennion
James
M
Nov. 21, 1941
Mar. 15, 2012
70
Benway
Carl
W.
M
Feb. 2, 1942
Apr. 2, 2012
70
Bernard
Howard
A.
M
Oct. 1, 1942
Nov. 20, 2011
69
Bernard
Kevin
Sr.
M
Mar. 9, 1958
Mar. 25, 2012
54
Bertelsen
James
M
Jun. 3, 1947
Apr. 19, 2012
64
Bilodeau
Josephine
F
Jan. 30, 1945
Jun. 30, 2012
67
Birks
Phyllis
R.
F
Jul. 16, 1931
Dec. 15, 2012
81
Black
Daniel
C.
M
Jun. 1, 1954
Jul. 15, 2012
58
Black
Elaine
N.
F
Feb. 7, 1927
Aug. 17, 2012
85
Blackshear
Irene
F
Jun. 27, 1933
Aug. 23, 2012
79
Blackwell
Constance
F
Sep. 7, 1932
Nov. 21, 2011
79
Blair
Lucille
F
Apr. 17, 1913
Mar. 18, 2012
98
Blaisdell
Patricia
F
Feb. 28, 1926
Dec. 18, 2011
85
Blalock
Frederick
M
Nov. 14, 1947
Jun. 5, 2012
64
Blanco
Oristela
F
May 28, 1925
Jul. 7, 2012
87
Blandburg
Deotis
M
Dec. 22, 1944
Feb. 2, 2012
67
Blanton
Mark
M
Aug. 15, 1960
Jan. 20, 2012
51
Bloodworth
Jill
E.
F
Feb. 6, 1957
Jul. 19, 2012
55
Boatwright
Martin
G.
M
May 7, 1929
Nov. 24, 2011
82
Bodine
Alexander
M
Jan. 30, 1939
Aug. 22, 2012
73
Boettiger
Michael
M
Jan. 18, 1949
May 17, 2012
63
Boggs
John
M
Jul. 16, 1946
Dec. 10, 2011
65
Bohanon
Jonathan
R.
M
Aug. 15, 1961
Nov. 24, 2012
51
Bok
Jung
S.
F
Oct. 10, 1930
Feb. 12, 2012
81
Bolden
Jeffery
M
Aug. 2, 1955
Jan. 29, 2012
56
Bond
David
B.
M
Jan. 11, 1941
Aug. 23, 2012
71
Bonner
Earl-Erle
M
Sep. 13, 1950
Aug. 1, 2012
61
Boris
John
M
Oct. 21, 1929
Dec. 7, 2011
82
Bosch
Marie
F
Oct. 10, 1920
Jan. 16, 2012
91
Bouchette
William
E.
M
Mar. 5, 1937
Jan. 29, 2012
74
Bowling
Lowell
E.
M
Aug. 19, 1959
Jan. 24, 2012
52
Bozis
Raymond
M
Sep. 6, 1953
Jun. 10, 2012
58
Brabo
Dolores
F
Mar. 22, 1938
Feb. 16, 2012
73
Bracket
Zephaniah
M
Apr. 21, 1941
May 29, 2012
71
Bradshaw
Sylvia
F
Nov. 24, 1969
Mar. 14, 2012
42
Bramhall
Archbald
J.
M
Feb. 14, 1932
Jul. 24, 2012
80
Branch
Raymond
M
Mar. 25, 1968
Nov. 10, 2011
43
Brandon
Ronald
E.
M
Oct. 5, 1962
Jul. 10, 2012
49
Bravo
Pedro
M.
M
Oct. 11, 1955
Nov. 27, 2011
56
Brennan
Barbara
F
Dec. 11, 1949
Mar. 23, 2012
62
Brewer
Delon
R.
M
Jun. 11, 1973
Apr. 2, 2012
38
Brewer
Ada
M.
F
Mar. 3, 1934
Feb. 25, 2012
77
Bright
Darlene
F
Oct. 1, 1961
Jan. 20, 2012
50
Brinson
Walter
M
Sep. 20, 1964
Feb. 25, 2012
47
Brogdon
Lawrence
M
Jan. 30, 1941
Mar. 23, 2012
71
Brooks
Angel
Baby girl
F
Nov. 17, 2011
Brooks
Luther
M
Feb. 23, 1940
Jan. 24, 2012
71
Brown
Albert
A.
M
Oct. 19, 1944
Dec. 13, 2011
67
Brown
Jamal
M
May 12, 1970
Feb. 15, 2012
41
Brown
Edmund
R.
Jr.
M
Jul. 7, 1955
Dec. 26, 2011
56
Brown
Lena
F
Sep. 17, 1913
Jul. 7, 2012
98
Brown
Roland
M
Nov. 15, 1943
Jul. 12, 2012
68
Brown
David
G.
M
Jan. 5, 1953
Jul. 15, 2012
59
Brown
Douglas
G.
M
Dec. 26, 1953
Sep. 17, 2012
58
Brown
Joyce
F
Browne
Robert
Jr.
M
Dec. 22, 1929
Jun. 9, 2012
82
Broyles
Joseph
L.
M
Jul. 2, 1950
Aug. 31, 2012
62
Bruno
Clayborn
M
Sep. 14, 1946
Sep. 26, 2012
66
Bryant
Angela
F
Dec. 15, 1955
Feb. 23, 2012
56
Bryant
James
V.
M
Apr. 1, 1936
Jul. 1, 2012
76
Buckles
Steven
M
Oct. 8, 1953
Sep. 27, 2012
58
Bural
Irene
A.
F
Sep. 9, 1929
Feb. 7, 2012
82
Burden
Arnold
M
Feb. 13, 1966
May 11, 2012
46
Burgara
Baby girl
F
Feb. 28, 2012
Burgess
Carmen
I.
F
Apr. 18, 1914
Sep. 24, 2012
98
Burgin
Jose
M
Sep. 13, 1968
May 26, 2012
43
Burgoon
Elaine
F
Nov. 30, 1944
Jan. 31, 2012
67
Burke
Francis
M
Mar. 9, 1929
Dec. 12, 2011
82
Burke
Steve
W.
M
Nov. 16, 1949
Nov. 25, 2011
62
Burkett
Joseph
A.
M
Aug. 27, 1949
Mar. 16, 2012
62
Burks
Warren
C.
M
Oct. 26, 1920
Mar. 20, 2012
91
Burns
Lynette
S.
F
Apr. 25, 1960
Jan. 10, 2012
51
Burns
Herschell
M
Nov. 9, 1924
Feb. 7, 2012
87
Burns
Shawn
M
Sep. 12, 1959
Jul. 3, 2012
52
Burr
Roberta
F
Jul. 11, 1952
Jun. 13, 2012
59
Burton
Diana
F
Feb. 2, 1927
Jun. 13, 2012
85
Bush
Alma
F
Jan. 17, 1930
Aug. 20, 2012
82
Bush
Alberta
F
Aug. 25, 1924
Oct. 7, 2012
88
Butcher
Freddie
F
Jun. 11, 1926
Jun. 23, 2012
86
Butler
James
L.
M
Jan. 1, 1947
Nov. 15, 2011
64
Butler
Willie
M.
F
Dec. 29, 1945
Feb. 23, 2012
66
Butler
Angel
Baby boy
M
May 23, 2012
May 23, 2012
0
Butler
Edward
M
Oct. 31, 1934
Jun. 9, 2012
77
Byrd
Lorenzo
M
Jul. 31, 1961
Mar. 10, 2012
50
Byrd
Flenard
M
Jan. 7, 1951
Aug. 13, 2012
61
Cabezas
Luis
M
Nov. 11, 1943
Aug. 30, 2012
68
Cabrera
Francisco
M
Jan. 19, 1969
Nov. 13, 2011
42
Caldwell
Ronald
M
Aug. 20, 1947
Oct. 9, 2011
64
Callender
Yolanda
S.
F
Mar. 22, 1971
May 19, 2012
41
Calzado
Theresa
F
Apr. 1, 1933
Jun. 19, 2012
79
Camarillo
Rosa
F
Aug. 19, 1928
Jun. 12, 2012
83
Campbell
Carl
M
Aug. 8, 1959
Nov. 21, 2011
52
Campbell
Joy
F
Oct. 25, 1928
Dec. 13, 2011
83
Campbell
Thomas
A.
M
May 25, 1948
Apr. 16, 2012
63
Campbell
Allen
Jr.
M
Aug. 11, 1962
May 11, 2012
49
Campos
Eugenio
M
Jan. 26, 1953
May 22, 2012
59
Candelaria
Gabriel
M
Cantrell
Gene
D.
M
Apr. 12, 1931
Jul. 28, 2012
81
Cardoza
John
M.
M
Mar. 1, 1958
Jul. 9, 2012
54
Carey
David
J.
M
Jan. 4, 1965
Dec. 2, 2011
46
Carper
Deon
G.
M
Feb. 22, 1952
Nov. 5, 2011
59
Carr
Rodney
M
Jun. 2, 1963
Feb. 21, 2012
48
Carreon
Joe
M
Mar. 20, 1952
Feb. 24, 2012
59
Carrillo
Vincent
M
Mar. 13, 1944
Sep. 12, 2012
68
Carter
Charles
R.
M
Jan. 23, 1953
Jan. 26, 2012
59
Carter
Barbara
F
Aug. 9, 1946
Mar. 28, 2012
65
Carvajal-Revelo
Baby girl
F
Cash
James
B.
M
May 7, 1957
Apr. 8, 2012
54
Cast
Robert
G.
M
Dec. 18, 1962
Mar. 30, 2012
49
Castaneda
Consuelo
F
Mar. 25, 1945
Jan. 18, 2012
66
Castellaw
Tina
F
Apr. 22, 1962
Apr. 11, 2012
49
Castillo
Hector
M
May 21, 1945
Dec. 8, 2011
66
Castillo
Max
M
Aug. 16, 1957
Sep. 29, 2012
55
Castleberry
Barton
Scott
M
Nov. 21, 1945
Jan. 6, 2012
66
Castro
Rene
H.
M
Jun. 6, 1937
Jun. 19, 2012
75
Cates
Frank
J.
M
Jun. 4, 1950
Apr. 1, 2012
61
Cavalier
Marla
F
May 16, 1952
Mar. 7, 2012
59
Caviness
Flora
F
Jul. 13, 1918
Jun. 14, 2012
93
Cecena
Jimmy
L.
M
Mar. 10, 1951
Feb. 3, 2012
60
Cha
Baby girl
F
Chang
Dave
M
Jan. 9, 1928
Feb. 24, 2012
84
Chapleau
Stacy
L.
F
Oct. 17, 1956
Jan. 19, 2012
55
Chapman
Rodrick
L.
F
Jan. 16, 1949
Dec. 31, 2011
62
Chartrey
Denise
F
Jun. 14, 1955
Feb. 10, 2012
56
Chavez
Armando
D.
M
Feb. 25, 1949
Apr. 4, 2012
63
Chinchilla
Luis
M
Jun. 1, 1946
Jun. 12, 2012
66
Chism
Albert
M
Mar. 7, 1958
Aug. 20, 2012
54
Cho
Yong
M
Mar. 3, 1938
Jul. 31, 2012
74
Christensen
Phyliss
J.
F
Feb. 4, 1933
Jul. 24, 2012
79
Christian
Ladonna
L.
F
Oct. 10, 1956
Jan. 8, 2012
55
Christian
Merrill
M
Jul. 3, 1930
Nov. 17, 2012
82
Chudy
Craig
M
Dec. 21, 1949
Jul. 5, 2012
62
Chupp
Richard
R.
M
Dec. 26, 1942
Jan. 31, 2012
69
Churchill
Claude
M
Nov. 16, 1930
Jun. 16, 2012
81
Cioni
Philip
G.
M
Jul. 24, 1956
Jan. 12, 2012
55
Ciric
Pete
M
Sep. 11, 1937
Nov. 20, 2012
75
Citalan
Victor
M
May 24, 1954
Aug. 29, 2012
58
Clark
Nancy
K.
F
Feb. 25, 1933
Aug. 8, 2012
79
Clark
Thelma
J.
F
Dec. 19, 1948
Apr. 28, 2012
63
Clark
Willie
A.
M
Mar. 5, 1941
Sep. 24, 2012
71
Clarkston
Baby boy
M
Dec. 25, 2011
Dec. 25, 2011
0
Clay
Billy
G.
M
Aug. 30, 1949
Aug. 16, 2012
62
Clayton
L.H.
M
Jun. 26, 1940
Aug. 31, 2012
72
Clevenger
Theresa
L.
F
Sep. 23, 1952
Aug. 26, 2012
59
Clunie
Ronnie
M
Jan. 7, 1964
Nov. 23, 2011
47
Coburn
Leroy
M
Sep. 14, 1967
Oct. 20, 2011
44
Cohen
Terry
F
Apr. 5, 1935
Jan. 27, 2012
76
Cole
Charles
J.
M
May 22, 1950
Dec. 20, 2011
61
Coleman
Jacqueline
F
Jun. 30, 1970
Apr. 10, 2012
41
Collado
Baby boy
M
Dec. 4, 2011
Collins
Frank
M
Mar. 11, 1955
Mar. 30, 2012
57
Combs
Logan
E.
M
Sep. 22, 1952
Mar. 6, 2012
59
Conn
Joann
F
Jun. 13, 1935
Apr. 22, 2012
76
Connors
Marianne
F
Nov. 19, 1930
Nov. 16, 2011
80
Coronado
Manuel
M
May 15, 1954
May 24, 2012
58
Corteza
Lagrimas
G.
F
Jun. 1, 1936
Mar. 8, 2012
75
Costilla
John
J.
M
May 24, 1961
Mar. 12, 2012
50
Cotton
Paul
M
Aug. 24, 1937
Dec. 5, 2011
74
Cotton
Marie
F
Nov. 19, 1920
Aug. 23, 2012
91
Cousineau
Tilda
F
Mar. 7, 1954
Nov. 10, 2011
57
Cox
Chester
L.
M
Jan. 10, 1944
Mar. 8, 2012
68
Craig
Robert
M
Cramer
Adrian
J.
M
Dec. 27, 1952
Dec. 12, 2011
58
Cravitz
Michelle
F
Aug. 3, 1952
May 27, 2012
59
Creswell
Dorothy
F
Dec. 7, 1919
Mar. 21, 2012
92
Crezeszozak
Frank
J.
M
Aug. 20, 1969
Nov. 12, 2011
42
Cristescu
George
C.
M
Sep. 17, 1945
Dec. 15, 2011
66
Crockatt
Debora-Debra
F
Mar. 4, 1963
Jul. 26, 2012
49
Cross
Ronald
M
Oct. 8, 1951
Feb. 8, 2012
60
Cross
Kathleen
M.
F
Aug. 6, 1956
Mar. 31, 2012
55
Cross
Theodore
M
Jan. 29, 1925
Feb. 6, 2012
87
Cruz
Richard
M
May 22, 1955
Jul. 19, 2012
57
Csiszer
Magda
F
Jun. 28, 1921
May 21, 2012
90
Cuanrique
Baby boy
M
Nov. 16, 2011
Cuellar
Sebastian
Baby boy
M
Nov. 23, 2011
Cuenca
Denise
A.
F
Oct. 31, 1959
Jun. 2, 2012
52
Cunningham
John
M
Dec. 26, 1949
May 1, 2012
62
Curtis
Ernest
P.
M
Oct. 4, 1937
Jul. 6, 2012
74
Cuthrie
Gary
M
Oct. 26, 1959
Feb. 22, 2012
52
Dadds
Joan
M
Aug. 2, 1943
Jan. 18, 2012
68
Dale
Joan
F
Sep. 5, 1941
Jan. 31, 2012
70
Dancy
Michael
M
Dec. 15, 1954
Apr. 29, 2012
57
Danesky
Michael
D.
M
Mar. 29, 1959
Nov. 8, 2011
52
Daniels
Mason
Baby boy
M
Aug. 21, 2012
Dargan
Walter
J.
M
Aug. 26, 1936
Feb. 6, 2012
75
Dastur
Homi
M
May 30, 1929
Feb. 10, 2012
82
Daughery
Steve
M
Apr. 6, 1922
Mar. 13, 2012
89
Davian
Diego
M
Jul. 26, 1987
Oct. 26, 2011
24
David
Schotz
M
Jun. 14, 1947
Oct. 26, 2012
65
Davies
Charles
T.
M
Apr. 8, 1954
Dec. 18, 2011
57
Davila
Benjamin
M
Mar. 31, 1920
Sep. 1, 2012
92
Davis
Pete
M
May 4, 1945
Jan. 12, 2012
66
Davis
Kim
F
Dec. 15, 1946
Jul. 2, 2012
65
Davis
Naomi
F
Jan. 4, 1927
May 2, 2012
85
Davis
William
M
Dec. 21, 1934
Jul. 10, 2012
77
Davis
Tyrone
M
Jun. 2, 1981
Apr. 7, 2012
30
Davis
Jennifer
J.
F
Apr. 7, 1955
Dec. 11, 2011
56
Davis-Bravo
Stephanie
F
Apr. 20, 1949
Aug. 22, 2012
63
Dawe
Dale
A.
M
Jul. 26, 1964
Nov. 11, 2011
47
Dawe
Donald
M
Sep. 26, 1933
Jun. 15, 2012
78
Day
Alan
D.
M
Mar. 30, 1950
Jul. 16, 2012
62
Dayrit
Patria
F
Oct. 28, 1930
May 31, 2012
81
De La Cruz
Rudolph
M
Dec. 19, 1941
Feb. 18, 2012
70
Dean
Bonnie
F
Nov. 2, 1925
Oct. 4, 2012
86
Dearmas
Atanasio
M
Aug. 27, 1937
Jan. 4, 2012
74
Decoursey
Jesse
M
Dec. 29, 1925
Jul. 16, 2012
86
Defabritis
Jonathan
A.
M
Apr. 25, 1959
Jun. 26, 2012
53
Deland
Phillip
H.
M
May 2, 1952
May 12, 2012
60
DeLeon
Carlos
M
Nov. 12, 1974
Mar. 9, 2012
37
Delgado
Clemente
M
May 20, 1939
Mar. 24, 2012
72
Delgado
Juan
M
Jun. 24, 1930
May 28, 2012
81
Delio
Mary
R.
F
May 14, 1927
May 11, 2012
84
Denison
Neil
G.
M
May 26, 1951
Sep. 26, 2012
61
Derbyshire
Jane
F
Sep. 15, 1934
Aug. 24, 2012
77
Devalera
Jeffrey
Lee
M
Jan. 22, 1955
Jan. 1, 2012
56
Devesci
Robert
M
May 6, 1922
Apr. 24, 2012
89
Deville
Patricia
F
Aug. 13, 1946
Aug. 5, 2012
65
Dewitt
Robert
M
Nov. 12, 1964
Nov. 15, 2011
47
Dhar
Jagadish
C.
M
Oct. 20, 1947
Dec. 2, 2011
64
Diaz
Maria
H.
F
Aug. 22, 1942
Feb. 29, 2012
69
Diaz
Kahlil
Baby boy
M
Aug. 27, 2011
Diaz
Sophia
M
Nov. 5, 1955
Apr. 10, 2012
56
Diaz
Tomas
G.
M
Dec. 22, 1929
Apr. 21, 2012
82
Diazluna
Waldemar
M
Oct. 27, 1982
Mar. 26, 2012
29
Dicarlo
Vincent
M
Mar. 20, 1920
Oct. 11, 2012
92
Diel
William
M
Mar. 20, 1936
Jun. 4, 2012
76
Dillon
Berry
M
May 6, 1944
Oct. 30, 2011
67
Dinkin
Eugene
B.
M
Jun. 10, 1938
May 21, 2012
73
Dion
John
M
Jan. 14, 1951
Jun. 2, 2012
61
Dixon
Clemmie
M
Oct. 16, 1959
Jan. 30, 2012
52
Doe #123
John
M
Unknown
Aug. 27, 2011
Doe #164
John
M
Unknown
Found 10/17/11
Doe #185
John
M
Unknown
Nov. 23, 2011
Doe #193
John
M
Unknown
Dec. 26, 2011
Doe #40
John
M
Unknown
Mar. 2, 2012
Doe #50
John
M
Unknown
May 5, 2011
Doe #52
Jane
F
Unknown
Sep. 10, 2010
Doe #63
John
M
Unknown
May 29, 2011
Doherty
James
E.
M
Oct. 30, 1969
Jul. 19, 2012
42
Dominguez
Adrian
M
Nov. 14, 1970
Aug. 20, 2012
41
Donnelly
Jeffrey
A.
M
Feb. 18, 1961
Oct. 15, 2012
51
Doubler
Lola
M.
F
Jun. 25, 1938
Feb. 9, 2012
73
Douglas
Bryson
Baby boy
M
May 12, 2012
Downer
Keith
B.
M
Oct. 9, 1949
Mar. 12, 2012
62
Downey
John
M
Nov. 5, 1951
Mar. 3, 2012
60
Downs
Barbara
F
Jul. 21, 1934
Mar. 15, 2012
77
Dozier
Robert
M
Jan. 10, 1957
Jan. 2, 2012
54
Dreyer
Gary
V.
M
Sep. 7, 1939
Jan. 11, 2012
72
Dsamuel
Wilson
M
Sep. 14, 1940
Nov. 25, 2011
71
Dubin
Marie
V.
F
Aug. 9, 1931
Nov. 12, 2011
80
Dunn
Michael
M
Nov. 14, 1943
Apr. 30, 2012
68
Durant
William
M
Jan. 25, 1930
Mar. 3, 2012
82
Dyer
George
J.
Jr.
M
Jan. 2, 1934
Dec. 22, 2011
77
Dyers
Joanne
F
Sep. 28, 1937
Aug. 13, 2012
74
Easterly
Ronald
M
Jun. 5, 1941
Mar. 13, 2012
70
Eastman
Ronald
M
Oct. 1, 1933
Aug. 24, 2012
78
Eberle
Jim
E.
M
Jun. 16, 1948
Apr. 3, 2012
63
Edwards
James
H.
M
May 17, 1953
Feb. 28, 2012
58
Edwards
Reginald
M
Nov. 25, 1954
Aug. 31, 2012
57
Edwards
Catherine
J.
F
Nov. 23, 1950
May 13, 2012
61
Edwards
Derwin
J.
M
Apr. 1, 1961
Nov. 16, 2012
51
Eldridge
Edyie
L.
F
Jul. 21, 1925
Feb. 7, 2012
86
Eldridge
Michael
C.
M
Aug. 10, 1948
Feb. 16, 2012
63
Elena
Baby boy
M
Mar. 4, 2012
Elkind
Esther
F
Feb. 8, 1922
Dec. 6, 2011
89
Emery
Baby boy
M
Jan. 24, 2012
Jan. 24, 2012
0
England
Kameran
Baby boy
M
Jun. 30, 2012
Jun. 30, 2012
0
English
Shirley
A.
F
Feb. 11, 1952
Oct. 20, 2011
59
Erisman
Dean
L.
M
Feb. 11, 1952
Feb. 3, 2012
59
Ermitano
Anthony
A.
M
Feb. 27, 1962
Jan. 2, 2012
49
Escobar
Luisa
F
Jul. 26, 1929
Jul. 5, 2012
82
Escobedo
Jose
M
Nov. 16, 1930
May 7, 2012
81
Eskandary
Bobbie
F
Mar. 27, 1933
Oct. 21, 2012
79
Espinoza
Angel
Baby boy
M
Dec. 22, 2011
Espinoza
Baby boy
M
Jul. 1, 2012
Esquivel-Tabaco
Armado
M
Unknown
Jul. 29, 2012
Estebon
Mateo
S.
M
Dec. 20, 1963
Aug. 26, 2012
48
Eubanks
Everett
B.
M
May 1, 1922
Feb. 27, 2012
89
Evans
Derrick
M
Nov. 15, 1944
Feb. 16, 2012
67
Evans
Patrick
M
Mar. 17, 1945
Apr. 18, 2012
67
Evans
Sincere
Baby boy
M
Aug. 28, 2012
Evens
Lester
M
Feb. 15, 1958
Dec. 18, 2011
53
Eyerdam
William
M.
M
Nov. 22, 1952
Jul. 13, 2012
59
Fagin
Eddie
M
Sep. 5, 1947
Dec. 2, 2011
64
Fahey
Thomas
M
Mar. 1, 1944
Mar. 29, 2012
68
Falk
Leslee
M.
F
Jul. 6, 1943
Oct. 12, 2012
69
Falls
Terry
M
Sep. 4, 1948
Sep. 14, 2012
64
Felix
Jose
M
Aug. 10, 1953
Sep. 8, 2012
59
Felix
Jose
M
Aug. 12, 1951
Oct. 1, 2012
61
Fergurson
James
M
Oct. 5, 1935
Feb. 17, 2012
76
Fernandez
Virginia
F
Nov. 22, 1958
Aug. 13, 2012
53
Fernandez
Jeanine
F
Oct. 18, 1930
Sep. 30, 2012
81
Ferrari
Luigi
M
Dec. 16, 1937
May 6, 2012
74
Figueroa
Danny
M
Jun. 30, 1960
Sep. 1, 2012
52
Fink
Michael
J.
M
Sep. 12, 1961
Mar. 18, 2012
50
Finlay
Stuart
A.
M
Oct. 22, 1952
Jan. 20, 2012
59
Fisher
John
H.
M
Feb. 22, 1932
Aug. 10, 2012
80
Flemate
Mario
M.
M
Apr. 25, 1954
Nov. 5, 2011
57
Flood
Anne
L.
F
Sep. 12, 1952
Mar. 19, 2012
59
Flores
Cleofe
M
Apr. 9, 1953
Nov. 23, 2011
58
Flores
Tom
R.
M
Jun. 1, 1933
Jan. 11, 2012
78
Flores
Lorna
F
Jun. 6, 1943
Oct. 18, 2012
69
Fonfara
Richard
M
Dec. 9, 1954
Oct. 24, 2012
57
Fonseca
Baby girl
F
Oct. 24, 2011
Oct. 24, 2011
0
Ford
Alvinetta
F
Feb. 7, 1947
Jul. 15, 2012
65
Foreman
Charles
E.
M
Sep. 14, 1953
Sep. 3, 2012
58
Forniss
Burley
M
Aug. 2, 1932
Oct. 5, 2012
80
Fortunato
Bong
J.
F
Aug. 15, 1943
Jul. 7, 2012
68
Foster
Milton
E.
M
Dec. 1, 1919
Feb. 24, 2012
92
Fowler
Joseph
M.
M
Apr. 25, 1954
Apr. 29, 2012
58
France
Paul
M
Dec. 10, 1923
Nov. 16, 2012
88
Franco
Lawrence
R.
M
Dec. 22, 1947
Jul. 7, 2012
64
Franklin
Roberta
F
Aug. 28, 1938
Feb. 27, 2012
73
Franklin
Wayne
M
Jul. 23, 1950
Oct. 18, 2012
62
Frazier
Jalonni
F
Oct. 6, 2011
Fridell
Jane
F
Oct. 9, 1929
Jun. 11, 2012
82
Fritsche
Barbara
F
Jul. 7, 1939
Dec. 27, 2011
72
Fukui
Hisako
F
Jun. 18, 1931
Jul. 7, 2012
81
Furman
Lane
L.
M
Sep. 18, 1966
Nov. 18, 2011
45
Gagnon
Edmund
E.
M
Dec. 26, 1939
Oct. 26, 2011
71
Galardi
Viola
L.
F
May 13, 1994
Oct. 14, 2011
17
Galarze
Daniel
M
Galindo
Alberto
M
Jul. 13, 1943
Dec. 9, 2012
69
Gallow
Melvin
E.
M
Jul. 8, 1970
Jan. 9, 2012
41
Gambaryan
Baby girl A
F
Sep. 3, 2011
Sep. 3, 2011
0
Gambaryan
Baby boy B
M
Sep. 3, 2011
Sep. 3, 2011
0
Gambaryan
Baby boy C
M
Sep. 3, 2011
Sep. 4, 2011
0
Gamez
Carlota
F
Sep. 28, 1924
Aug. 13, 2012
87
Garcia
Enedina
F
Mar. 14, 1943
Dec. 16, 2011
68
Garcia
Juan
M
Jun. 23, 1956
Feb. 8, 2012
55
Garcia
Juan
M
Mar. 28, 1978
Apr. 1, 2012
34
Garcia
Miguel
M
Aug. 4, 1947
Jun. 8, 2012
64
Garcia
Billy
W.
M
May 5, 1957
Aug. 3, 2012
55
Gardner
Lewis
G.
M
Nov. 12, 1941
Nov. 28, 2011
70
Gardner
John
C.
M
Feb. 16, 1948
Mar. 22, 2012
64
Garwick
Sara
F
Mar. 21, 1948
Dec. 16, 2011
63
Gary
Catherine
M.
F
Sep. 7, 1956
Jun. 17, 2012
55
Gattas
Barbara
F
Jun. 5, 1941
May 5, 2012
70
Gault
Rose
F
Oct. 3, 1926
Oct. 21, 2012
86
Gaytan-Kadas
Paula
Baby girl
M
Dec. 18, 2011
Geaudry
Max
M
Aug. 8, 1932
May 4, 2012
79
Geiselman
Bruce
M
May 18, 1957
Aug. 26, 2012
55
Gentry
Elvin
M
May 21, 1957
Nov. 3, 2012
55
Gettes
Tyres
Baby boy
M
Jul. 2, 2012
Gilbert
John
W.
M
Jun. 5, 1942
Jan. 21, 2012
69
Gilbert
Barbara
E.
F
May 17, 1934
Sep. 29, 2012
78
Gillespie
Richard
G.
M
Jun. 4, 1954
Mar. 30, 2012
57
Gluckstern
Murry
M
Jan. 1, 1924
Jul. 17, 2012
88
Goergen
Betty
L.
F
Aug. 20, 1924
Jul. 14, 2011
86
Golden
Roger
S.
M
Nov. 12, 1959
Dec. 28, 2011
52
Golden
Josephine
F
Goldenberg
Stephen
M
Mar. 14, 1939
Aug. 20, 2012
73
Goldsmith
Clifford
M
Jan. 1, 1960
Dec. 20, 2011
51
Gomez
Joe
M
Jul. 23, 1941
Jan. 10, 2012
70
Gomez
Pedro
M
Oct. 19, 1934
Jun. 10, 2012
77
Gonzales
Joe
C.
M
Mar. 5, 1929
May 3, 2012
83
Gonzalez
Charles
M
Sep. 16, 1934
Mar. 10, 2012
77
Gonzalez
Caleb
Baby boy
M
Jun. 30, 2012
Jun. 30, 2012
0
Gonzalez
Hipolito
M
Aug. 13, 1941
Nov. 1, 2012
71
Gorum
Talbert
T.
M
Feb. 5, 1966
Mar. 4, 2012
46
Gorzell
Richard
E.
M
Nov. 4, 1939
Oct. 6, 2012
72
Goss
Napolean
E.
M
Aug. 14, 1925
Jul. 23, 2012
86
Graham
Jeral
M
Dec. 5, 1941
Mar. 2, 2012
70
Grant
Robert
A.
M
Jun. 2, 1963
Dec. 30, 2011
48
Grant
Donald
M
May 5, 1929
Jun. 6, 2012
83
Grant
John
M
Apr. 21, 1946
Aug. 20, 2012
66
Grant
Nancy
F
Mar. 6, 1937
Aug. 26, 2012
75
Gray
Leonard
Sr.
M
Jul. 22, 1937
Oct. 24, 2012
75
Green
Catherine
F
Dec. 28, 1922
Mar. 30, 2012
89
Green
Leon
M
Jul. 16, 1933
Oct. 12, 2012
79
Greenberg
Natalie
F
Mar. 4, 1937
Oct. 5, 2012
75
Greene
Clarence
M
Oct. 1, 1941
Jun. 10, 2012
70
Greenlow
Sharon
F
Jan. 10, 1964
May 31, 2012
48
Greenwood
Steven
M.
M
Oct. 23, 1955
Jul. 12, 2012
56
Greer
John
L.
M
May 12, 1969
Mar. 20, 2012
42
Griffin
Diane
J.
F
Jan. 15, 1945
Jul. 16, 2012
67
Griffin
Louise
F
Jul. 18, 1928
Oct. 8, 2012
84
Griffin-Kent
Jayne
F
Jun. 28, 1956
May 18, 2012
55
Griffith
Charles
M.
III
M
Dec. 8, 1947
Jun. 20, 2012
64
Groth
David
M
Sep. 23, 1938
May 17, 2012
73
Grubb-Morgan
Jeffrey
M
Nov. 22, 1962
Jul. 27, 2012
49
Gudino
Humberto
M
Jul. 20, 1947
Aug. 20, 2012
65
Guerrero
Benjamin
M
Jun. 30, 1918
May 26, 2012
93
Guerrero
Osmin
Jr.
Baby boy
M
Jun. 29, 2012
Jun. 29, 2012
0
Guerrero
Cayetano
M
Aug. 27, 1950
Oct. 15, 2012
62
Guetter
Lyle
M
Aug. 30, 1930
Aug. 16, 2011
80
Gunsalus
Victor
M
Feb. 24, 1945
Mar. 14, 2012
67
Gutierrez
Jimmy
R.
M
Jul. 24, 1948
May 31, 2012
63
Gutierrez
Maria
F
Jan. 6, 1965
Jul. 13, 2012
47
Gutierrez
Baby boy
M
Sep. 13, 2012
Haas
Edit
T.
F
Oct. 3, 1947
Jul. 9, 2012
64
Haberman
William
J.
M
May 31, 1953
Jun. 19, 2012
59
Haeckel
William
M
Apr. 5, 1950
Mar. 12, 2012
61
Hagopian
Hagop
M
May 10, 1923
Jun. 7, 2012
89
Hall
Gina
F
Jan. 29, 1967
Mar. 10, 2012
45
Hall
Kanita
F
Feb. 6, 1944
May 14, 2012
68
Hall
Dawn
E.
F
Dec. 22, 1971
Jul. 23, 2012
40
Hambartsumanz
Agnes
F
May 30, 1925
Mar. 5, 2012
86
Hamilton
Miracle
Baby girl
F
May 4, 2012
Hamilton
Baby boy
M
Jul. 28, 2012
Hamilton
Nurmi
M
Oct. 11, 1936
Aug. 10, 2012
75
Hamlett
William
M
May 7, 1938
Dec. 20, 2011
73
Hammons
Earl
M
Jan. 14, 1952
Jul. 30, 2012
60
Hanaway
Valarie
F
May 23, 1954
Aug. 8, 2012
58
Hanger
Keith
M
Aug. 19, 1953
Jul. 22, 2012
58
Hannie
James
M
Mar. 7, 1954
Jan. 17, 2012
57
Harmer
Paul
M
Jul. 31, 1955
Mar. 17, 2012
56
Harris
Charles
R.
M
Apr. 13, 1962
Jan. 27, 2012
49
Harris
Jeffery
M
Dec. 21, 1940
Apr. 5, 2012
71
Harris
Richard
M
Nov. 14, 1929
Apr. 4, 2012
82
Harris
Charles
Baby boy
M
Nov. 1, 2011
Nov. 1, 2011
0
Harris
Amanda
F
Dec. 21, 1955
Mar. 15, 2012
56
Harris
Stanley
M
Nov. 22, 1959
Jun. 7, 2012
52
Harris
Karen
F
Apr. 1, 1966
Jun. 9, 2012
46
Harris
Charles
T.
M
Dec. 3, 1943
May 28, 2012
68
Harris
John
M
Sep. 2, 1941
Aug. 18, 2012
70
Harrison
Benjamin
M
Oct. 18, 1945
Dec. 10, 2011
66
Hart
David
M
Apr. 21, 1924
Feb. 29, 2012
87
Harutunian
Khatchik
M
Aug. 10, 1920
Jul. 11, 2012
91
Harvey
Bruce
A.
M
Mar. 17, 1960
Jul. 26, 2012
52
Hastings
Novia
M.
F
Apr. 2, 1922
Aug. 6, 2012
90
Hatch
William
M
Jul. 28, 1942
Sep. 2, 2012
70
Hathaway
Donname
F
Aug. 31, 1934
Dec. 30, 2011
77
Haunte
Luis
Baby boy
M
Sep. 29, 2012
Sep. 29, 2012
0
Hawker
Joan
F
Hawthorne
Wayne
L.
M
Jan. 6, 1944
Mar. 10, 2012
68
Hayes
Danielle
F
Hayloft
Raymond
M
May 4, 1955
Aug. 27, 2012
57
Hayston
Mona
F
Dec. 5, 1913
Sep. 24, 2012
98
Haywood
Arlene
D.
F
Oct. 7, 1951
Dec. 7, 2011
60
Hazlet
Rick
M
Mar. 1, 1956
Apr. 9, 2012
56
Head
Dennis
T.
M
Aug. 10, 1957
Jun. 21, 2012
54
Hebb
Wayne
M.
M
Feb. 15, 1939
Mar. 15, 2012
73
Hebden
Raymond
T.
M
Feb. 1, 1948
Oct. 12, 2011
63
Helfrich
Helen
F
Sep. 9, 1919
Jul. 25, 2012
92
Helwing
Ben
M
Nov. 1, 1919
Dec. 10, 2011
92
Hendrickx
Madelene
F
May 19, 1927
Jan. 22, 2012
84
Hendriksen
Jeanette
E.
F
Aug. 23, 1946
Jun. 9, 2012
65
Hennessey
Gloria
M.
F
May 14, 1928
Jan. 17, 2012
83
Henry
Natalie
D.
F
Aug. 24, 1965
Apr. 17, 2012
46
Heredia
Rudolph
M
Oct. 27, 1922
Oct. 3, 2012
89
Hernandez
Ernesto
M
Dec. 30, 1957
Nov. 20, 2011
53
Hernandez
Rafael
M
Mar. 21, 1921
Feb. 16, 2012
90
Hernandez
Hector
A.
M
May 19, 1969
Jan. 8, 2012
42
Hernandez
Juan
M
Mar. 9, 1947
Mar. 31, 2012
65
Hernandez
Rafael
M
Jan. 15, 1934
Apr. 13, 2012
78
Hernandez
Carnalita
F
Sep. 19, 1919
Mar. 2, 2012
92
Hernandez
Angelita
Baby girl
F
Feb. 2, 2012
Hernandez
Jose
J.
M
Mar. 21, 1932
May 8, 2012
80
Hernandez
Angelita
F
Jun. 12, 1947
Jul. 12, 2012
65
Hernandez
Juan
F.
M
Feb. 16, 1952
Nov. 17, 2012
60
Hernandez
Antonio
M
Jun. 22, 1968
Oct. 17, 2012
44
Hernandez-Villalobos
Juan
M
May 10, 1940
Feb. 23, 2012
71
Herrera
Richard
L.
M
Nov. 20, 1942
Jul. 25, 2012
69
Herrera
Leticia
F
Dec. 10, 1934
Sep. 26, 2012
77
Hicks
Charles
R.
M
Nov. 24, 1951
Jul. 31, 2012
60
Higginson
Charles
R.
M
Jul. 16, 1954
Jan. 10, 2012
57
Hightower
Otha
M
Nov. 15, 1951
Oct. 25, 2012
60
Hill
Craig
M
Apr. 30, 1955
Aug. 23, 2012
57
Hill
Blossom
F
Sep. 11, 1985
Sep. 7, 2012
26
Hill-Williams
Sharlotte
Baby girl #1
F
Aug. 17, 2012
Hill-Williams
Shirley
Baby girl #2
F
Aug. 17, 2012
Hixon
Wayne
M
Mar. 12, 1958
Apr. 28, 2012
54
Hoben
Raymond
B.
M
Mar. 13, 1954
Nov. 14, 2011
57
Hodges
Wayne
M
Dec. 13, 1929
Jul. 26, 2012
82
Hoffman
Arthur
R.
M
Apr. 6, 1939
Oct. 9, 2011
72
Holbein
Joseph
M
Jul. 15, 1941
Jun. 17, 2012
70
Holbrook
Janie
P.
F
Nov. 26, 1960
Jul. 9, 2012
51
Homola
Jarmila
F
Mar. 23, 1947
Jul. 26, 2012
65
Hooker
Bradley
M
Nov. 20, 1963
Feb. 22, 2012
48
Hooks a.k.a Hhoks
M
Dec. 14, 2011
Nov. 19, 2011
0
Hooper
Baby boy
M
Jan. 26, 2012
Hopkins
Carlos
M
Apr. 16, 1945
Aug. 5, 2012
67
Horne
Eric
L.
M
Feb. 26, 1964
Apr. 8, 2012
48
Hornibrook
Baby boy
M
Jan. 5, 2012
Jan. 5, 2012
0
Howard
Kenneth
S.
M
Feb. 23, 1957
Jan. 31, 2012
54
Howard
Keith
M
Nov. 30, 1951
Nov. 9, 2011
59
Howard
Remle
T.
M
Mar. 11, 1971
Mar. 24, 2012
41
Howard
Curtis
M
Apr. 9, 1950
Jun. 17, 2012
62
Howell
Joan
F
Feb. 5, 1940
Mar. 11, 2012
72
Howes
Myron
M
Aug. 21, 1945
Mar. 26, 2012
66
Huber
Victor
H.
M
Nov. 4, 1943
Aug. 6, 2012
68
Huelex
Amy
F
May 12, 1929
May 26, 2012
83
Hughes
Timothy
L.
M
Feb. 26, 1941
Oct. 19, 2011
70
Hughes
Stanley
A.
M
Sep. 15, 1960
Aug. 31, 2012
51
Hunter
Marcus
H.
M
Aug. 16, 1967
Jan. 17, 2012
44
Hussey
Alan
J.
M
Jun. 26, 1959
May 26, 2012
52
Hutchings
Dean
M
Mar. 12, 1948
Apr. 15, 2012
64
Hutchinson
Nancy
E.
F
Oct. 1, 1958
Sep. 3, 2012
53
Huxford
John
B.
M
Jun. 30, 1985
Nov. 25, 2011
26
Ilizaliturri
Roberto
E.
M
Mar. 8, 1936
Jul. 5, 2012
76
Jacinto
Ronald
M
Jul. 6, 1965
Oct. 22, 2012
47
Jackson
Aimee
L.
F
Nov. 9, 1979
Aug. 14, 2011
31
Jackson
Kenneth
L.
Baby boy
M
Feb. 24, 2012
Feb. 24, 2012
0
Jackson
Kathleen
M.
F
Sep. 2, 1957
Jan. 8, 2012
54
Jackson
Edward
C.
M
Jun. 14, 1951
Dec. 20, 2011
60
Jackson
Ronald
K.
M
Jan. 11, 1944
Feb. 7, 2012
68
Jackson
Fred
M
Jul. 9, 1952
Sep. 29, 2012
60
Jackson
Anthony
M
Jan. 1, 1939
Oct. 10, 2012
73
Jacobi
Harriet
F
Jun. 5, 1959
Jan. 25, 2012
52
Jacobs
Gale
M
Oct. 10, 1947
Mar. 18, 2012
64
Jacobs
Roy
R.
M
Sep. 4, 1946
Sep. 5, 2012
66
Jakes
Sirius
Baby boy
M
Aug. 12, 2012
Januschvwki
Benjamin
M
Nov. 7, 1942
Jul. 5, 2012
69
Jaroszenski
Stanley
M
Nov. 27, 1940
Mar. 7, 2012
71
Jarvis
John
M
Dec. 2, 1940
Apr. 28, 2012
71
Jefferson
Kenneth
W.
M
Aug. 3, 1954
May 2, 2012
57
Jeffries
Jesse
B.
M
May 7, 1954
Aug. 12, 2012
58
Jemielita
Sophie
F
Jul. 25, 1917
Jan. 23, 2012
94
Jenkins
William
M
Apr. 18, 1933
Sep. 10, 2012
79
Jenkins
Dwight
O.
M
Aug. 3, 1954
Jun. 29, 2012
57
Jensen
Jennifer
L.
F
May 21, 1959
Dec. 23, 2011
52
Jodoin
Robert
J.
M
Jun. 1, 1942
Jun. 2, 2012
70
Johaszi
Saint
A.
M
Feb. 19, 1940
Nov. 9, 2011
71
Johnson
Humphrey
J.
M
Apr. 13, 1943
Jul. 23, 2011
68
Johnson
Excell
K.
M
Oct. 25, 1962
Jan. 9, 2012
49
Johnson
Nathan
M
Oct. 5, 1951
Dec. 1, 2011
60
Johnson
Barbara
D.
F
Sep. 18, 1925
Jan. 31, 2012
86
Johnson
Robert
E.
M
Jul. 15, 1960
Dec. 13, 2011
51
Johnson
Stephen
M
Jan. 9, 1960
Mar. 8, 2012
52
Johnson
Michael
J.
M
Feb. 23, 1944
Apr. 8, 2012
68
Johnson
Gladys
F
Oct. 28, 1945
Apr. 19, 2012
66
Johnson
George
M
Aug. 30, 1951
Apr. 9, 2012
60
Johnson
Lynn
D.
F
May 8, 1960
Apr. 23, 2012
51
Johnson
Richard
E.
M
Jun. 13, 1955
May 11, 2012
56
Johnson
Laurie
E.
F
Jun. 5, 1962
Jul. 2, 2012
50
Johnson
Rex
Jr.
F
Jan. 7, 1948
Apr. 26, 2012
64
Johnson
Margaret
W.
F
Dec. 20, 1943
Jul. 27, 2012
68
Johnson
Mary
E.
F
May 8, 1928
Nov. 4, 2012
84
Johnson
Joseph
M
Jul. 4, 1955
Oct. 8, 2012
57
Johnson
Charles
M
Aug. 23, 1954
Aug. 29, 2012
58
Johnson
Shari
J.
F
Nov. 23, 1961
Oct. 11, 2012
50
Johnson
Joyce
F
May 26, 1955
Nov. 27, 2012
57
Johnston
William
M
Jun. 16, 1942
Jul. 28, 2012
70
Jones
Roland
D.
M
Jun. 9, 1962
Oct. 7, 2011
49
Jones
Joel
Baby boy
M
Dec. 15, 2011
Jones
Patricia
A.
F
Feb. 16, 1943
Nov. 30, 2011
68
Jones
Lucy
F
Feb. 23, 1928
Jun. 19, 2012
84
Jones
Baby boy
M
Apr. 26, 2012
Jones
John
M
Feb. 3, 1947
Jun. 4, 2012
65
Jones
Denna
D.
F
Jan. 24, 1963
Jul. 17, 2012
49
Jones
Frenchie
F
Mar. 21, 1941
Aug. 21, 2012
71
Jones
Tytianah
Baby girl
F
Sep. 29, 2012
Jones
Baby boy
M
Sep. 4, 2012
Jordan
Charles
M
Dec. 16, 1948
Aug. 12, 2012
63
Jordan
Norman
M
Jul. 5, 1929
Oct. 29, 2012
83
Joslin
Dwight
L.
M
Apr. 8, 1945
Found 8/12/12
Jowers
John
C.
M
Aug. 14, 1945
May 19, 2012
66
Juarez
Baby boy
M
Dec. 14, 2011
Dec. 14, 2011
0
Kane
Stephen
K.
M
Feb. 20, 1925
Sep. 30, 2012
87
Kanetov-Kareton
Gregory
M
Jun. 12, 1948
Mar. 18, 2012
63
Kanouse
Logan
H.
M
Mar. 17, 1955
Mar. 13, 2012
56
Karesh-Sabbach
Mariam
Baby girl
F
Jul. 21, 2012
Jul. 21, 2012
0
Kaylor
Dwayne
D.
M
Oct. 29, 1964
Oct. 7, 2011
46
Keene
Barbara
F
Sep. 16, 1938
Oct. 20, 2012
74
Kellogg
Jean
F
Kellogg
Lawrence
M
Kendrick
Jerome
M
Mar. 18, 1952
Sep. 17, 2012
60
Kendricks
Walter
M
Sep. 23, 1950
Nov. 1, 2011
61
Keys
Gregory
M
Nov. 28, 1951
Apr. 29, 2012
60
Kheifets
Gregory
N.
M
Oct. 19, 1947
Mar. 30, 2012
64
Kidd
Curtis
M
Sep. 1, 1928
Jun. 1, 2011
82
Kidd
Jean
F
May 1, 1915
Oct. 2, 2012
97
Kim
Tai
M
Jan. 15, 1967
Feb. 27, 2012
45
Kim
Dong
Ho
M
May 20, 1952
May 23, 2012
60
Kim
Christine
T.
F
Jul. 25, 1974
Jun. 19, 2012
37
Kim
Young
S.
M
Apr. 21, 1935
Oct. 5, 2012
77
King
James
M
Aug. 2, 1953
Dec. 30, 2011
58
King
Michelle
S.
F
Dec. 6, 1966
Dec. 9, 2011
45
Kinnard
Nancy
L.
F
Apr. 4, 1932
Jun. 16, 2012
80
Kiraly
Joseph
E.
M
Jul. 14, 1934
Apr. 10, 2012
77
Kiss
Gyula
M
May 5, 1932
Jun. 6, 2012
80
Klein
William
M
Jun. 6, 1947
Dec. 27, 2011
64
Kleinberg
Perry
M
Nov. 11, 1926
Oct. 21, 2011
84
Kloetzer
Stephen
M
Apr. 4, 1951
Jan. 10, 2012
60
Klumb
Gary
M
Apr. 14, 1932
Feb. 13, 2012
79
Knapick
Patrick
M
May 19, 1950
Apr. 22, 2012
61
Knight
Jane
B.
F
Aug. 3, 1944
Feb. 4, 2012
67
Komonyi
Richard
M
Jul. 23, 1939
May 1, 2012
72
Kravagna
Charles
A.
M
Jul. 11, 1960
Jul. 13, 2012
52
Krechel
Keith
L.
M
Mar. 6, 1933
Jun. 21, 2012
79
Krytzer
Baby girl
F
Jun. 29, 2011
Jun. 29, 2011
0
Kull
Alice
F
Sep. 4, 1925
Dec. 11, 2011
86
Kusar
Sam
M
Mar. 29, 1929
Sep. 18, 2012
83
Labad
Rosa
F
Aug. 30, 1928
Jan. 19, 2012
83
Lackey
Dimitric
L.
M
Dec. 11, 1957
Aug. 4, 2012
54
Lafayette
Jesse
M
Jan. 1, 1941
May 16, 2012
71
Lamarr
Walter
G.
M
Nov. 18, 1938
Oct. 21, 2012
73
Lancaster
Paul
M
May 5, 1953
Jun. 23, 2012
59
Lander
Caroline
F
Jul. 28, 1945
Dec. 17, 2011
66
Langarcia
Jose
Baby boy
M
Dec. 31, 2011
Langton
Sylvia
H.
F
Sep. 5, 1923
Oct. 25, 2012
89
Langwald
Nathan
D.
M
Jun. 30, 1951
Jan. 14, 2012
60
Lanns
Paul
A.
M
Feb. 3, 1954
Feb. 16, 2012
58
Larou
Gordon
P.
M
Mar. 9, 1939
Dec. 22, 2011
72
Larson
Baby girl
F
Dec. 6, 2011
Larson
Baby girl
F
Jun. 25, 2012
Lawson
Thelma
F
Nov. 7, 1926
Jan. 12, 2012
85
Lawson
Kenneth
M
Feb. 22, 1965
Mar. 17, 2012
47
Lawson
Bruce
E.
M
Jun. 30, 1946
Nov. 25, 2012
66
Lazalde
Angela
F
Oct. 1, 1929
Apr. 13, 2012
82
Leale
Stephen
J.
M
May 14, 1960
Jul. 31, 2012
52
Lebo
Anthony
P.
M
Jan. 25, 1956
Jan. 4, 2012
55
Lecher
Louis
R.
M
Feb. 11, 1943
Dec. 28, 2011
68
Lee
Kenneth
L.
M
Jun. 16, 1945
Feb. 12, 2012
66
Lee
Lavarr
D.
M
Feb. 1, 1970
Jan. 19, 2012
41
Lee
James
M
Jan. 1, 1953
Jun. 25, 2012
59
Lee
Lorraine
J.
F
Jan. 10, 1956
Jun. 14, 2012
56
Lee
Kyong
F
Sep. 5, 1958
Jul. 12, 2012
53
Leffler
Kay
F
Aug. 27, 1941
May 2, 2012
70
Lehrbaum
Johanna
F
Jul. 8, 1947
Nov. 9, 2012
65
Lehrer
Pearl
F
Jul. 17, 1913
Feb. 28, 2012
98
Lehtinen
Albert
M
Jun. 21, 1925
May 13, 2011
85
Lei
Mildred
F
Sep. 6, 1938
Mar. 15, 2012
73
Lepicard
Robert
A.
M
Oct. 2, 1939
Dec. 31, 2011
72
Levi
Geraldine
E.
F
Jan. 22, 1956
Feb. 16, 2012
56
Lewis
Arnold
O.
M
Nov. 22, 1951
Mar. 8, 2011
59
Lewis
Adrian
L.
M
May 2, 1975
Aug. 1, 2012
37
Lewis
William
M
May 28, 1943
Oct. 17, 2012
69
Lieberman
Sherman
M
Feb. 20, 1939
Dec. 27, 2011
72
Liera
Leticia
F
May 5, 1952
Dec. 31, 2011
59
Light
Gregory
M
Jan. 28, 1951
Nov. 1, 2012
61
Lillard
William
M
Sep. 17, 1942
Feb. 5, 2012
69
Lincoln
Gilbert
M
Feb. 12, 1923
Nov. 26, 2011
88
Lisenby
Edward
M
Nov. 20, 1938
Mar. 30, 2012
73
Little
Cyndy
Rochelle
F
Jun. 7, 1952
Mar. 12, 2012
59
Liu Ching
Mine
M
Mar. 5, 1932
Mar. 20, 2012
80
Llorens
Ruth
A.
F
Feb. 28, 1960
Feb. 21, 2012
51
Loefke
James
M
Sep. 29, 1947
Feb. 28, 2012
64
Lofton
Earl
M
Jan. 8, 1939
Jun. 11, 2012
73
London
Jaden
Baby boy
M
Dec. 31, 2011
Lonzo
John
M
Jun. 29, 1938
Jun. 2, 2012
73
Lopez
Alfonso
M
Jan. 23, 1952
Mar. 1, 2012
60
Lopez
Victoria
Baby girl
F
Dec. 30, 2011
Dec. 30, 2011
0
Lopez
Elina
F
Dec. 10, 1938
Nov. 25, 2011
72
Lopez
Luis
M
Mar. 1, 1975
Jun. 18, 2012
37
Lopez
Gavino
A.
M
Oct. 22, 1933
Jul. 1, 2012
78
Lopez
John
M
Jun. 24, 1919
Jun. 9, 2012
92
Lorente
Carol
L.
F
Dec. 3, 1959
Dec. 10, 2011
52
Louclim
George
M
Feb. 10, 1950
Nov. 21, 2011
61
Love
Louis
M
May 29, 1942
Nov. 20, 2011
69
Love
Clyde
M
Oct. 30, 1939
Apr. 16, 2012
72
Love
Alease
F
May 14, 1943
Jun. 11, 2012
69
Lovejoy
Samuel
M
Jan. 7, 1927
Aug. 16, 2012
85
Lozano
Lupe
F
Nov. 12, 1930
Feb. 8, 2012
81
Lozano
Robert
M
Apr. 12, 1956
Sep. 2, 2012
56
Luc
Hoa
Q.
M
Jun. 20, 1933
Feb. 23, 2012
78
Lucero
Cesar
M
Mar. 10, 1924
Mar. 22, 2012
88
Lucero
John
M
Oct. 4, 1934
Oct. 6, 2012
78
Lucero-Tecla
Dayron
Baby boy
M
May 14, 2012
Luedeman
Gale
L.
M
Nov. 17, 1947
Jul. 14, 2012
64
Luikens
Richard
R.
M
Mar. 5, 1951
Dec. 16, 2011
60
Luis
Alberto
Baby boy
M
May 24, 2012
Luk
Baby girl
M
Aug. 17, 2012
Lunan
Maximina
F
Apr. 10, 1918
Apr. 2, 2012
93
Lunney
Arthur
C.
M
Dec. 15, 1937
Dec. 6, 2011
73
Luzuriaga
Luis
M
Aug. 26, 1923
Mar. 22, 2012
88
Lyon
David
M
Aug. 30, 1964
May 10, 2012
47
MacDonald
Janet
F
Feb. 5, 1925
Feb. 8, 2012
87
Mack
Alvin
V.
M
May 29, 1951
Apr. 18, 2012
60
Mack
Richard
J.
M
Feb. 12, 1937
Jun. 26, 2012
75
Mack
Alan
M
Jun. 16, 1926
Aug. 12, 2012
86
Mackey
Ronald
M
Sep. 12, 1944
Sep. 18, 2012
68
Madison
Charles
S.
M
Nov. 8, 1934
Feb. 22, 2012
77
Madison
Clarence
M
Oct. 5, 1945
Feb. 16, 2012
66
Magana
Baby boy
M
Jan. 29, 2012
Jan. 29, 2012
0
Magierski
Joseph
E.
M
Jun. 23, 1940
Aug. 6, 2012
72
Maharaj
Deodath
M
Mar. 25, 1947
Jul. 26, 2012
65
Malbrue
Tony
A.
M
May 15, 1959
Jun. 11, 2012
53
Malloy
Ali
A.
F
May 29, 1936
Aug. 31, 2012
76
Manjivar
Antonio
M
Aug. 13, 1949
Mar. 4, 2012
62
Manley
Walter
L.
M
Sep. 14, 1956
Jul. 29, 2012
55
Mann
Mer
M
May 11, 1939
Dec. 2, 2011
72
Marks
Robert
L.
M
Mar. 5, 1941
May 3, 2012
71
Marquez
Corrine
S.
F
Jun. 25, 1950
Aug. 3, 2012
62
Marquez
Baby girl
F
Aug. 24, 2012
Aug. 25, 2012
0
Marroquin
Baby boy
M
Oct. 12, 2012
Oct. 12, 2012
0
Marshall
Kenneth
M
Dec. 30, 1950
Feb. 15, 2012
61
Martin
Baby girl
F
Dec. 11, 2011
Dec. 11, 2011
0
Martin
Barry
G.
M
Feb. 14, 1955
Dec. 16, 2011
56
Martin
Mainard
O.
M
Sep. 8, 1940
Mar. 10, 2012
71
Martinez
Michael
A.
M
Aug. 4, 1960
Nov. 22, 2011
51
Martinez
Roberto
M
May 17, 1974
Apr. 2, 2012
37
Martinez
Baby girl
F
Apr. 8, 2012
Martinez
Carlos
I.
M
Jul. 12, 1968
May 1, 2012
43
Martinez
Juan
M
Aug. 19, 1953
Jun. 16, 2012
58
Martinez
Henry
M
Nov. 20, 1950
Aug. 13, 2012
61
Martini
Miguel
M
Dec. 8, 1930
Nov. 28, 2011
80
Marushka
Mariel
F
Apr. 21, 1940
Aug. 13, 2012
72
Mathieu
Lawrence
M
May 26, 1942
Jun. 7, 2012
70
Mattes
Harry
M
Jan. 2, 1924
Nov. 18, 2012
88
Matthews
Leroy
M
Dec. 30, 1929
Mar. 3, 2012
82
Mayer
Sally
F
Dec. 26, 1928
Oct. 20, 2011
82
Mays
Stanley
M
Apr. 11, 1939
Apr. 11, 2012
73
Mcasa
Gresham
T.
M
Dec. 20, 1951
Feb. 21, 2012
60
McCarthy
Maureen
F
Nov. 28, 1955
Mar. 9, 2012
56
McClure
John
M
Jun. 28, 1947
Aug. 29, 2012
65
McCoy
Frederick
Cecil
Jr.
M
Feb. 1, 1938
Jan. 12, 2012
73
McCoy
Tramane
Baby boy
M
Sep. 14, 2012
McCune
Thomas
W.
M
Jul. 2, 1940
Feb. 11, 2012
71
McDonald
James
R.
M
Mar. 1, 1938
Sep. 2, 2012
74
McDonough
Michael
F.
M
Apr. 16, 1953
Sep. 14, 2012
59
McDowell
Martin
E.
M
Jun. 11, 1939
Mar. 4, 2012
72
McElrath
Janet
V.
F
Feb. 3, 1930
Jan. 29, 2012
81
McGarry
Catherine
F
Oct. 7, 1960
Feb. 22, 2012
51
McGarvey
Baby boy
M
Jan. 13, 2012
McGee
William
R.
M
Aug. 26, 1957
Mar. 25, 2012
54
McGee
Linda
S.
F
Jul. 14, 1944
Sep. 4, 2012
68
McGee
Roosevelt
M
Mar. 6, 1964
Sep. 21, 2012
48
McLaughlin
Edward
M
Dec. 23, 1962
Oct. 12, 2012
49
McNeil
Mary
M.
F
Jun. 6, 1942
Oct. 31, 2011
69
Medina
Rudy
M
Oct. 18, 1958
Jun. 20, 2012
53
Mehany
Jonear
Baby girl
F
Jul. 3, 2012
Melquiades
Marten
M
May 25, 1949
Jul. 28, 2012
63
Melrose
Wilma
F
Jul. 25, 1925
Jul. 17, 2012
86
Mendoza
Pedro
M
May 13, 1951
Jan. 24, 2012
60
Mendoza
Luis
M
May 22, 1952
Mar. 18, 2012
59
Merrill
Norman
M
Apr. 28, 1943
Dec. 12, 2011
68
Merritt
Dorothy
J.
F
Apr. 18, 1944
Jun. 7, 2012
68
Meyers
Carol
J.
F
Jun. 17, 1932
Aug. 11, 2012
80
Miguel
Joseph
M
Apr. 21, 1923
Dec. 16, 2011
88
Mikles
Rosa
F
Feb. 1, 1942
Apr. 24, 2012
70
Milavec
Lawrence
M.
M
Jul. 29, 1938
May 5, 2012
73
Miles
Donald
E.
M
Feb. 3, 1964
Mar. 30, 2012
48
Miller
Antawn
Jr.
Baby boy
M
Apr. 20, 2012
Apr. 28, 2012
0
Miller
James
E.
M
Mar. 2, 1965
Aug. 20, 2012
47
Miller
Ralph
A.
M
Jun. 5, 1933
Oct. 1, 2012
79
Mingo
Charles
M
Mar. 12, 1946
May 22, 2012
66
Mings
Roy
M
Mar. 24, 1940
Feb. 17, 2012
71
Minnich
Charles
M.
M
Jan. 11, 1962
Apr. 26, 2012
50
Minter
Hilda
R.
F
Jun. 13, 1924
Nov. 9, 2012
88
Mirbakhtiar
Hooshang
M
Mar. 19, 1942
Aug. 6, 2011
69
Mitchell
Darryl
M
Sep. 16, 1961
Dec. 24, 2011
50
Mitchell
Richard
H.
F
Jan. 8, 1944
Jan. 14, 2012
68
Mitchell
Sonia
F
Oct. 8, 1947
Jul. 26, 2012
64
Mitchell
Michael
M
Nov. 25, 1940
Nov. 8, 2012
71
Molina
Robert
M
Jun. 29, 1939
Jul. 1, 2012
73
Molina
Daniel
M
Jun. 3, 1937
Apr. 10, 2012
74
Montegna
Vincent
Jr.
M
Jun. 2, 1960
Sep. 27, 2012
52
Montes
Concepcion
F
Jan. 28, 1921
Jul. 6, 2012
91
Moody
David
R.
M
Jul. 11, 1945
Feb. 1, 2012
66
Moore
Opal
F
Jan. 19, 1948
Jan. 18, 2012
63
Moore
Jacob
Baby boy
M
Nov. 15, 2012
Mora
Guillermo
M
May 28, 1938
Oct. 1, 2012
74
Morales
Baby girl
F
Jan. 3, 2012
Morales
Jose
M.
M
May 8, 1964
Nov. 19, 2011
47
Morales
Elena
F
May 3, 1952
Jan. 13, 2012
59
Morales
Criztal
Baby girl
F
Apr. 6, 2012
Morales-Rivera
Giselle
Baby girl
F
Apr. 24, 2012
Moran
Adam
M
Jul. 30, 1958
Aug. 29, 2011
53
Moreno
Baby boy
M
Jun. 24, 2008
Moreno
Baby girl
F
Apr. 7, 2012
Apr. 7, 2012
0
Moreno
Armida
F
May 26, 1927
Jul. 15, 2012
85
Moreno
Phillip
M
Jan. 22, 1957
Aug. 8, 2012
55
Moreno
George
M
Jun. 23, 1957
Oct. 4, 2012
55
Morgan
Paul
T.
Jr.
M
Jul. 10, 1963
Jan. 20, 2015
51
Morgan
Maladin
Baby girl
F
May 2, 2012
Morgan
Baby girl
F
Sep. 20, 2012
Morissier
Victor
J.
M
Aug. 30, 1932
Nov. 27, 2011
79
Morris
Derick
M
Apr. 13, 1962
Oct. 29, 2011
49
Morris
Arlene
O.
F
Jun. 9, 1952
Feb. 26, 2012
59
Morris
George
D.
M
Dec. 14, 1962
Aug. 16, 2012
49
Morvai
Jozsef
M
Sep. 24, 1947
Apr. 10, 2012
64
Moskovic
Myron
M
Aug. 13, 1947
Feb. 23, 2012
64
Moss
William
H.
M
Oct. 15, 1947
Jun. 13, 2012
64
Mozingo
Mary
Jo
F
Jan. 5, 1947
Feb. 20, 2012
65
Mueller
Edwin
F.
Jr.
M
Dec. 23, 1962
Jan. 31, 2012
49
Mueller
Avis
M.
F
Jul. 18, 1941
Mar. 30, 2012
70
Mull
Andrew
Baby boy
M
Aug. 24, 2011
Feb. 13, 2012
0
Muller
Lamar
E.
M
May 14, 1972
Jul. 11, 2012
40
Mullins
James
Jr.
M
Oct. 12, 1965
Dec. 4, 2011
46
Mumma
Stephanie
F
Jun. 13, 1950
Mar. 9, 2012
61
Munro
Mary
F
May 14, 1946
Jul. 2, 2012
66
Murphy
Brenda
J.
F
Apr. 6, 1952
Dec. 31, 2011
59
Murphy
Glen
M
Aug. 31, 1954
May 3, 2012
57
Muscatel
Seymour
H.
M
May 5, 1952
Nov. 30, 2012
60
Muskatell
Janet
K.
F
Dec. 9, 1936
Sep. 24, 2012
75
Myers
Anthony
L.
M
Apr. 28, 1942
Apr. 29, 2012
70
Myers
Richard
A.
M
Mar. 2, 1944
Jul. 7, 2012
68
Myers
Jonathan
Baby boy
M
Sep. 15, 2012
Sep. 15, 2012
0
Myers
Virginia
D.
F
Oct. 12, 1941
Nov. 7, 2012
71
Myles
Willie
J.
M
May 28, 1952
Feb. 23, 2012
59
Najami
Parviz
M
Apr. 7, 1965
Jul. 7, 2012
47
Nakaza
Isamu
M
Jun. 25, 1927
May 15, 2012
84
Nance
Eunice
F
Sep. 17, 1925
Dec. 30, 2011
86
Napoli
Francisco
M
Jan. 4, 1951
Sep. 24, 2011
60
Nardin
Charles
M
Dec. 12, 1944
Mar. 12, 2012
67
Nash
William
L.
M
Dec. 31, 1961
Dec. 2, 2011
49
Navarro
Antonio
M
Oct. 10, 1963
Jul. 7, 2012
48
Neal
David
A.
M
Jan. 5, 1962
Oct. 26, 2011
49
Nelsen
Vae
M.
F
Aug. 8, 1935
May 7, 2012
76
Nelson
Thelma
F
Jun. 10, 1933
May 29, 2012
78
Nelson
Anthony
M
Nov. 4, 1951
Jun. 5, 2012
60
Newman
Danny
D.
M
Nov. 13, 1952
Feb. 8, 2012
59
Nguyen
Toby
P.
M
Sep. 16, 1958
Apr. 3, 2012
53
Nichols
Charles
Jr.
M
Jan. 26, 1956
Dec. 12, 2011
55
Nichols
Mary
Baby girl
F
Dec. 15, 2011
Dec. 15, 2011
0
Nichols
Sheila
E.
F
Jul. 16, 1952
May 29, 2012
59
Nicholson
Milton
M
Aug. 8, 1925
Jan. 19, 2012
86
Niles
Cecil
G.
M
Oct. 31, 1952
Jun. 7, 2012
59
Nimmers
Clarence
M
Mar. 22, 1946
Mar. 12, 2012
65
Nixon
Joseph
M
Sep. 21, 1960
Apr. 16, 2012
51
Niziolek
John
M
Mar. 1, 1935
Apr. 26, 2012
77
Noel
Michael
C.
M
May 20, 1953
Jan. 5, 2012
58
Norton
Marie
L.
F
May 7, 1961
Jan. 1, 2012
50
Nunns
Randy
S.
M
Aug. 12, 1950
Nov. 27, 2011
61
Ochiyo
Lily
F
Jun. 16, 1926
Jan. 24, 2012
85
Ochoa
Michael
Jr.
Baby boy
M
Oct. 17, 2012
Odell
David
A.
M
Mar. 21, 1955
Mar. 17, 2012
56
Okezie
Isika
M
Sep. 5, 1947
May 7, 2012
64
Olmedo
Fernando
M
Dec. 20, 1946
Apr. 14, 2012
65
Olmstead
Robert
M
Jan. 10, 1936
Dec. 16, 2011
75
Olney
Daniel
C.
M
Dec. 29, 1950
Jun. 14, 2012
61
Omalley
Charles
M
May 16, 1916
Dec. 10, 2011
95
Omoare
Baby boy
M
Mar. 28, 2012
Onuqwu
Baby girl
F
Apr. 2, 2012
Apr. 2, 2012
0
Ordonez
Lazaro
M
Aug. 4, 1954
Dec. 14, 2011
57
Orman
Thomas
M
Jun. 22, 1950
Jul. 14, 2012
62
Ornelas
Angel
Baby boy
M
Nov. 23, 2011
Ortiz
Gustavo
M
Oct. 25, 1968
Aug. 31, 2012
43
Ortiz-Sanchez
Pablo
Baby boy
M
Dec. 26, 2011
Owens
Stephen
R.
M
Feb. 19, 1955
Mar. 12, 2012
57
Owens
Malik
Baby boy
M
Apr. 11, 2012
Apr. 11, 2012
0
Owens
John
E.
M
Apr. 8, 1949
Aug. 2, 2012
63
Pace
John
M
Oct. 27, 1941
Aug. 17, 2012
70
Paez
Pedro
M
Jan. 22, 1933
Apr. 29, 2012
79
Pagaduan
Alfred
M
Sep. 29, 1949
Aug. 15, 2012
62
Palma-Rodas
Claudia
Baby girl
F
Mar. 3, 2012
Mar. 3, 2012
0
Palmer
Kathy
F
Jul. 26, 1951
Jan. 2, 2012
60
Palmer
Grace
F
Oct. 12, 1916
Apr. 15, 2012
95
Pankey
Louise
F
Oct. 25, 1920
Aug. 12, 2012
91
Parada
Demecio
P.
M
Apr. 3, 1951
Feb. 5, 2012
60
Parker
Ronald
M
Aug. 17, 1931
Nov. 30, 2011
80
Parker
Justin
Daniel
M
Sep. 30, 1973
Jan. 7, 2012
38
Parker
Sweet
John
M
Jan. 18, 1943
Jan. 14, 2012
68
Parker
Clarence
M
Sep. 15, 1927
Feb. 2, 2012
84
Parker
Walter
M
Apr. 2, 1958
Dec. 18, 2011
53
Parker
Richard
M
Sep. 15, 1930
Apr. 18, 2012
81
Parker
Earl
R.
M
Apr. 19, 1947
Jul. 24, 2012
65
Pash
Harvey
M
Patterson
Rudolph
M
Aug. 27, 1941
Apr. 3, 2012
70
Paul
Edward
S.
M
Aug. 27, 1954
May 20, 2012
57
Payne
John
M
May 9, 1965
Dec. 3, 2012
47
Payne
Glenn
A.
M
Apr. 26, 1938
Aug. 27, 2012
74
Pedrozo
Ernesto
M
Nov. 17, 1945
Sep. 11, 2012
66
Peebles
Damon
E.
M
Jul. 26, 1963
Aug. 17, 2012
49
Peng
Liam
Baby boy
M
Dec. 25, 2011
Penn
Stephanie
C.
F
May 25, 1949
Aug. 9, 2012
63
Pepez
Ricardo
M
Mar. 16, 1929
Oct. 16, 2012
83
Pereya
Michael
R.
M
Dec. 13, 1946
May 23, 2012
65
Perez
Genesis
Baby girl
F
Sep. 5, 2012
Perez
Baby boy
M
Aug. 21, 2012
Perez-Broome
Erminda
F
Dec. 2, 1933
Sep. 9, 2012
78
Perteet
Leroy
M
Nov. 30, 1929
Jan. 11, 2012
82
Peter
A'ron
Jr.
Baby boy
M
Jun. 7, 2012
Peters
Jeremy
J.
M
Nov. 3, 1956
Dec. 1, 2011
55
Peters
Kathryn
F
Dec. 16, 1951
Jun. 7, 2012
60
Petersen
Florence
F
Apr. 23, 1935
Jan. 20, 2012
76
Peterson
Elizabeth
A.
F
Jul. 3, 1927
Jul. 4, 2012
85
Peterson
William
M
Nov. 6, 1930
Oct. 1, 2012
81
Peyton
Louis
M
Jun. 29, 1936
Oct. 17, 2011
75
Pine
Leonard
M
Jan. 16, 1947
May 25, 2012
65
Piotrowski
Raymond
M
Dec. 3, 1933
Jun. 4, 2012
78
Pitre
Leonardo
J.
M
Nov. 4, 1951
Apr. 16, 2012
60
Pitts
Walter
D.
M
Nov. 26, 1946
Nov. 17, 2011
64
Plante
Stephen
M
Nov. 2, 1948
Sep. 19, 2012
63
Plasencia
Jesse
Baby boy
M
Jul. 8, 2012
Platt
Richard
M
Aug. 15, 1958
Mar. 2, 2012
53
Poe
Lawrence
M
Apr. 15, 1933
Oct. 20, 2012
79
Pokorski
Frank
J.
M
Feb. 24, 1945
Jun. 23, 2012
67
Porter
Beverly
F
Sep. 14, 1957
Jun. 8, 2012
54
Porter
Jane
E.
F
Mar. 2, 1923
Aug. 20, 2012
89
Portillo
Jesus
G.
M
Sep. 19, 1955
Jul. 21, 2012
56
Poudel
Baby girl
F
Sep. 28, 2012
Sep. 28, 2012
0
Pounds
Lyle
L.
M
Oct. 1, 1931
Apr. 22, 2012
80
Powell
James
M.
M
Dec. 31, 1968
Dec. 18, 2011
42
Prather
Geraldine
F
Jan. 31, 1933
Jan. 7, 2012
78
Pratt
Helena
F
Aug. 14, 1939
Jun. 18, 2012
72
Prebtegui
Noemi
Baby girl
F
May 16, 2012
Precheny
Thomas
M
Dec. 13, 1945
Aug. 23, 2012
66
Pree
Jeremyany
Baby boy
M
Aug. 8, 2012
Aug. 20, 2012
0
Preston
William
L.
M
Aug. 4, 1963
Nov. 30, 2011
48
Preston
Marty
M
Nov. 24, 1964
Mar. 3, 2012
47
Price
Richard
M
Jan. 26, 1976
Aug. 7, 2012
36
Prince
Victoria
G.
F
Oct. 24, 1955
Jul. 15, 2012
56
Pritchett
Dennis
E.
M
Apr. 8, 1960
Jan. 12, 2012
51
Pullen
Barry
M
Dec. 20, 1934
Jan. 11, 2012
77
Quintanilla
Alexaner
Baby boy
M
Feb. 24, 2012
Feb. 24, 2012
0
Rainey
John
D.
M
Dec. 25, 1935
Jan. 24, 2012
76
Ramirez
Vanassa
Baby girl
F
Dec. 2, 2011
Dec. 2, 2011
0
Ramirez
Juan
T.
M
Jul. 26, 1957
Jan. 10, 2012
54
Ramos
Baby girl
F
May 7, 2012
Randin
Roberto
M
Jan. 18, 1951
Aug. 13, 2012
61
Rangel
Richard
M.
M
Nov. 16, 1949
Sep. 1, 2012
62
Ransom
Ella
F
Sep. 13, 1958
Aug. 12, 2012
53
Rapton
Avra
F
Jul. 18, 1927
Aug. 2, 2012
85
Rayford
Leon
M
Nov. 24, 1946
Jun. 11, 2012
65
Rebota
Josephine
F
Jun. 7, 1940
Jan. 10, 2012
71
Reese
Norman
R.
M
Jul. 2, 1943
May 8, 2012
68
Regoci
Anna
F
Jul. 21, 1919
Oct. 3, 2012
93
Reid
Robert
L.
M
Nov. 25, 1939
Dec. 15, 2011
72
Renee
Jesse
L.
F
Jan. 23, 1955
Jan. 10, 2012
56
Reyes
Baby boy
M
Jun. 27, 2012
Reyes
Baby boy
M
Jul. 17, 2011
Riback
Linda
B.
F
Mar. 28, 1944
Jun. 12, 2012
68
Rice
Vivian
F
Mar. 17, 1919
Apr. 16, 2012
93
Richards
Jennifer
K.
F
Jun. 29, 1954
Apr. 2, 2012
57
Richardson
Arthur
M
Mar. 19, 1938
Oct. 12, 2012
74
Richardson
Danjuel
M.
M
Jan. 13, 1980
Jul. 17, 2012
32
Richmond
Blake
Baby boy
M
Mar. 5, 2012
Rickerd
Eljah
Baby boy
M
May 12, 2012
Ridley
Reece
M
Feb. 17, 1935
Sep. 1, 2012
77
Riggins
Claire
F
Mar. 25, 1938
Dec. 20, 2011
73
Rigsby
Cynthia
R.
F
Oct. 7, 1950
Jul. 5, 2012
61
Riley
Robert
O.
M
Dec. 15, 1934
Sep. 5, 2012
77
Rindfleisch
Donald
M
Jul. 28, 1933
Mar. 20, 2012
78
Rintoul
Jack
M
Feb. 17, 1921
Mar. 27, 2012
91
Rios
Micaela
F
May 8, 1926
Apr. 2, 2012
85
Risher
Sherri
F
Apr. 24, 1963
Mar. 4, 2012
48
Rivas
Oscar
M
Apr. 9, 1958
Dec. 15, 2011
53
Rivera
Mary
T.
F
Sep. 11, 1927
Jun. 9, 2012
84
Robert
Mae
E.
F
Sep. 30, 1944
Nov. 24, 2011
67
Roberts
Scott
A.
M
Dec. 24, 1959
Aug. 15, 2012
52
Robertson
Bruce
M
Aug. 23, 1939
Aug. 12, 2012
72
Robinson
Ray
I.
M
Sep. 1, 1937
Dec. 18, 2011
74
Robinson
Cleother
M
Jul. 31, 1950
Apr. 18, 2012
61
Robinson
Jeanette
H.
F
Jun. 4, 1953
Sep. 6, 2012
59
Roche
Orlane
F
Apr. 25, 1956
Sep. 10, 2012
56
Rock
Jerome
M.
M
Jul. 16, 1946
Dec. 5, 2012
66
Rocker
Patricia
F
Feb. 1, 1931
Feb. 25, 2012
81
Rodriguez
Elizabeth
F
Aug. 5, 1927
Nov. 8, 2011
84
Rodriguez
William
Jr.
M
Jul. 31, 1957
May 19, 2012
54
Rodriguez
Lazaro
M
Dec. 10, 1955
Jul. 6, 2012
56
Rodriguez
Luis
L.
M
May 24, 1944
Sep. 4, 2012
68
Rogers
Maureen
F
Apr. 16, 1952
Dec. 21, 2011
59
Rohrig
Edward
M
Feb. 26, 1962
Mar. 22, 2012
50
Rojas
Guillermo
M
May 4, 1955
Jan. 4, 2012
56
Rollen
Luther
V.
M
Aug. 15, 1947
Jan. 27, 2012
64
Romero
Baby boy
M
Mar. 3, 2012
Romero
Fernando
M
Sep. 27, 1955
Sep. 3, 2012
56
Roncace
Silvio
M
Sep. 18, 1954
Nov. 9, 2011
57
Roosa
John
J.
M
Aug. 28, 1940
Apr. 6, 2012
71
Root
Phillip
M
Nov. 6, 1937
Feb. 25, 2012
74
Roque
Miguel
M
Jun. 17, 1931
May 9, 2012
80
Rosales
Charles
M
May 16, 1926
Aug. 1, 2012
86
Rosas
Alejandro
M
Jan. 3, 1967
May 27, 2012
45
Rosas-Garcia
Francisco
M
Oct. 3, 1957
Jan. 31, 2012
54
Rosen
Bradford
J.
M
Mar. 13, 1951
Jul. 9, 2012
61
Roston
Phillip
K.
M
Dec. 6, 1961
Apr. 15, 2012
50
Rounds
Thomas
E.
M
Jul. 20, 1960
Mar. 9, 2012
51
Rowe
Raymond
M
Apr. 7, 1946
Jan. 23, 2012
65
Rowlet
Frances
A.
F
Dec. 8, 1913
May 23, 2012
98
Rubin
Deaner
F
May 27, 1925
Nov. 6, 2011
86
Ruff
Ronald
M
Nov. 28, 1953
Jul. 17, 2012
58
Ruffalo
Ralph
L.
M
Feb. 3, 1943
Mar. 20, 2012
69
Ruhle
Jeffrey
M
Sep. 29, 1952
Mar. 3, 2012
59
Ruiz
Angel
Baby boy
M
Aug. 30, 2012
Runnell
Baby boy
M
Jul. 31, 2012
Russell
Virginia
F
Jun. 20, 1943
Mar. 12, 2012
68
Russell
Joseph
M
Oct. 31, 1963
Jul. 31, 2012
48
Russo
John
J.
M
Apr. 3, 1961
Mar. 26, 2012
50
Ruther
James
L.
M
May 3, 1952
Mar. 30, 2012
59
Rydberg
Agneta
F
Dec. 20, 1948
Apr. 7, 2012
63
Rydberg
Donald
M
Aug. 4, 1940
Jun. 4, 2012
71
Saito
Motoyuki
M
Aug. 31, 1949
Jul. 17, 2012
62
Sama
Lena
F
Oct. 12, 1949
Nov. 10, 2012
63
Samayoa
Jayden
Baby boy #1
M
Feb. 27, 2012
Feb. 27, 2012
0
Samayoa
M
Grace
Baby girl #2
F
Feb. 27, 2012
Feb. 27, 2012
0
Sampson
Roberta
L.
F
Feb. 13, 1958
Nov. 29, 2011
53
Sanchez
Maria
F
Nov. 17, 1966
Apr. 11, 2012
45
Sanchez
Ignacio-Nash
M
Aug. 28, 1942
May 6, 2012
69
Sanchez
Daniel
J.
M
Jun. 27, 1956
Sep. 21, 2012
56
Sanders
Ruben
D.
M
Jan. 4, 1949
Nov. 28, 2011
62
Sanders
Don
M
Jan. 12, 1927
Jul. 30, 2012
85
Sanders
Baby girl
F
Jul. 20, 2012
Sanders
Henry
M
Jul. 4, 1948
Aug. 17, 2012
64
Sanders
Stanley
M
Nov. 9, 1951
Sep. 22, 2012
60
Sandoval
Gloria
F
Jul. 4, 1955
Jul. 13, 2012
57
Sanford
Dorothy
M.
F
May 8, 1921
Dec. 18, 2011
90
Sansom
Louise
F
May 15, 1922
Apr. 29, 2012
89
Santana-Marceo
I.
M
Feb. 1, 1940
May 21, 2012
72
Sasic
George
M
Sep. 8, 1935
Jul. 30, 2012
76
Sattin
Sue
A.
F
Jan. 25, 1945
Feb. 27, 2012
67
Saucedo
Dario
M
Oct. 18, 1948
May 10, 2012
63
Sautin
Francine
F
Mar. 28, 1947
May 5, 2012
65
Sax
Paul
M
Jun. 28, 1947
Oct. 26, 2012
65
Schiets
Mary
F
Dec. 13, 1929
Aug. 5, 2012
82
Schlotzhauer
Jean
F
Mar. 15, 1936
Sep. 1, 2012
76
Schneider
Milton
M
Feb. 13, 1924
Jul. 19, 2012
88
Schneider
Susan
F
Sep. 18, 1928
Aug. 27, 2012
83
Schnelker
Marjorie
F
Apr. 15, 1928
Apr. 15, 2012
84
Schorr
Barbara
F
Dec. 13, 1942
Jan. 5, 2012
69
Scobey
Gary
O.
M
Apr. 12, 1959
Dec. 25, 2011
52
Scott
Jayen
Baby girl
F
Apr. 11, 2011
Scott
Major
M
Jan. 7, 1949
Jul. 4, 2012
63
Scott
Roger
M
Nov. 21, 1946
Sep. 6, 2012
65
Selby
Mark
M
Dec. 24, 1963
Jun. 7, 2011
47
Sevilliano
Gregory
M
May 9, 1956
Dec. 12, 2011
55
Shacter
Martin
M
Mar. 12, 1925
Dec. 29, 2011
86
Shanahan
Patrick
J.
M
Aug. 5, 1942
Feb. 23, 2012
69
Shane
Richard
M
May 23, 1930
Mar. 20, 2012
81
Sharlow
Don
M
Jul. 11, 1951
Jan. 17, 2012
60
Shaw
Sean
R.
M
Sep. 19, 1981
May 27, 2012
30
Shemwell
Sylvia
F
Sher
Sandra
F
Jun. 2, 1946
Feb. 16, 2012
65
Shrake
Thomas
M
Apr. 18, 1932
Jul. 3, 2011
79
Shu
Cheng
Fuh
M
Nov. 11, 1945
Mar. 26, 2012
66
Sierra
Lydia
M.
F
Sep. 2, 1946
Jan. 27, 2012
65
Silk
Edwin
M
Jun. 3, 1928
Aug. 29, 2012
84
Silva
James
M
Jul. 24, 1950
Aug. 14, 2012
62
Simard
Jules
M
Jul. 20, 1934
Jul. 26, 2012
78
Simmons
James
M
Feb. 21, 1956
Jun. 18, 2012
56
Simmons
Philip
M
Oct. 31, 1967
Jul. 28, 2012
44
Singleton
Baby girl
F
Jul. 26, 2012
Singleton
Heaven
Baby girl
F
Sep. 20, 2012
Sep. 26, 2012
0
Sirota
Nancy
F
Feb. 2, 1943
Dec. 24, 2011
68
Situ
Baby boy
M
May 28, 2012
May 28, 2012
0
Skelton
George
F.
M
Apr. 22, 1934
Nov. 26, 2011
77
Slade
Harrell
M
Jun. 22, 1950
Jul. 12, 2012
62
Sloss
Curley
L.
III
M
Jul. 4, 1945
Jun. 28, 2012
66
Slyvester
Billups
M
Jun. 15, 1964
Mar. 25, 2012
47
Smith
James
M
Feb. 25, 1931
Nov. 22, 2011
80
Smith
Almeta
F
May 3, 1920
Dec. 30, 2011
91
Smith
Mary
F
Mar. 24, 1938
Jan. 22, 2012
73
Smith
David
M.
M
Mar. 1, 1957
Jan. 10, 2012
54
Smith
William
M
Jul. 23, 1951
Jan. 22, 2012
60
Smith
Larry
T.
M
Jan. 16, 1955
Jan. 13, 2012
56
Smith
Robert
M
Jun. 14, 1952
Feb. 5, 2012
59
Smith
Juanita
F
May 16, 1951
Feb. 23, 2012
60
Smith
John
E.
M
Jul. 20, 1947
Mar. 8, 2012
64
Smith
David
M
Jan. 9, 1959
Mar. 13, 2012
53
Smith
William
M
Sep. 1, 1928
Apr. 9, 2012
83
Smith
Katherine
M.
F
Nov. 6, 1963
May 25, 2012
48
Smith
Darrell
M
Jul. 11, 1972
Sep. 16, 2012
40
Smith-Brannon
Charlene
F
Jun. 29, 1939
Dec. 17, 2011
72
Smotherman
Mary
F
Apr. 28, 1921
Mar. 1, 2012
90
Snead
Arthur
L.
Sr.
M
Apr. 15, 1949
Dec. 13, 2011
62
Snow
Allan
D.
M
Oct. 5, 1951
May 12, 2012
60
Snyder
Carey
G.
M
Nov. 11, 1948
Dec. 29, 2011
63
Snyder
Patrick
B.
M
Apr. 5, 1972
Sep. 22, 2012
40
So
Ying
M
Nov. 1, 1929
May 29, 2012
82
Sogg
Robert
M
Sep. 29, 1933
Aug. 27, 2012
78
Solis
Alvaro
M
Feb. 19, 1961
Sep. 28, 2011
50
Soto
Amado
N.
M
Nov. 8, 1949
Jul. 2, 2012
62
Southwick
Lawrence
W.
M
Jun. 29, 1953
Jun. 29, 2012
59
Spargur
Roy
E.
III
M
Jan. 5, 1963
Jul. 6, 2012
49
Spearman
Douglas
M
Jul. 26, 1940
Dec. 30, 2011
71
Spears
William
M.
M
Dec. 29, 1954
May 7, 2012
57
Stamp
George
A.
M
Sep. 11, 1934
May 13, 2012
77
Steed
William
Jr.
M
Sep. 17, 1991
May 29, 2012
20
Steed
Philip
B.
M
Mar. 17, 1933
Sep. 6, 2012
79
Steiner
John
F.
M
Mar. 21, 1968
Mar. 7, 2012
43
Stephens
Daniel
M
Jan. 23, 1939
Jul. 19, 2012
73
Sterling
Lucille
F
Nov. 30, 1931
May 22, 2012
80
Stern
Granville
H.
M
Nov. 23, 1959
Apr. 27, 2012
52
Stevens
Silas
M
Nov. 4, 1976
Dec. 18, 2011
35
Stevenson
Jesse
M
Oct. 12, 1953
Jul. 20, 2012
58
Stevenson
Alvin
M
Aug. 14, 1947
Aug. 28, 2012
65
Steward
Baby boy
M
May 6, 2012
May 6, 2012
0
Stewart
Benjamin
M
Jun. 2, 1941
Aug. 26, 2012
71
Stoller
Joan
F
Jul. 1, 1937
Dec. 21, 2011
74
Stonum
Willie
P.
F
Feb. 22, 1920
Mar. 16, 2012
92
Stouffer
Daniel
D.
M
Dec. 3, 1943
Jun. 21, 2012
68
Straka
Charles
R.
M
May 17, 1951
Dec. 9, 2011
60
Stramm
Eddie
M
Nov. 17, 1933
Jan. 24, 2012
78
Strauss
Neil
T.
M
Nov. 19, 1962
Nov. 4, 2011
48
Striding
Iola
F
Dec. 2, 1947
Feb. 10, 2012
64
Strong
Valerie
F
Mar. 5, 1959
Jun. 14, 2012
53
Stubbe
Robert
W.
M
Dec. 9, 1962
Mar. 24, 2012
49
Stutzman
Warner
M
Jul. 31, 1921
Feb. 21, 2012
90
Suarez
Baby girl
F
Jan. 20, 2012
Jan. 20, 2012
0
Sullivan
Lynda
J.
F
Mar. 28, 1961
Feb. 12, 2012
50
Sullivan
Michael
T.
M
Jun. 24, 1939
Sep. 24, 2012
73
Swartout
Teresa
R.
F
Aug. 6, 1974
Apr. 10, 2012
37
Swenson
Elmar
M
Jul. 10, 1939
Jun. 18, 2012
72
Swinney
Samuel
E.
M
Aug. 2, 1968
Mar. 16, 2012
43
Szava
Miklos
M
Dec. 3, 1932
Feb. 15, 2012
79
Tada
Joan
F
Jun. 16, 1938
Mar. 9, 2012
73
Talley
Fred
L.
M
Feb. 22, 1959
Oct. 14, 2012
53
Tam
Kenneth
M
Mar. 23, 1973
Aug. 13, 2012
39
Tanner
Michael
J.
M
Jun. 15, 1944
Mar. 15, 2012
67
Tappenden
Tracy
E.
F
Aug. 26, 1959
Oct. 29, 2012
53
Tarter
Bruce
M
Oct. 10, 1953
Sep. 10, 2012
58
Tarter
Corrinne
F
Tarver
Eugene
M
Nov. 14, 1936
Jun. 13, 2012
75
Tatavoosi
Artimis
F
Mar. 17, 1935
Nov. 22, 2012
77
Tate
Michael
M
Dec. 29, 1951
May 17, 2012
60
Tatum
Kenneth
S.
M
Aug. 10, 1960
Nov. 21, 2011
51
Taye
Michael
M
Aug. 17, 1950
May 25, 2012
61
Taylor
Randy
M
Apr. 25, 1967
Jul. 4, 2012
45
Teague
Lee
F
Feb. 8, 1924
Sep. 28, 2012
88
Tedeschi
Richard
K.
M
Oct. 12, 1943
May 18, 2012
68
Tellez
Roberto
M
Feb. 22, 1929
Apr. 5, 2012
83
Teresi
Tony
C.
M
May 20, 1938
Aug. 17, 2012
74
Terrell
David
M
Oct. 12, 1957
May 27, 2012
54
Thomas
Alma
L.
F
Nov. 18, 1918
Mar. 8, 2012
93
Thomas
Virginia
A.
F
May 19, 1938
Apr. 20, 2012
73
Thomas
Joyce
L.
F
May 12, 1938
Sep. 10, 2012
74
Thomas
Dexter
R.
M
Oct. 15, 1956
Sep. 19, 2012
55
Thome
Edward
M
Mar. 28, 1948
Mar. 30, 2012
64
Thompson
Charlene
F
May 6, 1930
Jan. 15, 2012
81
Thompson
Baby boy
M
Feb. 11, 2012
Feb. 11, 2012
0
Thoren
Theda
F
Jun. 17, 1945
Apr. 25, 2012
66
Tice
Verne
S.
M
Sep. 14, 1946
Jun. 6, 2012
65
Titsworth
Ervin
Jr.
M
Feb. 1, 1954
Feb. 5, 2012
58
Tong
Norman
M
Sep. 30, 1927
Jul. 23, 2012
84
Tong
Eric
M
Feb. 6, 1950
Mar. 9, 2012
62
Tonis
James
M
Feb. 21, 1959
Jul. 5, 2012
53
Torres
Ramon
Baby boy
M
Sep. 30, 2011
Torres
Carlos
M
Feb. 16, 1954
Apr. 8, 2012
58
Trembley
Charles
L.
M
Sep. 21, 1959
Jun. 19, 2012
52
Trevigne
Paul
M
Feb. 9, 1953
Dec. 14, 2011
58
Trew
Francis
G.
M
Aug. 20, 1942
Jan. 27, 2012
69
Troncoso
Atanacio
M
Jan. 22, 1944
Aug. 28, 2012
68
Tuell
Robert
M
Feb. 13, 1964
Nov. 18, 2011
47
Turchi
Susan
L.
F
Sep. 26, 1949
Oct. 29, 2012
63
Turnbaugh
Shirley
F
Sep. 5, 1929
Jul. 23, 2012
82
Turnbull
Leo
C.
III
M
Oct. 18, 1962
May 2, 2012
49
Turner
Geraldine
G.
F
Apr. 27, 1921
Jun. 13, 2012
91
Tyra
Judith
F
Jun. 30, 1942
Mar. 22, 2012
69
Ukweli
Kasimu
M
May 20, 1950
Jan. 10, 2012
61
Unknown
U
Unknown
U
Unknown
U
Utkin
Lawrence
D.
M
Jan. 3, 1962
Mar. 5, 2012
50
Valdez
Silvestre
E.
M
Dec. 31, 1935
Dec. 12, 2011
75
Valdez
Andres
R.
M
Nov. 30, 1942
Mar. 18, 2012
69
Valdez
Patrick
M
Feb. 13, 1941
Apr. 26, 2012
71
Valdivia
Ramos
Jesus
M
May 28, 1959
Jan. 5, 2012
52
Valencia
Lucia
F
Apr. 26, 1916
Feb. 12, 2012
95
Valenzuela
Raymond
M
Nov. 1, 1928
Sep. 8, 2012
83
Valle
Francisca
F
Nov. 12, 1947
Apr. 1, 2012
64
Vanwinkle
Peter
S.
M
Apr. 23, 1961
Aug. 2, 2012
51
Varna
Mayrita
R.
F
Jun. 18, 1945
Feb. 13, 2012
66
Vartnova
Alexandra
A.
F
May 14, 1929
Oct. 4, 2011
82
Vasquez
Maria
F
Mar. 30, 1928
Apr. 14, 2012
84
Vaughn
Chester
M
Jan. 30, 1933
Feb. 11, 2012
79
Vaughn
Roye
D.
M
Apr. 27, 1938
Jun. 5, 2012
74
Vega
Carlos
M
Jul. 29, 1957
Sep. 7, 2012
55
Vega
Marjorie
F
Feb. 3, 1952
Oct. 21, 2012
60
Vegas
Lavell
M
Jun. 4, 1945
Feb. 16, 2012
66
Velasquez
Cecilia
F
Jul. 4, 1958
May 24, 2012
53
Velazquez-Padilla
Francisco
M
Oct. 4, 1936
Apr. 7, 2012
75
Venable
Latrina
R.
F
Feb. 3, 1964
Jan. 12, 2012
47
Verdugo
Sergio
M
Mar. 9, 1962
Aug. 17, 2012
50
Verhein
Paul
R.
M
Apr. 15, 1958
Feb. 22, 2012
53
Vidrios
Elvira
F
Feb. 20, 1944
Feb. 7, 2012
67
Vielman
Carlos
M
Aug. 22, 1942
Jan. 6, 2012
69
Vignati De Flores Guerra
Carmen
F
Aug. 27, 1916
Feb. 26, 2012
95
Vilela
Oscar
M
Feb. 28, 1929
Aug. 9, 2012
83
Villalva-Gonzalez
Lamberto
M
Jul. 2, 1935
Feb. 6, 2012
76
Villanueva-Mangalindan
Baby unknown
U
Mar. 30, 2012
Villatta
Inocente
Jr.
M
Dec. 28, 1947
Jan. 13, 2012
64
Vinzant
Jean
F
Jun. 15, 1949
Dec. 25, 2011
62
Vital
Lawrence
M
Jul. 23, 1937
Apr. 22, 2012
74
Vitek
Lorelei
F
May 14, 1925
Aug. 20, 2012
87
Volpe
Katherine
F
Mar. 18, 1941
Jul. 29, 2012
71
Volz
Steve
M
Jun. 19, 1962
Aug. 16, 2012
50
Vreeland
Margaret
J.
F
Jul. 20, 1921
Jul. 21, 2012
91
Waddell
Thomas
S.
M
Mar. 24, 1960
Aug. 26, 2012
52
Wade
Dennis
T.
M
Jun. 9, 1947
Apr. 5, 2012
64
Wagman
Eric
M
Aug. 3, 1951
Dec. 1, 2012
61
Wagner
Lewis
M
Apr. 28, 1944
Feb. 21, 2012
67
Waldron
Costance
L.
F
Aug. 17, 1937
Mar. 3, 2012
74
Walk
John
M
Jul. 10, 1936
Nov. 13, 2012
76
Walker
Larry
L.
M
Dec. 27, 1950
Dec. 23, 2011
60
Walker
Roosevelt
B.
M
Jul. 14, 1936
Aug. 8, 2012
76
Walker
Charles
R.
M
Jan. 8, 1951
Aug. 26, 2012
61
Wallace
Paillee
F
Jan. 19, 1916
Dec. 13, 2011
95
Walters
David
J.
M
Dec. 8, 1942
Aug. 4, 2012
69
Walton
Harry
M
Jul. 23, 1938
Dec. 18, 2011
73
Walton
Lawrence
M
May 16, 1949
Oct. 31, 2012
63
Ward
Baby girl
F
May 24, 2012
Warren
Thomas
M
Dec. 21, 1935
Apr. 30, 2012
76
Was Szabo Castillo
Miguel
M
May 25, 1953
Jul. 16, 2012
59
Wash
Robert
L.
Jr.
M
Apr. 27, 1966
Jun. 30, 2012
46
Washington
Alonzo
B.
M
Dec. 8, 1952
Found 4/3/12
Washington
Princeton
Baby boy
M
Apr. 30, 2012
Washington
Donald
M
Nov. 9, 1955
Oct. 22, 2012
56
Waters
James
L.
M
Jan. 4, 1938
Apr. 10, 2012
74
Wathen
Russell
G.
M
Apr. 13, 1948
Aug. 8, 2012
64
Watts
James
M
Sep. 21, 1947
Jan. 4, 2012
64
Watts
Robert
J.
M
Apr. 4, 1944
Apr. 30, 2012
68
Waxman
Judith
F
Dec. 7, 1934
Aug. 30, 2012
77
Wayton
Donald
M
Mar. 25, 1941
Dec. 26, 2011
70
Webb
Sanford
D.
M
Jan. 29, 1949
Aug. 18, 2011
62
Weinshank
Stewart
B.
M
Dec. 27, 1960
Jan. 31, 2012
51
Welch
Roy
L.
M
May 29, 1957
Nov. 4, 2012
55
Welch
Mario
III
M
Welsh
James
C.
M
Apr. 30, 1942
Feb. 18, 2012
69
West
Jennifer
D.
F
Apr. 11, 1977
Apr. 5, 2012
34
Weston
Clarence
M
Jun. 28, 1954
Mar. 27, 2012
57
Wheeler
Joseph
M
Apr. 27, 1949
Feb. 19, 2012
62
White
Elizabeth
A.
F
Jun. 6, 1953
Aug. 8, 2012
59
Whittaker
Martha
F
Mar. 20, 1939
Jul. 18, 2012
73
Wiley
Ernest
L.
M
Dec. 7, 1940
Jul. 29, 2012
71
Wilkerson
Cayden
Baby boy
M
Nov. 19, 2012
Nov. 19, 2012
0
Williams
Lloyd
M
Nov. 19, 1948
Nov. 21, 2011
63
Williams
Robert
L.
M
Oct. 24, 1924
Feb. 29, 2012
87
Williams
Wray
C.
M
Nov. 4, 1953
Feb. 12, 2012
58
Williams
James
M
Mar. 24, 1943
Mar. 30, 2012
69
Williams
Sylvester
M
Dec. 1, 1946
Mar. 15, 2012
65
Williams
Eugene
M
Dec. 15, 1922
Mar. 29, 2012
89
Williams
Larry
C.
M
Oct. 29, 1952
Apr. 30, 2012
59
Williams
Charles
R.
M
Dec. 13, 1955
Aug. 25, 2012
56
Williams
James
M
Apr. 26, 1937
Jul. 8, 2012
75
Williams
Baby boy twin 1
M
May 4, 2012
Williams
Baby boy twin 2
M
May 4, 2012
Williamson
Bruce
M
Nov. 1, 1935
May 5, 2012
76
Willilams
Cassandra
F
Aug. 30, 1984
Feb. 22, 2012
27
Wilson
Arlo
F
Oct. 29, 1932
Dec. 14, 2011
79
Wilson
Pamela
F
Jul. 8, 1947
Jul. 16, 2012
65
Wilson
James
M
Dec. 19, 1947
Sep. 4, 2012
64
Wilson
Raymond
M
Jun. 16, 1979
Dec. 18, 2011
32
Wilson
Richard
M
Windsor
Laura
G.
F
Nov. 22, 1912
Jan. 25, 2012
99
Wingfield
Raygen
Baby boy
M
Jan. 5, 2012
Winkler
Susan
M.
F
May 4, 1942
Oct. 25, 2011
69
Witherspoon
Nayhairet
Baby boy
M
Oct. 10, 2012
Withey
John
M
Sep. 7, 1942
Feb. 25, 2012
69
Witt
David
M
Mar. 16, 1941
Jan. 24, 2012
70
Witte
Tawna
M.
F
Jul. 14, 1953
Apr. 11, 2012
58
Wolf
Sandra
F
Feb. 1, 1940
Jul. 15, 2012
72
Wolfington
Judith
F
Nov. 14, 1944
Jun. 1, 2012
67
Wood
Edgar
J.
M
Jul. 6, 1950
Mar. 24, 2012
61
Woodruff
Benjamin
M
Sep. 10, 1939
Jun. 8, 2012
72
Woods
Sylvia
C.
F
May 13, 1936
Jun. 13, 2012
76
Woods
Marie
F
Jul. 19, 1927
Jul. 19, 2012
85
Woodward
Shelli
L.
F
May 28, 1957
Jan. 25, 2012
54
Worley
Baby girl
F
Nov. 13, 2011
Wright
Savannah
Baby girl
F
Jan. 26, 2012
Wu
Tsu
Pan
M
Sep. 9, 1926
May 11, 2012
85
Yamanouchi
Kaoruko
F
Mar. 26, 1917
Jan. 2, 2012
94
Yamashiro
Miles
M.
M
Jun. 2, 1948
May 16, 2012
63
Yancey
Ocie
R.
F
Aug. 26, 1945
Jan. 25, 2012
66
Yanez
Librado
M
Aug. 17, 1936
Sep. 10, 2012
76
Yeh
Charly
M
Jun. 26, 1948
Jan. 18, 2012
63
Yokota
Dean
M
Aug. 7, 1950
Apr. 11, 2012
61
Yonko
Mike
M
Jun. 4, 1950
Nov. 22, 2011
61
York
Lois
M.
F
Aug. 23, 1960
Aug. 21, 2012
51
Youmans
Stuart
M
Aug. 25, 1958
Dec. 19, 2011
53
Young
Baby boy
M
Sep. 19, 2012
Youngblood
Claude
M
Dec. 2, 1944
Jan. 12, 2012
67
Youngman
Jeffrey
G.
M
Nov. 10, 1952
May 4, 2012
59
Zabala
Mary Jane
M
Sep. 4, 1963
Jan. 12, 2012
48
Zacarias
Rodolfo
M
Dec. 17, 1936
Oct. 7, 2011
74
Zaenglein
Larry
M
Jun. 27, 1943
Dec. 22, 2011
68
Zakaryan
Baby boy
M
May 15, 2012
Zalkin
Richard
S.
M
Dec. 27, 1958
Apr. 8, 2012
53
Zamarripa
Monica
F
May 16, 1959
Jun. 29, 2012
53
Zamora
Remigio
M
Nov. 1, 1941
Feb. 17, 2012
70
Zamora
Ernesto
M
May 30, 1959
Mar. 7, 2012
52
Zarrabi
Dary
D.
M
Jul. 25, 1935
Apr. 3, 2012
76
Zatkus
Donna
F
Nov. 21, 1943
Dec. 7, 2011
68
Zedaker
Clyde
M
Apr. 24, 1934
May 29, 2012
78
Zell
Wilbert
J.
M
Oct. 30, 1922
Oct. 21, 2011
88
Zenancio
Agustin
V.
M
May 30, 1930
Feb. 5, 2012
81
Zhou
Liming
M
Feb. 16, 1950
May 14, 2012
62
Zugg
Paul
M
Jun. 29, 1949
Feb. 23, 2012
62
Zuluaga
Fernando
M
Feb. 19, 1961
Oct. 14, 2012
51
Zuniga
David
F.
M
Sep. 24, 1954
May 18, 2011
56
Zurkowsky
Noema
F
Jun. 3, 1916
Dec. 9, 2011
95
Zwick
Herbert
M
Mar. 24, 1927
Apr. 28, 2012
85
Photo by Genaro Molina
Source: Los Angeles County Office of Decedent Affairs