Graphic
Super-sized speed
The unmanned experimental aircraft WaveRider is one of several technologies being used to achieve the goal of sustained hypersonic speed. The ability to fly five times the speed of sound or faster has great implications for both military and commercial uses. The test flight failed in a few seconds when a control fin was unable to function and the vehicle crashed into the ocean.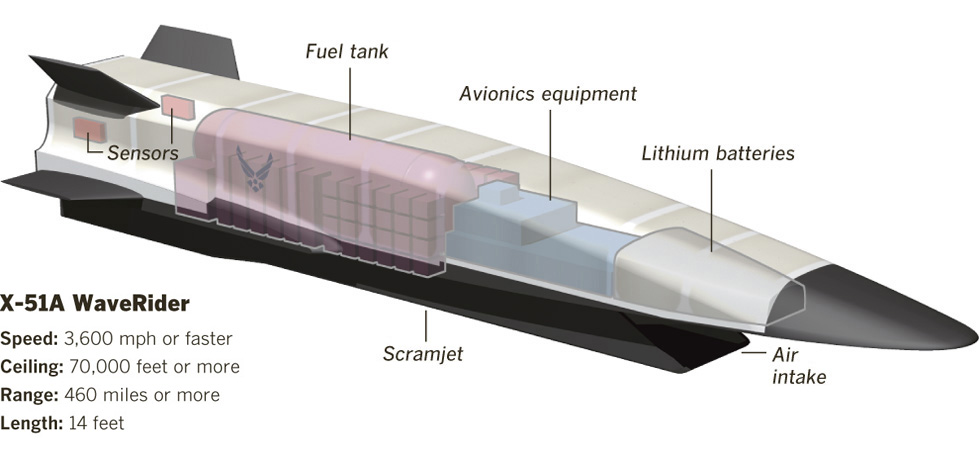 How fast is hypersonic flight?
Simple means fast
Flight failure
Hyper activity
Flight time comparison
How fast is hypersonic flight?

In the time it takes a conventionally powered airliner to fly from Los Angeles to New York, a scramjet-powered vehicle could make a roundtrip between L.A. and Riyadh, Saudi Arabia.
Simple means fast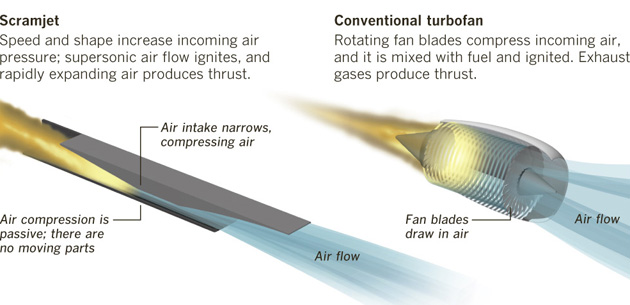 Unlike a conventional jet turbine, the scramjet engine powering WaveRider has no moving parts.
Flight failure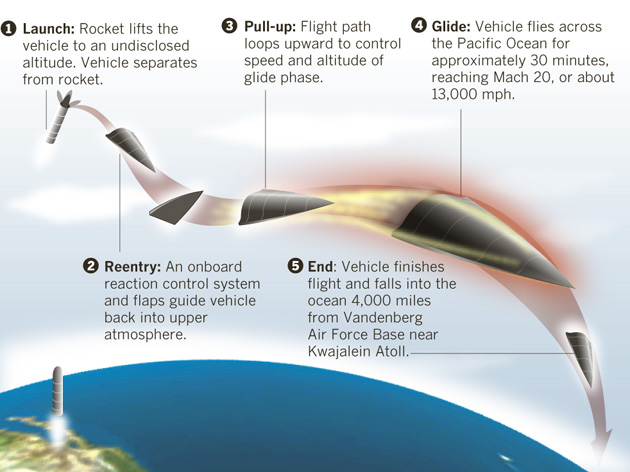 A flight test of the experimental Falcon Hypersonic Technology Vehicle 2, capable of reaching 20 times the speed of sound, ended prematurely in August 2011. High speeds caused parts of the Falcon's skin to peel and it crashed.
Hyper activity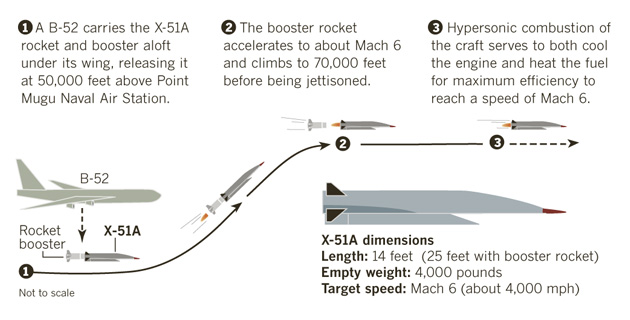 The unmanned X-51A WaveRider, powered by an air-breathing hypersonic engine, is set to be launched midair off the coast near Point Mugu. The Air Force is aiming to fly it for about four minutes, reaching speeds around 4,000 mph. Here is how it is launched:
Flight time comparison

How the HTV-2 compares in time needed to cover the approximately 2,500 miles between Los Angeles and New York: