Graphic
Alternative
TV

shows to watch over Labor Day weekend

By Patrick Kevin Day

Labor Day weekend is a chance to get out and enjoy the end of summer, barbecue and see friends and family. But for the hard-core TV junkie, three consecutive days off means just one thing: binge viewing. Who needs the warmth of the sun when you could be hunkered down in a darkened living room, watching episode after episode of something that in the old world — circa 2011 — had to stretch out over weeks, months and years?

If you're a committed binge viewer, then chances are good you've already caught up to the current TV must-sees: "Breaking Bad," "Game of Thrones" and "Orange Is the New Black." But that doesn't mean your online queue should go empty. In fact, there are plenty of shows lurking on the various streaming sites that should satisfy whatever show fix you're craving.

So for you binge-aholics looking for new fictional universes to get lost in, we offer alternative watching experiences:

If you miss "House of Cards" or "Breaking Bad"?
If you miss "Doctor Who"?
If you miss "Game of Thrones"?
If you miss "Orange Is the New Black"?
If you miss "Homeland"?
If you miss "Family Guy"?
If you miss "Downton Abbey"?
If you miss "Smash"?
If you miss "House of Cards" or "Breaking Bad"?
Available on: Amazon. Four seasons, 75 episodes.
Like moral complexity mixed with the world of crime? Or possibly you just love the performances of Kevin Spacey in Netflix's "Cards" or the dearly departed Mike (Jonathan Banks) in AMC's "Breaking Bad." Either way, "Wiseguy" should satisfy all those needs. This complex crime story from '80s TV powerhouse Stephen J. Cannell followed an undercover FBI agent (Ken Wahl) as he attempted to infiltrate and take down various criminal operations. The series made the daring (at the time) choice to divide the seasons into set story arcs. While Banks appeared throughout the show's entire four-season run as an FBI supervisor, it was the then-little known Spacey who grabbed a lot of attention for his first-season performance as mentally unbalanced arms dealer Mel Profitt.
Try "Wiseguy."
If you miss "Doctor Who"?
Available on: Hulu. Four seasons, 23 episodes.
Many "Doctor Who" fans were disappointed that the new Doctor, announced in August, was not a woman. But even those hoping for a gender swap had to admit that Peter Capaldi would be an excellent Doctor. Unlike Matt Smith, who was an unknown when he was cast as the current Doctor, Capaldi has already had a chance to cultivate a fan following based on his blistering performance as Malcolm Tucker, the foul-mouthed spin doctor in Armando Iannucci's dark political satire "The Thick of It." While Capaldi himself has said not to expect Malcolm's language coming from the mouth of the Doctor, fans can get a peek at the kind of intensity Capaldi can muster, even in the guise of comedy.
Try "The Thick of It."
If you miss "Game of Thrones"?
Available on: Amazon. Five seasons, 110 episodes, plus six TV movies.
Still reeling from the epic Red Wedding episode on "Game of Thrones" last season? The lavish HBO show's producers had been building to that moment since the series debuted, proving that not all TV is a make-it-up-as-you-go affair. But in 1993, "Babylon 5" creator J. Michael Stracynski didn't even have the stability of a major network to support his plan to craft an adult science fiction show with a carefully constructed five-year story arc. Airing in syndication, Stracynski's space epic recounted the lives of those aboard the Babylon 5 space station in the run-up to war against a mysterious alien race. Though it lacks the top-notch production values of "Thrones," it's a must-see for those craving a well-crafted story.
Try "Babylon 5."
If you miss "Orange Is the New Black"?
Available on: HBO Go: Six seasons, 56 episodes.
Set in a women's prison, Jenji Kohan's "Orange Is the New Black" on Netflix is a compelling mix of comedy and drama, with a bit of soap opera thrown in. But for those who want a more authentic prison experience, HBO delivered in brutal style with the acclaimed prison drama "Oz" from creator Tom Fontana. Set in an experimental unit at a maximum security prison known as Emerald City, the series follows the travails of a carefully monitored group of prisoners as they attempt to form a functional mini-society behind bars. Though both series present tough views of prison life, be warned that "Oz's" world is far bleaker.
Try "Oz."
If you miss "Homeland"?
Available on: Hulu Plus: Two seasons, 24 episodes.
While you patiently await the return of Claire Danes, Damian Lewis and the rest of the "Homeland" crew on Showtime, you can seek out the series that inspired them. Both seasons of the Israeli series "Prisoners of War" (or "Hatufim" in Hebrew) are available on Hulu Plus. Though don't expect to get a jump on all the twists before the American audience. Unlike the Showtime series, the Israeli version focuses more on the human drama of two returning prisoners of war (instead of "Homeland's" one) and is a grittier, less thriller-like version of the story.
Try "Prisoners of War."
If you miss "Family Guy"?
Available on: Netflix. One season, 26 episodes.
Yes, the series "Family Guy" gets compared to most is "The Simpsons," but while Matt Groening's 25-year-old saga has tried to keep a tenuous hold in its reality, Seth MacFarlane's series has gone down a rabbit hole of surreal cutaway gags, fourth-wall-breaking and heavy inspiration from pop culture of the 1980s. In that sense, a suitable replacement may be Pendleton Ward's bizarre, "Dungeons & Dragons"-inspired series, which seems to follow its creator's mercurial id as readily as "Family Guy." Both shows have also attracted a devoted following through their airings on Cartoon Network's Adult Swim.
Try "Adventure Time."
If you miss "Downton Abbey"?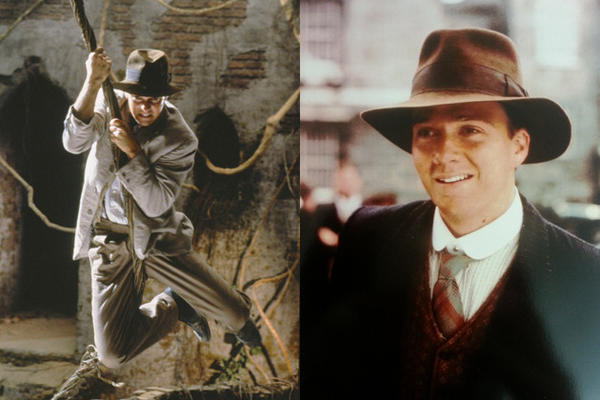 Sean Patrick Flanery as Indiana Jones in "The Adventures of Young Indiana Jones." (Lucasfilm, Ltd. & TM / ABC11)
Available on: Netflix. Three seasons, 21 episodes.
Aside from the soap opera hijinks of the otherwise aristocratic Crawley clan, one of the great pleasures of "Downton Abbey" on PBS has been to see some of the great historic events of the first decades of the 20th century played out — from reactions to the sinking of the Titanic to World War I and the coming of the Jazz Age to England. While George Lucas' "Adventures of Young Indiana Jones" isn't exactly the stuff of PBS costume dramas, it isn't a Spielbergian action extravaganza, either. Instead, Lucas' lavish production on ABC, which was canceled after three seasons, sent young Indy around the world actually interacting with historical figures during roughly the same span of years that "Downton" has depicted.
Try "The Adventures of Young Indiana Jones."
If you miss "Smash"?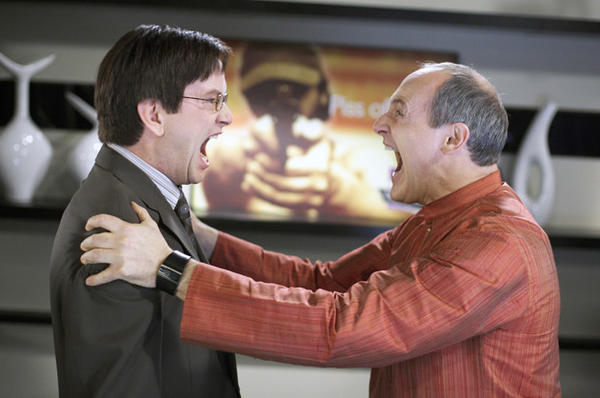 Mark McKinney (L) as as Richard Smith-Jones and Colm Feore as Sanjay Rainier in "Slings & Arrows." (Sundance Channel)
Available on: Amazon. Three seasons, 18 episodes.
NBC's musical series "Smash" has been put out to pasture, but fans of backstage shenanigans can get their fix (minus the singing) with "Slings and Arrows," a Canadian series from 2003 that depicted the goings-on at a fictional Shakespearean festival in small-town Canada. Each of the show's three seasons followed the twists and turns of mounting a different Shakespearean production: "Hamlet" in the first season, "Macbeth" in Season 2 and "King Lear" in Season 3. Despite the highbrow inspiration, the series, co-created by "Kids in the Hall" alum Mark McKinney, is a loving look at the world of modern theater and features such future stars as Sarah Polley and Rachel McAdams.
Try "Slings and Arrows."