Graphic
Image Fall Fashion issue
The best looks for fall are rough but refined, fierce yet feminine. Also, take a look at drop-dead reds, Monique Lhuillier and re-carpet mavericks.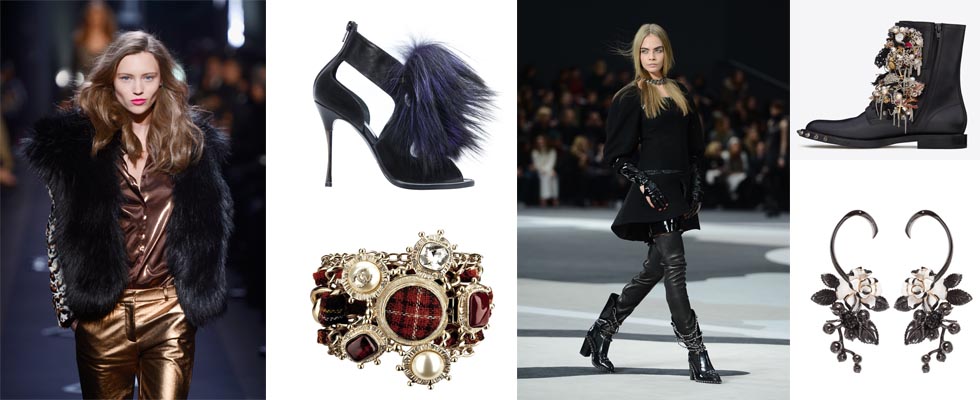 Letter from the editor
Punk's rebel spirit inspires fall fashion
Designers salute street style and the anti-fashion movement, offering a fierce, feminine view for fall.
Fall 2013 fashions go back to black and white
New takes on this neat and tidy look include black-and-white ear cuffs from Roberto Cavalli, fur booties from Isabel Marant and even jeans from 3x1
Haute and heavy jewelry is big in fall 2013 fashions
Rebellion and femininity play nice in new heavy-metal pieces.
Luxe trophies from the urban jungle
From Alexis Bittar's Santa Fe Deco necklace to Michael Kors' mink coat, animal prints and camo that scream, 'I am woman, hear me roar.'
Drop-dead red lipsticks for fall 2013
Be they shiny, sheer, gel or gloss, this fall's bold new lipstick shades put the pout back into your pose.
Going to the matte
Citing 'velvet brilliance,' makeup artists and fashion houses are embracing the powders that be
Wrist candy: Hermès' Collier de Chien cuff bracelet
Hermès took an alligator Collier de Chien cuff bracelet and dusted it with diamonds to celebrate the reopening of its Rodeo Drive store.
A Rolex in rewind
After a nearly 20-year decade Rolex brings back its Tudor timepieces, with the sporty vibe intact.
Monique Lhuillier: On the move
Fashion designer Monique Lhuillier works to add clothes to her line for earlier in the day.
Farfetch is ready to raise its U.S. profile
Farfetch.com struck a chord with its 'digital cooperative' model of showcasing some of the world's best boutiques. Now it's ready to grow.
Tilda Swinton, Cate Blanchett, Diane Kruger are colorful on red carpet
Actresses Tilda Swinton ('The Zero Theorem'), Cate Blanchett ('Blue Jasmine'), Diane Kruger ('The Bridge') impress on red carpets.
Designers: He sang the '80s electric
In his short career, enfant terrible Tony Viramontes worked with the most celebrated names in fashion. His illustrations are again in the spotlight.