Who's who
George Zimmerman trial: Who's who in the Trayvon Martin case
SANFORD, Fla. — A jury of six women deliberated more than 16 hours of deliberation over two days before acquitting George Zimmerman of all charges in the shooting of Trayvon Martin, an unarmed black teenager who was slain last year in a confrontation that touched off a national debate about race and guns. Here's a look at some of the key figures in the trial:
Photos: The controversial case in pictures | Full coverage: The Trayvon Martin case

George Zimmerman
Trayvon Martin
Mark O'Mara
Bernie de la Rionda
Benjamin Crump
Witness 8
Bill Lee and Sanford police officers
Debra S. Nelson
George Zimmerman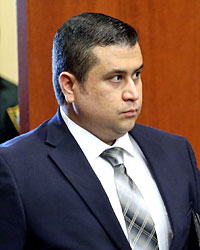 Zimmerman, 29, was a self-appointed neighborhood watch volunteer at his Sanford gated community when he fatally shot Martin on Feb. 26, 2012. Zimmerman is of white and Latino heritage — his mother is Peruvian — something friends and relatives have cited to rebut allegations that he racially profiled Martin, who was black. Zimmerman had a legal permit to carry the gun he used on Martin, and he said he fired in self-defense after Martin attacked him and repeatedly pounded his head into the ground. Zimmerman has pleaded not guilty and is free on $1-million bail. He faces 25 years to life if convicted.
Zimmerman's initial bail after his arrest in April 2012 was $150,000. It was raised after prosecutors accused Zimmerman and his wife, Shellie, of lying about how much money they had to win a low bail. A judge agreed, accused Zimmerman of planning to use hidden funds to flee, and increased the bail in July. Shellie Zimmerman was charged with perjury stemming from the bail issue. The Zimmermans left the housing complex where the shooting occurred and are living in a secret location arranged by the defense team.
Trayvon Martin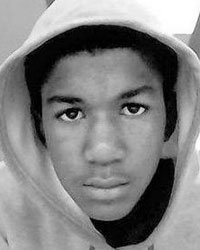 Martin was 17 when he was shot once in the chest by George Zimmerman. His parents, Sybrina Fulton and Tracy Martin, divorced when he was a child, and he was living in Miami Gardens, about 250 miles south of Sanford, with his mother and brother. He was staying with his father and his father's girlfriend in Sanford when he encountered Zimmerman in the gated community where they lived. Martin, who was black, was wearing a hooded sweat shirt, something his parents and their supporters say led Zimmerman to racially profile the unarmed teenager and stalk him as he returned from buying candy at a nearby 7-Eleven store.
Martin had no criminal record but had been suspended from school three times. Zimmerman's legal team says information obtained from Martin's cellphone and social media accounts show he was involved in fighting, smoked marijuana and glorified gangsta culture. According to his parents, Martin was a good son whose reputation has been sullied by the defense team to sway the jury.
Mark O'Mara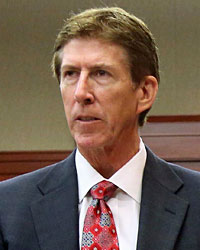 O'Mara is George Zimmerman's lawyer and has represented him since his arrest in April 2012. O'Mara, 57, has practiced criminal and family law in central Florida for 28 years. According to his online profile, he is a former felony prosecutor and has extensive trial experience in state and federal criminal defense. O'Mara hopes to portray Martin as a thug who may have been paranoid and aggressive the night of the killing from smoking marijuana. He has used social media to get his client's side of the story out to the public and has posted his motions on a website created to document Zimmerman's defense.
O'Mara denied any racial motivation in Zimmerman's shooting of Martin and says it was a simple case of self-defense. He has used the website to raise money to cover defense costs and on May 29 issued an appeal for donations, saying the fund had less than $5,000 and needed $120,000 to get through the trial. A week later, O'Mara said the fund had raised $77,000.
Bernie de la Rionda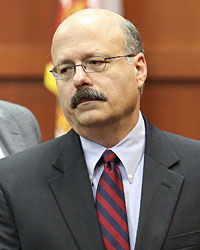 De la Rionda is an assistant state attorney who is to present the prosecution's case against George Zimmerman. He was selected by the special prosecutor in the case, Angela Corey, after Florida Gov. Rick Scott appointed her to investigate Martin's shooting after protests over the Sanford Police Department's failure to arrest Zimmerman.
De la Rionda, 56, has been a prosecutor for 30 years. According to the FBI, he has tried more than 250 cases, including 67 murder cases. In 22 cases, he obtained a death penalty recommendation and sentence, the FBI said in an online profile.
Benjamin Crump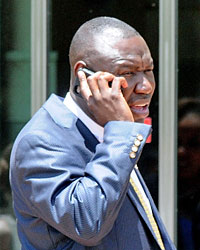 Crump is the lawyer for Trayvon Martin's family. He is not the prosecutor, but he has emerged as the chief spokesman for the family and for the prosecution's side of the case.
Crump, 43, has proved a powerful orator, making speeches and appearing on television beside Martin's parents, Sybrina Fulton and Tracy Martin, and portraying the case as both a criminal and a civil rights matter. Crump says Sanford police officers' failure to arrest Zimmerman the night Martin was killed turned it into a civil rights issue. Had Zimmerman been black and Martin white, Crump said, police would not have been willing to accept Zimmerman's self-defense claim.
Witness 8
Witness 8 is a young woman who was talking with Trayvon Martin on his cellphone during his encounter with George Zimmerman. She has been described as Martin's girlfriend and is expected to be a key prosecution witness.
The 19-year-old woman told Crump in 2012 that Martin called her as he was walking back from buying candy at a 7-Eleven and said that a man was following him. She has said she heard Martin ask the stranger why he was following him, then heard what she thought was a scuffle before the phone call suddenly ended. Her statement could bolster prosecution claims that Zimmerman stalked Martin, but Witness 8's credibility has come into question. She initially said she was hospitalized the day of Martin's funeral, which prosecutors have said was a lie.
Bill Lee and Sanford police officers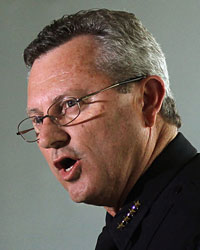 The Sanford Police Department is expected to have several of its officers and its former chief, Bill Lee, among the witnesses called to the stand. The department was accused by Trayvon Martin's family and its supporters of racism because it did not arrest George Zimmerman the night of the shooting. Police say they were following Florida's "stand your ground" law, which permits people to use deadly force if they fear death or great bodily harm and which does not require the person under threat to retreat. Police have also said that photographs of Zimmerman immediately after the shooting show he suffered a bloody nose and head lacerations, which would bolster his self-defense claim.
The department was still recovering from a racially charged scandal when the Martin case thrust it back into the headlines. Lee had been on the job just 10 months after taking over from a white chief who had been ousted over the department's failure to arrest the son of a white police officer captured on video beating a black man. Lee was fired amid public anger over officers' failure to arrest Zimmerman. A black chief, Cecil Smith, succeeded him.
Debra S. Nelson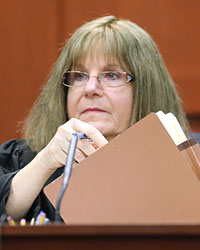 Nelson is the Seminole County judge who is to hear the case. According to her online biography, Nelson was admitted to the Florida and Texas bars in 1979 and was appointed to the bench in 1999. She was assigned the case in August after the previous judge stepped aside amid allegations that statements he had made could be interpreted to indicate bias against Zimmerman.
In a story after Nelson took the case, the Orlando Sentinel said she had a reputation for being hardworking and ambitious and for "imposing long prison terms." Nelson has ruled against defense motions to conceal identities of some witnesses. She also said that in opening statements, the defense could not mention information about Martin's past troubles in school and possible marijuana use. Nelson also has denied prosecution requests for a gag order.