Interactive graphic
How Lockheed's stealth fighter won the battle with Northrop Grumman
The Air Force held a competition between the world's two stealth-technology leaders, Lockheed Martin Corp. and Northrop Grumman Corp. The companies designed and built prototypes in Southern California.
Full story: F-22 program produces few planes, soaring costs | Photos: F-22 Raptor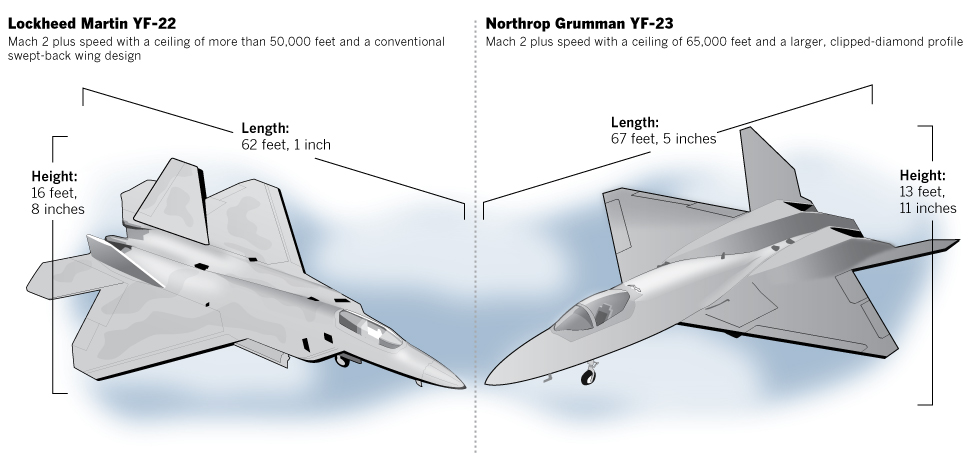 By comparison
Fewer planes, higher cost
By comparison
A feature-by-feature look at both planes:
YF

-22

YF

-23
Stealth
Lockheed made a big leap in its
technology over its F-117
Nighthawk attack jet.
Northrop's design borrowed heavily from its B-2 bomber, which had yet to be unveiled.


Tail design
Lockheed used a traditional four
tail design, which gave it a more
conventional appearance.
Northrop's two V-tail design had never been seen before on a jet fighter.


Engines
Lockheed had an innovative thrust vectoring system that allowed the
plane to maneuver sharply.
Northrop decided the extra weight of a thrust vectoring system added little combat capability.


Heat Signature
Horizontal rear fins help hide
engine exhaust plume.
Exhaust deflected with heat-reducing tiles.


Fewer planes, higher cost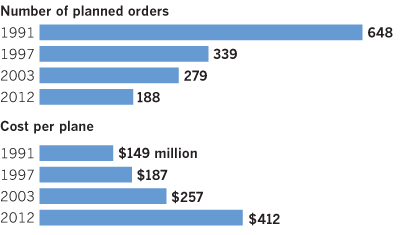 The Air Force got only about 30% of the total number of F-22s it wanted in 1991 and at nearly triple the price per plane: