Graphic
Coachella 2012: survival guide
From weather to toilet paper, we've got you covered.
Where is it?
Venue do's and don'ts
Things to know
Weather | Second weekend
Our advice
And speaking of drugs…
Finally
Venue do's and don'ts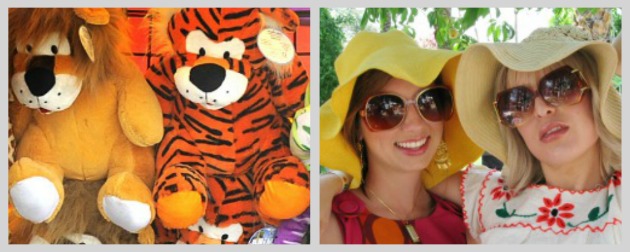 | | | |
| --- | --- | --- |
| Instruments (especially drums!!!), Knives / Weapons Etc., Chains / Chain Wallets, Fireworks / Explosives, Outside Food and Beverages, Camelpacks, Bota Bags, Tents, Flags, Tailgating in Parking Lots | Refunds Or Exchanges or Cancellations, Chairs, Audio Recording Devices, Professional Cameras or professional video cameras, Stuffed Animals, Sharpies / Markers, Pets, Drugs and Drug Paraphernalia | Medium sized backpacks, Hats, Lighters, Cell Phones, Sunglasses, Empty plastic water bottle, Cigarettes, Small Beach Towel, Fanny Packs, Digital Cameras (Non-Pro) i.e. no removable lenses, Film Cameras (Non-Pro) i.e. no removable lenses, Those five and under attend for free |
Things to know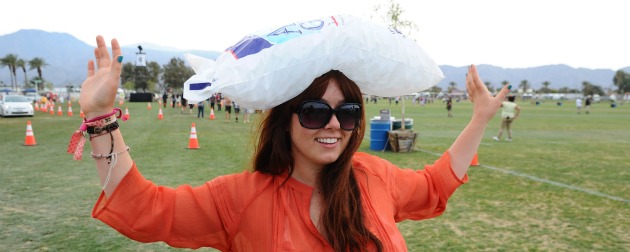 Venue gates open at 11:00 a.m. each day

Camping opens Thursday 9:00 a.m.

Rain or shine

Festival pass must be worn at all times

Lineup / set times subject to change

Everyone subject to search upon entry

The festival is all ages. Ages 5 and under are free.

Day parking is free

In case of an emergency call 911

Indio Police Department: (760) 391-4057
Are you playing on a Coachella stage? Do you work at Goldenvoice? Are you a charter member of the Empire Polo Club and riding to the festival on your horse? If not, there is no secret side residential street you can take to beat traffic. Indio knows all your tricks and will thwart you.

Cell reception can resemble a

WWI

-era radio signal on the field, and when your friend decides that she just can't leave Avicii's set before he drops "Levels," you'll be glad you said, "

OK

, meet at the fire-breathing robot mushroom statue" ahead of time.

Yes, we know you'll feel like a drug kingpin walking around with a bunch of currency tucked in your socks. But the

ATM

fees are ridiculous, the machines are often on the fritz, and you don't want to be the guy trying to split a bar tab across a bunch of credit cards with a six-deep line behind you.
And speaking of drugs…
No drugs, trust us. Google "Naked Wizard gets Tazed at Coachella" for all the evidence you need.

Water is hard to come by at Coachella, and pricey, plus you're likely to be filthy from sitting in the dirt and using the port-o-potties. With sanitizer you can dig into your $10 wilted veggie wrap with alacrity.

Every year Kogi makes an appearance at Coachella. It always comes to the

VIP

area, and usually late. You may be tempted to wait in line for its tacos, based on the Twittersphere buzz. But don't bother. Our experience says that the tacos Kogi serves at Coachella are often not on par with its regular product. Why? Who knows. But Spicy Pie pizza always hits the spot and is filling and cheap to boot
Finally
| | | |
| --- | --- | --- |
| Yes, we love whiskey and vodka too. (And tequila and gin.) But hard alcohol doesn't come cheap at Coachella, and the bartenders in the liquor tents do not have loose wrists. A drink with a tiny shot of booze can set you back $8 or more and you'll feel like you had a glass of water without the hydration. Stick with beer. It's cheaper and can't be watered down. | A skirt or shorts over jeans may look goofy, but you won't be alone. (Plus there's always that guy by the pretzel stand in the wizard hat with the electric-blue Crocs.) When temperatures drop at night, you'll be thankful you weren't too concerned with fashion. | Seriously. Every year, the statistics on the number of fools, um, folks who lose their phones are astounding. No, your back pocket won't do. And if you put your phone in a pocket of your backpack, be sure to wear your pack on the front of your body when you're mashed in with a big crowd |