Graphic
China's new leaders
The 18th congress of the Communist Party in China wrapped up Wednesday with President Hu Jintao stepping down as party general secretary to make way for Xi Jinping, his long-ago anointed heir. At the congress, which took place in the cavernous Great Hall of the People on Tianamen Square in Beijing, delegates elected members to the Central Committee, and the top echelon of the country's new leadership was named. Here are profiles of the seven leaders named to the Standing Committee of the Politburo.
Xi Jinping
General secretary of the Communist Party
Li Keqiang
Premier (in 2013)
Wang Qishan
Yu Zhengsheng
Zhang Dejiang
Liu Yunshan
Zhang Gaoli
Xi Jinping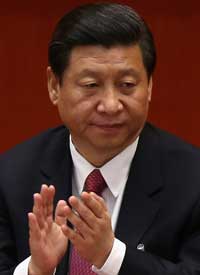 Xi Jinping, 59, grew up in privilege, was plunged into poverty during the Cultural Revolution and then methodically climbed his way back to his current post — secretary general of the Chinese Communist Party and the president of China. He has served as party secretary in Shanghai, Fujian and Zhejiang, coastal provinces that are larger than most European countries. In his 20s he also worked as an aide to the head of the Central Military Commission.
As a young boy, Xi lived in Zhongnanhai, the red-walled leadership compound, in a villa near Premier Chou En-lai. But when Xi was 9, his father, the vice premier, was purged and sent to prison, followed by Xi's mother. After being virtually homeless for most of his teens, Xi was "sent down" to the countryside with other intellectual youth. At the end of the Cultural Revolution, he was allowed to return to Beijing to study at Tsinghua University.
A large, lumbering man, Xi is a more personable figure than outgoing President Hu Jintao, according to people who know them both. "He doesn't give off airs of a high official with the pomp and circumstance. He is more comfortable in his own skin," said a businessman who knows the two.
Xi has a blunt speaking style and appears to admire those who speak freely. In the run-up to the 2008 Olympics in Beijing, when China was beset with criticism for its human rights record, he told reporters in Hong Kong that the world is "like a huge bird cage where all kinds of birds coexist. If you try to drive away those noisy ones, you would lose that wonderful variety and color."
Reformers are hopeful Xi will follow the political path of his father, Xi Zhongxun, who in later life helped carry out Deng Xiaoping's economic reforms. "His father was one of the most reform-minded people within the party. How much of that has rubbed off on his son we can only speculate," said Sidney Rittenberg Sr., an American consultant who knew the older Xi well.
Xi is married to Peng Liyuan, a folk singer who until recently was more famous than her husband. The couple have a daughter who is an undergraduate at Harvard.
In September, Xi disappeared from public life for nearly two weeks, missing a meeting with U.S. Secretary of State Hillary Rodham Clinton, among others. Although Chinese officials have said that it was because of a back injury, his absence has yet to be fully explained.
Li Keqiang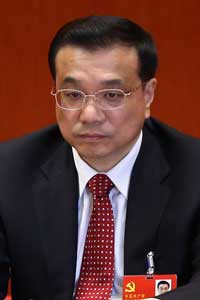 Li Keqiang is one of the few Chinese leaders who speak passable English, which he reportedly taught himself by carrying around index cards. Unlike many of his fellow Standing Committee members, Li has a modest background; his father was not among the party elite but rather a local official in the rural province of Anhui. Li has a bachelor's in law and a doctorate in economics from Peking University. A protege of Hu Jintao, Li, 57, was named governor of Henan province in 1998 when still in his early 40s. He has served as first-ranked vice premier in charge of economic affairs since 2008.
During Li's tenure in Henan, he faced a scandal involving contaminated blood that resulted in the rapid spread of AIDS, but his stewardship of the economy helped him win promotion to party boss in Liaoning province.
Li is married to Cheng Hong, a professor of English language and literature. Cheng was a visiting scholar at Brown University in the mid-1990s and has a keen interest in 19th century American philosopher Henry David Thoreau. Considered a top Chinese scholar of American nature writing, she has published two books on the subject, including "Tranquility Is Beyond Price," and has translated several books from English to Chinese. The couple have a daughter.
Analysts believe that Li has a populist orientation, with an interest in issues such as affordable housing, healthcare, balanced regional development and clean energy.
Wang Qishan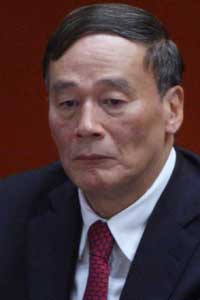 Often called "the chief of the fire brigade," Wang Qishan has a reputation as a competent hand in times of crisis. With a background in banking, he has served as vice premier in charge of economics and finance and as special envoy to the U.S.-China Strategic and Economic Dialogue.
Wang has a "wicked sense of humor" and is "decisive and inquisitive," according to former U.S. Treasury Secretary Henry M. Paulson. In October 2012, he was named one of Bloomberg's 50 most influential people, putting him in the company of George Soros, Ben Bernanke and Warren Buffett.
A history major in college, Wang held senior posts in the 1990s at the China Construction Bank and China's central bank, where he helped manage a major debt crisis at Chinese financial institutions. After Beijing's mayor botched the initial response to the SARS outbreak in 2003, Wang was parachuted in to fix the mess. International health officials later praised him for his openness and "straight talking." Later, he managed the city's 2008 Olympics.
A protege of the no-nonsense former Prime Minister Zhu Rongji, who dismantled thousands of state-owned enterprises in the late 1990s and helped launch a boom in private businesses, Wang was widely regarded as a contender to succeed Wen Jiabao as premier. But some observers say his relatively advanced age ¬— he's 64 — and horse-trading helped rule him out.
Western analysts regard Wang as a progressive voice on economic issues and say he's likely to push for changes including tax reform, allowing the markets a greater role in China's exchange-rate mechanism, and further opening the financial services sector to foreign companies.
Yu Zhengsheng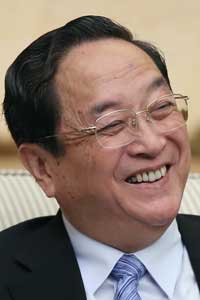 Yu Zhengsheng, the current party boss of Shanghai, has an extraordinary family history, with ties not only to Mao Tse-tung, Deng Xiaoping and Jiang Zemin, but also to Nationalist leader Chiang Kai-shek.
His grandfather's brother served as defense minister under Chiang, and his father was once married to Jiang Qing, who later wed Mao. Yu himself worked at the China Welfare Fund for the Handicapped, headed by Deng's son, in the mid-1980s.
Yu's brother served as bureau chief of China's Ministry of State Security but defected to the United States in the mid-1980s. His brother is credited with exposing a CIA analyst, Larry Wu-tai Chin, as a longtime Chinese spy.
Born in 1945, Yu studied missile engineering at the Harbin Institute of Technology in the 1960s. In the 1980s, he worked at the Ministry of Electronics Industry at a time when Jiang was overseeing it. He became a mayor in the mid-1980s, and in the late '90s served as minister of construction. As Shanghai party chief, he is known for shunning some perks of leadership, preferring to travel in simple cars like a Volkswagen Passat, without a motorcade.
Zhang Dejiang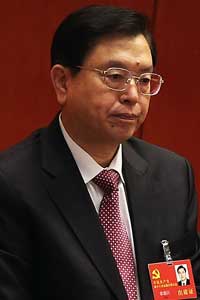 Known as an iron-fisted enforcer, Zhang Dejiang speaks Korean and studied economics at North Korea's Kim Il Sung University. After the charismatic Bo Xilai was removed as party secretary of Chongqing this year amid a scandal involving murder and corruption, Zhang was sent to the metropolis of 30 million to restore stability and project an air of calm and order.
A protege of former President Jiang Zemin, Zhang is considered a "princeling" because he is the son of a former People's Liberation Army major general. In 2002, he became party boss of the southern province of Guangdong, presiding over an era of explosive growth while tightening controls on the media and cracking down on protests.
Since 2008, Zhang has been vice premier in charge of telecommunications, energy and transportation. Critics have faulted his response to the 2011 Wenzhou high-speed train crash that killed 40 people, saying he rushed the trains back into service without a proper investigation.
Zhang's wife previously served as vice president of China Construction Bank, one of China's "big four" banks, and, based on Zhang's background, some analysts say he is likely to favor protectionist economic policies and resist efforts to reform state-owned enterprises and reduce their dominant position. Born in 1946, he is one of the oldest members of the Standing Committee and may serve only one term.
Liu Yunshan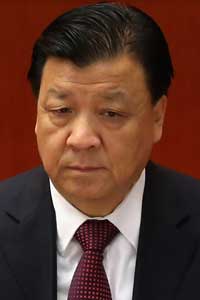 Liu Yunshan has a long history with the Communist Party's propaganda branch, dating back to his days in Inner Mongolia in the 1970s and '80s, when he worked as a writer for the state-run New China News Agency. For the last 10 years he's been head of the Propaganda Department, strongly involved with China's efforts to keep domestic media on a short leash and censor the Internet.
Liu presided over a multibillion-dollar effort to expand the reach of China's state-run media overseas, including the opening of China Central Television branches in the United States and Africa and the launch of an American edition of the China Daily newspaper.
U.S. diplomatic cables released by WikiLeaks suggest Liu may have played a role in efforts to drive Google out of China and was directly in charge of China's propaganda policy on Tibet. (A few years ago, the New China News Agency quoted him as saying it was undeniable that government policies in Tibet "have created one miracle after another.")
Liu's son, Liu Lefei, is chief executive of the multibillion-dollar Citic Private Equity Funds, one of the biggest state-managed funds, and he ranked 22nd on Fortune magazine's 2011 list of the top business leaders in Asia. Though he graduated from Chinese universities, Liu Lefei also reportedly studied at Marietta College in southeastern Ohio.
At 65, Liu Yunshan is likely to serve just one five-year term before retiring.
Zhang Gaoli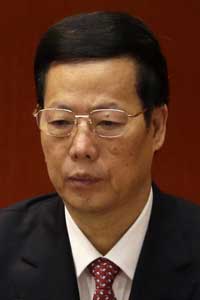 Zhang Gaoli spent his early career in the oil industry before joining government in the mid-1980s and working his way up the ladder in Guangdong province. From 1997 to 2001, he served as party chief in the southern metropolis of Shenzhen, the first of China's special economic zones, which he helped make into a factory boomtown and a showcase for China's shift toward a market economy.
Next came a six-year stint running Shandong province, and in 2007, Zhang was given responsibility for Tianjin, a northern port near Beijing. There he has gone all-out to drive growth through massive investment in new infrastructure and financial districts. (One project, Yujiapu, is a knockoff of Manhattan, complete with buildings modeled after the Rockefeller Center and the World Trade Center). Tianjin is now among China's fastest-growing regions, but some observers question whether many of the projects will end up as white elephants that leave behind a trail of debt.
Zhang has a reputation for being low-key, but he's recently started to assume a higher profile. He was front and center when Tianjin hosted the World Economic Forum in September, and he's also gone online to answer questions from citizens. Born in 1946, he is one of the oldest members of the Standing Committee and may serve only one term.