Who they were
Aurora movie theater victims
The 12 killed in a shooting rampage at a Colorado movie theater included a 6-year-old girl, a journalist, a man celebrating his 27th birthday and the mother of two small children.
Several victims died trying to protect their loved ones and friends during a midnight screening of "The Dark Knight Rises." Authorities arrested the alleged shooter, James E. Holmes, 24, at the scene.
—Molly Hennessy-Fiske, Robin Abcarian and Laura J. Nelson
Jessica N. Ghawi, 24
Micayla C. Medek, 23
John T. Larimer, 27
Alex M. Sullivan, 27
Alexander J. Boik, 18
Gordon W. Cowden, 51
Alexander C. Teves, 24
Matthew R. McQuinn, 27
Jonathan T. Blunk, 26
Jesse E. Childress, 29
Rebecca Ann Wingo, 32
Veronica Moser-Sullivan, 6
Jessica N. Ghawi, 24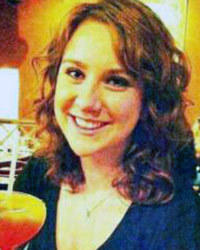 In early June, Jessica Ghawi walked out of a Toronto mall moments before a gunman walked in. The shootings that followed killed two people and wounded half a dozen more.
"I was shown how fragile life was," Ghawi wrote on her personal blog. "… I was reminded that we don't know when or where our time on Earth will end."
Ghawi, who went by Jessica Redfield professionally, had moved to Denver from Texas a year ago to pursue a career as a sports journalist. She worked as an intern at Denver sports radio station 104.3 The Fan, and with the You Can Play Project, a gay-rights group that supports equality in the locker room.
"I specialize in sports media and snark," Ghawi wrote on her blog. "Not your typical sarcastic feisty redhead attempting to perfect the trifecta of class, sass, and crass. Yankee born, Texas raised, Colorado blooming."
Micayla C. Medek, 23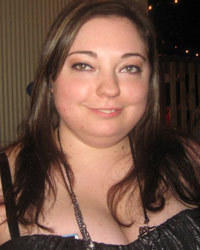 On her Facebook page, Micayla identified herself as a Subway "sandwich artist." A graduate of William C. Hinkley High School in Aurora, she said she was a member of the class of 2015 of the Community College of Aurora. "I'm a simple independent girl who's just trying to get her life together while still having fun," she wrote.
Medek was among the 10 victims whose bodies were left inside the theater for many hours as investigators struggled to make positive identifications. "She was so easygoing. She never asked anybody for anything. She wouldn't hurt a fly," her older sister Amanda Medek said. "She was the most loving person. You couldn't hate this girl. She was amazing in every way."
A brown-eyed brunet who loved Hello Kitty, hot pink, fairies, boas and Beanie Babies, Medek, 23, was saving money to travel to India, the homeland of some of her co-workers at Subway.
Her parents, Greg and Rena, recalled her their "sweetheart angel girl."
The Medeks waited for news all day Friday. Soon after two police officers arrived with the sad news, the medical examiner's office contacted the family about an autopsy. Greg Medek said he agreed after the medical examiner promised she would fulfill one request: "Will you go down there and squeeze my Cayla's hand and tell her Mom and Dad love her and it's not going to hurt?'"
John T. Larimer, 27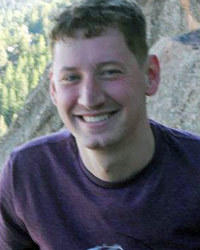 John Larimer had been in the United States Navy for just over a year when he died, officials said. He was a petty officer third class and had been stationed at Aurora's Buckley Air Force Base since October. Larimer worked as a cryptologic technician in a unit from the U.S. Fleet Cyber Command/U.S. Tenth Fleet.
The Navy informed Larimer's family of his death Friday, his parents said in a statement. His brother is working with the Navy to bring Larimer's body home to Crystal Lake, Ill.
"I am incredibly saddened by the loss of Petty Officer John Larimer--he was an outstanding shipmate," Larimer's commanding officer, Cmdr. Jeffrey Jakuboski, said in a statement. "A valued member of our Navy team, he will be missed by all who knew him. My heart goes out to John's family, friends and loved ones, as well as to all victims of this horrible tragedy."
Alex M. Sullivan, 27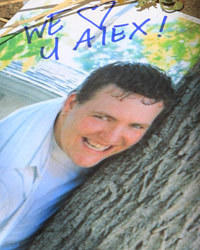 Friday was Alex Sullivan's 27th birthday, and he apparently died a hero.
Based on his wounds, friends said, Sullivan shielded those around him from the bullets.
"He was on the end and he stood up to cover the girls," said Shelly Fradkin, whose son grew up with and was best friends with Sullivan. She said his love for Batman and other stars shaped his character. "His heart was ready to be that real life superhero."
Sullivan graduated from Grandview High School in 2003 and studied culinary arts, Fradkin said. In the past, he had worked at movie theaters but was most recently working at Red Robin. He was a newlywed and had no children.
Alexander J. Boik, 18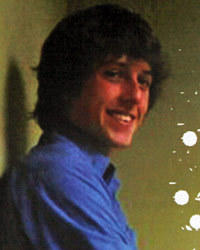 Alexander "A.J." Boik, a recent high school graduate who planned to attend Rocky Mountain College of Art and Design in nearby Lakewood, was celebrated at an impromptu gathering Saturday evening at his alma mater, Gateway High School in Aurora.
Many recalled Boik, 18, as a warm, loving young man who played the violin, loved making pottery and dreamed of teaching art. As Boik's closest friends and relatives stood shoulder to shoulder, mourners circulated a poem written by a fellow student, Barbara Barocio: "You're one of the reasons why/Almost all of our days remain bright/Thank you, you are one of our most/Special friends."
He liked to sketch romantic scenes of couples kissing and walking under clouds that formed the words "I love you."
His friend Tre Freeman said Boik was a "carefree spirit" who had once grown a handlebar mustache; "I don't know any other teenager who would do that," Freeman said.
Gordon W. Cowden, 51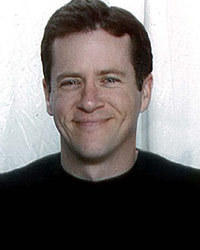 Gordon W. Cowden, 51, was at "The Dark Knight Rises" premiere with his two teenage children, who escaped the shooting safely, according to the Denver Post.
"Loving father, outdoorsman and small business owner, Cowden was a true Texas gentleman that loved life and his family," Cowden's family said in a statement released to the media. "A quick-witted world traveler with a keen sense of humor, he will be remembered for his devotion to his children and for always trying his best to do the right thing, no matter the obstacle."
Cowden was a former Austin, Texas, resident, KXAN reported. His family has requested privacy while it grieves.
Alexander C. Teves, 24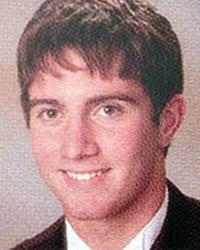 Alexander Teves, 24, had recently earned a master's degree in counseling psychology at the University of Denver, according to the Denver Post.
"Alex Teves was an Arizona basketball fan, loved Spider-Man, was an amazing therapist, and died a hero," a friend who was with him at the theater, Caitlin, wrote on her Twitter account (@dingos8myTARDIS). "He could make us all laugh with his Gollum impression. I'll never forget that."
"A neighbor of his parents in Phoenix said they would release a statement when they felt ready, and that neighbors were respecting their privacy by not talking to the media.
Matthew R. McQuinn, 27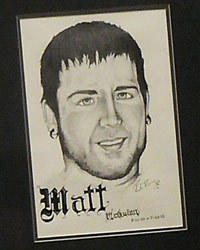 Matthew McQuinn, 27, threw himself in front of his longtime girlfriend, Samantha Yowler, saving her but not himself. Yowler was listed in stable condition Saturday after surgery. The pair had met at a Target store where they worked in Springfield, Ohio, and had applied for transfers to a store in Aurora, according to the Dayton Daily News.
"They're really fun people; we always go out together," Melissa Downen, a Colorado coworker and friend to the couple, told the Daily News.
McQuinn graduated from Vandalia-Butler High School in 2004.
Jonathan T. Blunk, 26
When the bullets started coming, Jon Blunk pushed his girlfriend Jansen Young to the theater floor, she told the "Today" show. She shook him, saying, "Jon, Jon, we gotta go!" and tried to call 911.
Then she raised her head, looked around and saw other people doing the same.
"I think Jon just took a bullet for me," she remembered thinking.
Blunk had told her that he was born to serve his country, Young said, and was re-enlisting in the armed forces.
"It was just what he wanted to do, and he loved it," Young said. "He saved me, and he gave me the opportunity to live – he would have done it for anybody that day."
Jesse E. Childress, 29
Jesse Childress, 29, will be remembered as loyal and athletic, friends said Saturday as they gathered at a makeshift memorial across the street from the theater.
The U.S. Air Force reserves cyber systems operator died at a nearby hospital, officials said. Childress was single and had no children. He had a pet dog and family in the Los Angeles area.
Friends placed an Air Force flag at the foot of the memorial, where a teddy bear in a miniature uniform and small, folded blue-and-white flags rested.
"He was athletic, fun to be with--he really just wanted to serve," said Ashley Wasinger, 31, who served with Childress in the Air Force's 310 Force Support Squadron. She sobbed as she recalled the last time she talked to Childress on Thursday.
"He talked about the movie," she said. "We've all been excited to go. He tried to talk me into going."
Rebecca Ann Wingo, 32
Rebecca Wingo had two daughters, ages 4 and 6. She worked at a medical company in Aurora, friends said, and had gone to see the new Batman movie with Marcus Weaver, 41.
As the bullets flew in the theater, Weaver said he tried to protect her as best he could.
"… When I lifted her up, she was unconscious," Weaver said. "She may have already passed."
According to her Facebook page, Wingo was born in Quinlan, Tex. and spent 11 years working for the United States Air Force. She most recently worked as an intake specialist at Schryver Medical in Denver.
Veronica Moser-Sullivan, 6
Veronica Moser-Sullivan, 6, was a "vibrant little girl" on a mother-daughter outing to the midnight screening.
Veronica died on the operating table, according to relatives. She had just completed kindergarten and was the youngest shooting victim.
Her mother, 25-year-old Ashley Moser, was getting ready to attend nursing school, Ashley's aunt Annie Dalton said.
Moser was shot in the neck and abdomen, relatives told The Times. She underwent additional surgery for her injuries on July 28 and relatives said she had miscarried as a result of her injuries.