---
Diane B. Paul
Diane B. Paul, a retired lawyer, succeeded David C. Bohnett as board chair in September 2013.
Deborah Borda
President and Chief Executive Deborah Borda left her executive director position at the New York Philharmonic and joined the L.A. Phil in 2000.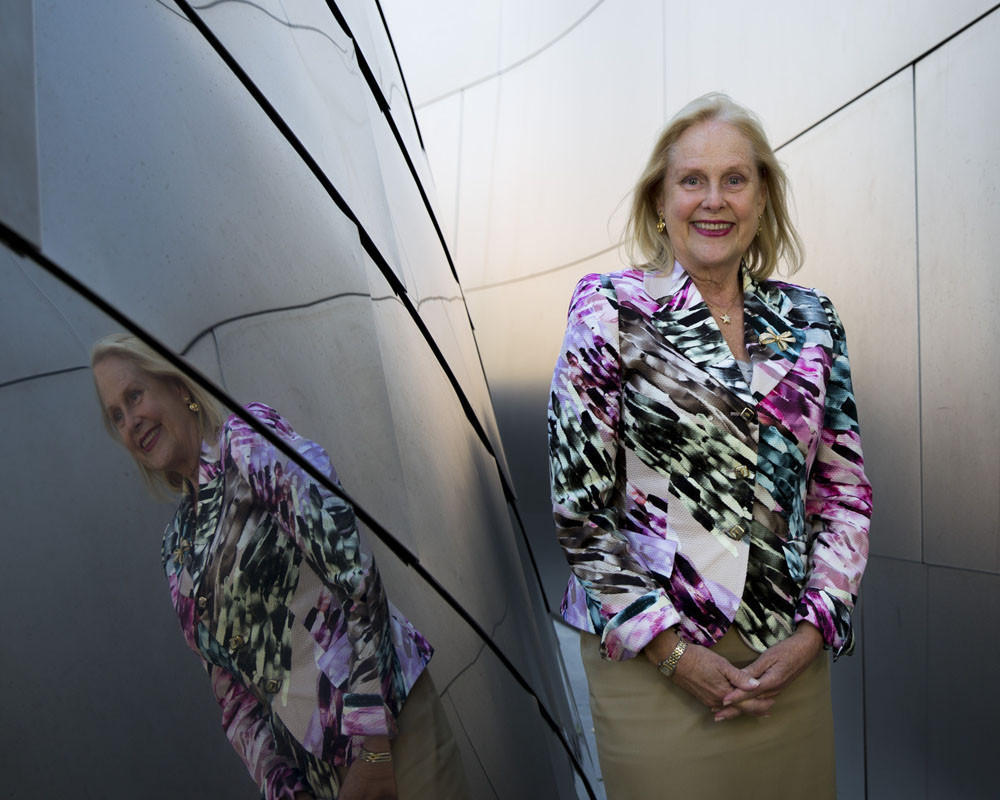 ---
Julie Andrews
An award-winning actress, Julie Andrews is best known for her feature film debut in "Mary Poppins." She was made a dame by Queen Elizabeth II in 1999 and was a Kennedy Center honoree in 2001.
Wallis Annenberg
Philanthropist Wallis Annenberg, daughter of the late TV Guide founder, is president and CEO of the Annenberg Foundation. Several L.A. community spaces have been erected under her aegis, including the Wallis Annenberg Center for Performing Arts in Beverly Hills and Annenberg Space for Photography.
David N. Barry III
David N. Barry III is president emeritus of Los Angeles Music and Art School, a private institution in East Los Angeles.
David C. Bohnett
David C. Bohnett is a technology entrepreneur and founder of GeoCities, a philanthropist with a focus on social justice and was the previous Philharmonic chairman for five years. Bohnett has said the completion of Walt Disney Concert Hall catalyzed his involvement with the orchestra; he joined the board in 2004. Bohnett recently donated $20 million, the second largest gift the orchestra has received, to endow the president's position and to launch a fund focused on reaching new audiences.
Lynn A. Booth
Lynn A. Booth is president and trustee of the Otis Booth Foundation, which in 2013 donated over $16 million, mostly to Southern Californian nonprofits, a majority of which went to higher education.
Donald P. de Brier
Donald P. de Brier is the executive vice president of Occidental Petroleum Corp., an international oil and gas exploration and production company. He is also on the National Public Radio Foundation's Board of Trustees.
Linda Brittan
Linda Brittan co-owns Roxbury Management, a property management company, and Fair Hills Farms, an equestrian facility in Topanga. She is secretary of the Traub Brittan Family Foundation, which donates to the performing arts and Jewish organizations.
Jennifer Chernick
Jennifer Chernick is a classically trained pianist and the founder of iCadenza, a business that offers career-building resources to performing artists.
Adriana Cisneros
Adriana Cisneros is the CEO and vice chairman of Cisneros Group of Companies, a private media and entertainment conglomerate headquartered in Florida that is focused on the Latino market. Cisneros is also president of Fundación Cisneros, a nonprofit focused on education and heritage in Latin America.
Mark Houston Dalzell
Mark Houston Dalzell is senior vice president of Capital Research Co. and a fixed income portfolio manager for the Capital Group Cos., a global investment management organization. He is also chairman of the board of Camino Nuevo Charter Academy, a group of charter schools in the Westlake-MacArthur Park area of Los Angeles.
Mari L. Danihel
Mari L. Danihel, former president of Danihel Property Management, is also on the board of directors of the Los Angeles World Affairs Council.
Kelvin L. Davis
Kelvin L. Davis is a senior partner in the investment firm TPG Capital and co-head of its real estate arm. The Philharmonic director also serves on LACMA's Board of Trustees.
Kenneth M. Doran
Kenneth M. Doran is managing partner at Gibson, Dunn & Crutcher LLP and chairman of the global law firm's executive committee.
Jerrold L. Eberhardt
Jerrold L. Eberhardt serves on the board of directors at Dynasty Financial Partners after a 40-year career at Smith Barney. He was chairman of the Philharmonic board from October 2005 to September 2008.
Louise D. Edgerton
Louise D. Edgerton is secretary and treasurer of the Edgerton Foundation, a Los Angeles-based nonprofit that offers grants for theater arts.
Jane B. Eisner
Jane B. Eisner is president of the Eisner Foundation, which funds nonprofits helping disadvantaged children in Los Angeles County. She also serves on the board of trustees for the American Foundation for AIDS Research.
Lawrence N. Field
Lawrence N. Field is the founder and CEO of NSB Associates, a real estate development and investment firm focused on commercial properties in Southern California. Field also serves on the Digital Project Inc. Board of Directors.
Sheri Gill
Retired teacher and financial planner Sheri Gill is the affiliate chair of the Los Angeles Philharmonic Assn. and a member of the Peninsula Committee for the Phil.
David I. Gindler
David I. Gindler is a partner in the law firm Irell & Manella. He is board chairman for the Los Angeles Master Chorale.
Cecilia Aguilera Glassman
Cecilia Aguilera Glassman has been the executive director of the nonprofit Los Angeles Police Foundation since 2010. She is a former CEO of the Children's Museum of Los Angeles.
Lenore S. Greenberg
Philanthropist Lenore S. Greenberg supports organizations with gifts, grants and loans through the Lenore S. & Bernard A. Greenberg Fund, based in Beverly Hills. She is also a MOCA lifetime trustee.
Carol Colburn Grigor
Philanthropist and concert pianist Carol Colburn Grigor donates to the performing arts through the Dunard Fund, which has supported the Edinburgh International Festival and London Philharmonic Orchestra. Grigor also serves as chairman of the board of directors of the Colburn School, a Los Angeles performing arts school founded by her father.
Pierre Habis
Pierre Habis is a senior executive vice president at Union Bank and serves as head of community banking. He also serves on the California Science Center Foundation Board of Trustees.
Teena Hostovich
Teena Hostovich is an executive vice president at Lockton Insurance Brokers.
John F. Hotchkis
John F. Hotchkis is founder, chairman and CEO of Ramajal LLC, an investment management firm. He served as chairman of the Phil's board of directors from 2003 to 2005.
Jon Kagan
Jon Kagan is a partner at the law firm Irell & Manella.
Kenneth Kamins
Kenneth "Ken" Kamins is president of Key Creatives, a literary management and production company. He was an executive producer for a number of films, including "The Hobbit" trilogy, "District 9," "Jack Reacher" and "The Adventures of Tintin."
Darioush Khaledi
Darioush Khaledi owns K.V. Mart Co., one of the largest independent grocery store chains in Southern California, operated under the names Top Valu Market, Buy Low Market, Amar Ranch Market and Valu Plus Food Warehouse.
Ronald Litzinger
Ronald Litzinger, president of Edison Energy at Edison International, previously was president of Southern California Edison.
John V. Mallory
John V. Mallory is a partner in the investment management division at Goldman Sachs. While at Goldman Sachs, Mallory played a pivotal role in the 2007 contract negotiations between baseball star Alex Rodriguez and the New York Yankees.
Kevin MacCarthy
Storyboard artist Kevin MacCarthy has worked on such movies as "Where the Wild Things Are," "There Will Be Blood" and "Anchorman: The Legend of Ron Burgundy."
Bowen H. "Buzz" McCoy
Real estate counselor Bowen H. "Buzz" McCoy is president of "Buzz" McCoy Associates Inc. He has published a book on business ethics and teaches classes on the subject.
Younes Nazarian
Philanthropist, investor and businessman Younes Nazarian is chairman of Nazarian Enterprises, an early investor in telecommunications company Qualcomm. He is also the founder, chairman and trustee of Y&S Nazarian Family Foundation, which supports education as a means for societal change.
Leith O'Leary
Leith O'Leary is vice president of the Michael J. Connell Foundation, which gives grants to cultural, educational, environmental and medical endeavors based primarily in the Los Angeles area.
William C. Powers
A former portfolio manager for Pacific Investment Management Co., William C. Powers manages the family office Strand Partners. He is on the board of the John F. Kennedy Center for the Performing Arts and is a founder of the Painted Turtle, which offers camp programs to children with serious medical conditions.
Barry D. Pressman, M.D.
Barry D. Pressman, M.D., is chairman of the S. Mark Taper Foundation Imaging Center and chief of neuroradiology at Cedars-Sinai Medical Center.
Jay Rasulo
Jay Rasulo has been senior executive vice president and chief financial officer of Walt Disney Co. since 2010. He previously was chairman of Walt Disney Parks and Resorts.
Dudley A. Rauch
Dudley A. Rauch is a trustee of the Thacher School, a boarding school in Ojai.
Ann Ronus
Ann Ronus is on the board of directors of the Colburn School as well as the St. James' Episcopal School board.
Laura Rosenwald
Retired jet propulsion engineer and professional ballet dancer Laura Rosenwald focuses on philanthropy with her husband, James. She also serves on the board of directors of Center Theatre Group.
Nancy S. Sanders
Nancy S. Sanders is president of the Sanders Family Foundation. Her husband, Barry Sanders, is an international corporate lawyer and chairman of the Southern California Committee for the Olympic Games.
Eric L. Small
Iyengar yoga instructor Eric L. Small, who began studying the discipline after being diagnosed with multiple sclerosis, tailors his programs to clients with MS and other neurological conditions. Small also serves on the board of directors for the Doheny Eye Institute and Los Angeles Opera.
Christian Stracke
Christian Stracke is a managing director for Pacific Investment Management Co.'s Newport Beach office.
Ronald D. Sugar
Ronald D. Sugar is chairman emeritus and retired CEO of the global security company Northrop Grumman Corp. He serves on USC's board of trustees, as well as Apple and Chevron's boards of directors.
Jack Suzar
Jack Suzar is senior managing director at Bel Air Investment Advisors, a financial consulting firm.
Katherine Watkins
Katherine Watkins is president of the Pasadena Showcase House for the Arts.
Jonathan Weedman
Jonathan Weedman is head of the Wells Fargo Foundation in Los Angeles. He also serves on the board of the Inner City Youth Orchestra of Los Angeles.
Alyce Williamson
Philanthropist Alyce Williamson's involvement in the arts world includes serving on the boards of the Music Center and L.A. Opera. A trustee of the Art Center College of Design, she is a founding chairman of Art Center 100, the college's community volunteer group. Williamson is also a trustee emeritus of Scripps College and member of the board of Children's Hospital Los Angeles.
Marilyn Ziering
Philanthropist Marilyn Ziering is a former senior vice president of the medical supplies company Diagnostic Products Corp. (now Siemens Medical Solutions Diagnostics), a company she founded with her husband. She is a co-founder of the United States Holocaust Memorial Museum and serves on the board of trustees for L.A. Opera.