The native who returned
The morning Hurricane Katrina hit New Orleans, Bridgette Medley got a panicked phone call from her sister, who was trapped in a rapidly flooding home with their brother and elderly parents.
"I love you," Stephany Johnson said, and then, "We're going to die."
The line went dead.

Medley was riding out the storm on the hard ballroom floor of a downtown hotel with her husband and 3-year-old daughter, but her sister, parents -- Barbara and Paul Johnson Sr. -- and brother, Paul Jr., had decided not to evacuate their house in the city's 8th Ward.
As the home filled with water, her relatives sought higher ground, eventually finding themselves stuck in their hot attic.
By the time Medley told her story to The Times that evening, her sister had called again with welcome news: The National Guard was sending a boat.
Medley was beyond relieved. She vowed her family would stick together from then on.
But that isn't exactly how things worked out.
The Times spoke to Medley again this week. Here's what she said had happened since:
When the rescuers came to save Medley's relatives from the attic, her father refused to leave. He wanted to protect his home.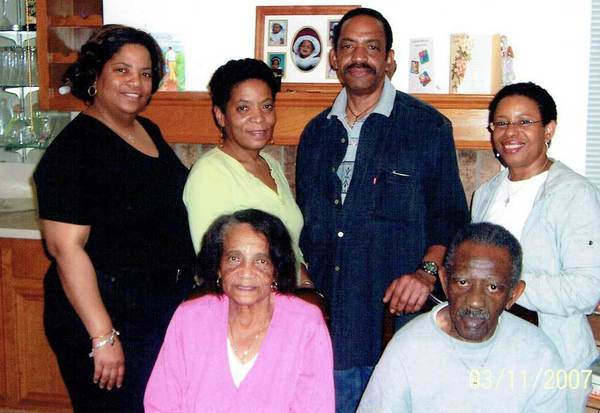 "He had worked hard to get it, and he didn't want anyone coming in," Medley said.
She said her brother refused to leave their father's side, so her mother and sister boarded the boat and said their goodbyes, unsure of when they'd meet again.
The two women ended up at the tattered Superdome, where more than 20,000 people had sought shelter.
The stadium was soon evacuated. Medley's mother and sister ended up in Huntsville, Texas. Days later, as they watched more people arrive, the mother said to the sister, "Go help your daddy get off the bus."
"Yeah, right," she replied, not believing that her father and brother had wound up in the same place. But there they were.
Two days after refusing to leave the home, the two men had agreed to hop on a rescue boat, which left them on a highway on higher ground. They caught a ride out of town on a bus -- a bus that happened to be heading to Huntsville.
Meanwhile, Medley and her husband, Lester, and daughter pingponged around the South. Her husband's job as a news photographer took them to Louisiana's capital, Baton Rouge. Then Medley went to Atlanta to meet up with her other sister, Gail Joseph. She headed to North Carolina when she learned her in-laws had evacuated there, and then she returned to Georgia.
It would be five years before Medley's whole family would be living in New Orleans again.
Medley's parents and sister Stephany settled for a time in Houston after her father, suffering from dehydration and chronic heart disease, was hospitalized there. Medley joined them in October. Her brother remained in Huntsville, an hour north. Her sister Gail stayed in Georgia.
Medley's husband kept working in Louisiana. She and her daughter went to New Orleans to join him in January 2006. It had been barely three months since the city dried out.
She came home to a waterlogged house, furniture and debris scattered everywhere. "It looked like my house had just exploded," Medley said. The water line was 3 feet up the wall, and black mold seemed to engulf every corner. She remembers the stench as unbearable.
"It was dusty. It was moldy. You could smell the mold over the whole city" for months, she said.
For more than a year, Medley and her husband, daughter and mother, who had come to help out, lived in a one-room trailer parked next to the Medleys' gutted home.
"It made it easy for my husband to work on the house," Medley said, but that was the only upside. Each morning when he came home from his graveyard shift, he'd get to work rebuilding, slowly, plank by plank.
Medley, who had been an operating room nurse before the storm hit, couldn't find a job. The hospital that had employed her shut down after it was flooded, and there were few others operating. So Medley worked part time as a school nurse.
On weekends, they'd pack up the car and make the five-hour drive to Texas to see the relatives who remained there. That was their routine for nearly two years.
Piece by piece, their home came together. They rebuilt, adding a den and an extra bedroom with the $100,000 they received from the state's Road Home program, designed to assist residents with post-Katrina recovery. (Many others languished while the payouts were delayed.)
Slowly, more of her family members began to trickle back to New Orleans. Her father arrived in 2007 to a rebuilt house, this time with an extra bathroom. Her brother and sister Stephany rejoined them a couple years later.
Medley went back to school, earning her bachelor's degree. Earlier this month, she started a new job as an operating room nurse again, at a hospital that opened just last year. It was built on the site of another hospital Katrina had flooded.
"I'm starting over with an institution that is starting over too," Medley said.
Ten years later, some things remain unfinished. The floors of her home aren't quite done, and the back of the house remains unpainted.
Her parents recently died -- her father in 2013, her mother last year. Her brother and sister Stephany live in their parents' home now, and the family often uses it as a gathering space. The other sister still lives in Georgia but visits regularly.
"We stick together now," Medley said. "As much as we can."