The road to 6,200 Chinese restaurants
Sometime in the 1980s, Los Angeles accountant and attorney David Chan discovered that there wasn't a single Chinese restaurant in Los Angeles where he hadn't dined. "At that point I figured, why not keep going?" Chan said. As Chinese food spread across the Southland and the nation, Chan tried to keep pace, hitting more than 300 new Chinese restaurants a year at his peak. He kept meticulous records on a spreadsheet, which today numbers 6,297 - and counting. Click the "play" button to see Chan's eating patterns over the years. Read the story: 6,297 Chinese restaurants and hungry for more.
Note: Red dots indicate locations visited that year.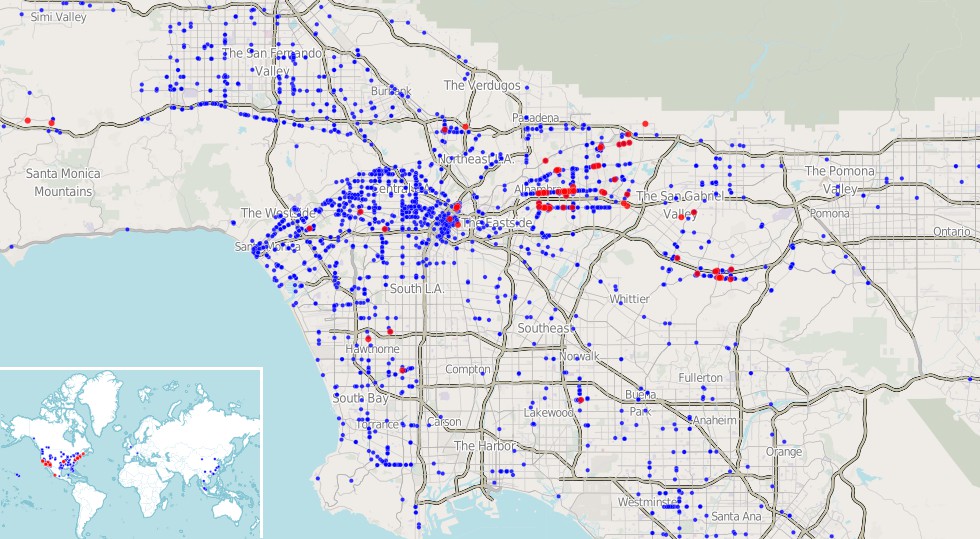 David Chan's Top Ten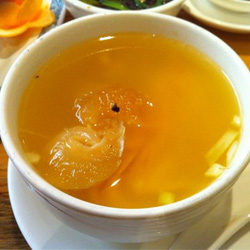 1. Koi Palace
Location: Daly City, California
Chan says:
"Koi Palace is a Hong Kong style restaurant specializing in dim sum at lunch time and Hong Kong style seafood at dinner. Koi Palace is also an anomaly in that it is the only one of two restaurants on this list that opened before the year 2000. This is significant because Chinese food is continuously evolving and improving, and Chinese restaurants that might be the best at one point in time are likely to be surpassed by new contenders, rather than evolving to new heights themselves. Koi Palace apparently sends their kitchen staff back to Asia periodically to pick up on the newest trends and innovations."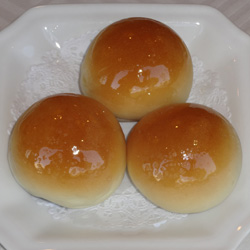 2. Sea Harbour
Location: Rosemead, California
Chan says:
"The opening of Sea Harbour about 10 years ago was a real milestone as it marked the first venture of a Vancouver, B.C., area Chinese restaurant into the United States. This is noteworthy as Vancouver has had the best Chinese food in North America for over two decades, and a list of the 10 best Chinese restaurants in North America would consist solely of restaurants from the Vancouver and Toronto areas. Sea Harbour brought high quality menu based dim sum (as opposed to dim sum carts) to Los Angeles and the United States, and serves Hong Kong style seafood at dinner."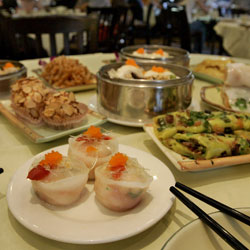 3. Elite Restaurant
Location: Monterey Park, California
Chan says:
"Elite Restaurant, which opened five years ago, is in the mold of Sea Harbour, serving dim sum off the menu and Hong Kong style seafood. While dim sum carts are viewed by many as a more interesting experience, dim sum off the menu that is cooked to order provides a fresher and higher quality product."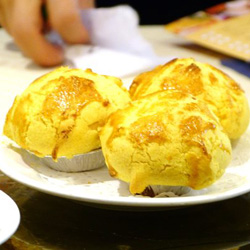 4. King Hua
Location: Alhambra, California
Chan says:
"King Hua is an offshoot of Sea Harbour, having been founded by the original dim sum chef at Sea Harbour. Food obviously parallels that of Sea Harbour."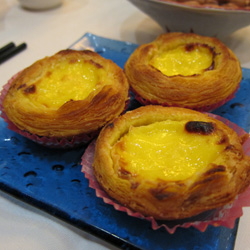 5. Lunasia
Location: Alhambra, California
Chan says:
"Lunasia is another dim sum off-the-menu Hong Kong style seafood restaurant. Innovative dim sum items include foie gras dim sum, about to become illegal as California bans the sale of foie gras as of July 1, 2012."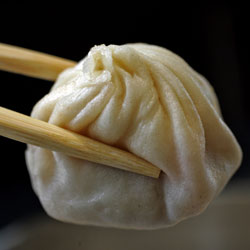 6. Din Tai Fung
Location: Arcadia, California
Chan says:
"This is the only Shanghai style restaurant on the list and is a branch of the renown Din Tai Fung chain based in Taiwan. Specialty is Xiao Long Bao ... [which] may best be described as a cross between a wonton and a real dumpling, except that in addition to the meat filling there is also a reservoir of broth accompanying the meat. Some detractors say the California branch of Din Tai Fung pales next to the Taiwanese branch and others say that the XLB at other Los Angeles area restaurants are better. Yet Chinese communities in the San Francisco Bay area and New York long for their own branch... "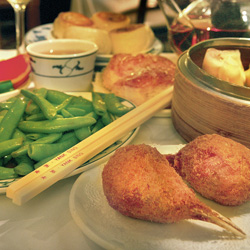 7. Yank Sing
Location: San Francisco, California
Chan says:
"This dim sum specialist has been around for decades, but has evolved from its original Chinatown origins into a mainstay in San Francisco's financial district. Serves the most expensive dim sum in the United States, with a typical bill of $35 per person, compared to $10 to $20 at other dim sum eateries."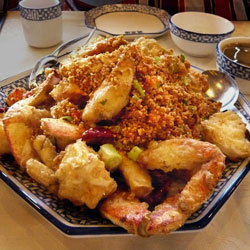 8. Seafood Village
Location: Monterey Park, California
Chan says:
"This Chiu Chow/Hong Kong style restaurant is highly regarded, but due to its relatively small size doesn't get the same attention as the larger capacity restaurants noted above. However, the large crowds that wait to dine here are a testament to the restaurant's ability to make a large number of outstanding dishes."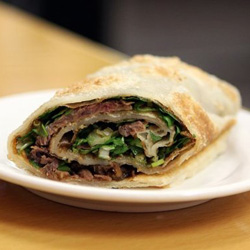 9. 101 Noodle Express
Location: Alhambra, California
Chan says:
"One dish has propelled 101 Noodle Express into prominence, the Shandong beef roll. Previously unseen in this country, that dish is now ubiquitous in Los Angeles area Chinese restaurants, and turned 101 Noodle Express into a mini-chain, with even a branch in a regional shopping mall in a part of Los Angeles with a small Chinese population. But 101 Noodle Express is not a one trick pony, and also serves outstanding northern Chinese meat, dumpling and noodle dishes. "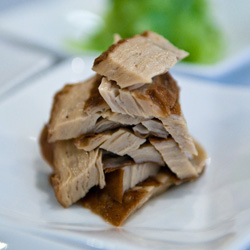 10. Jai Yun
Location: San Francisco, California
Chan says:
"Besides being one of the best Chinese restaurants in the U.S., it is also the quirkiest. It's located a half-block outside of San Francisco Chinatown, close enough to describe it as being in Chinatown. It is highly controversial as it elicits both extremely positive and extremely negative comments. There is no menu at Jai Yun. Rather you tell the chef how much you want to spend (e.g., $35 per person, $50, $100, etc.) and he'll provide you a selection of small plates of his choice, based on the ingredients he has purchased for the day. The chef is from Nanjing, and his cooking reflects a variety of eastern and northern Chinese locales..."