The Cheat Sheet
Supreme Court rules
on gay marriage cases
Months after hear­ing ar­gu­ments on two con­tro­ver­sial gay mar­riage cases, the Su­preme Court is­sued a land­mark rul­ing on the 1996 De­fense of Mar­riage Act, find­ing it was un­con­sti­tu­tion­al to deny leg­ally mar­ried same-sex couples fed­er­al be­ne­fits. The court also cleared the way for same-sex mar­riages to re­sume in Cali­for­nia as the justices, in a pro­ced­ur­al rul­ing, turned away the de­fend­ers of Pro­pos­i­tion 8. Here's a look at the back­ground of the two cases.
Defense of Marriage Act: Decision | June 26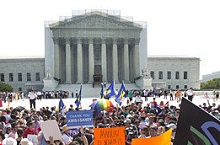 DOMA is unconstitutional
The Supreme Court in a 5-4 decision struck down a key part of the federal Defense of Marriage Act and declared that same-sex couples who are legally married deserve equal rights under federal law to the benefits that go to all other married couples.
The decision is a landmark win for the gay rights movement. It voids a section of the law known as DOMA, which was adopted with bipartisan support in Congress in 1996 to deny all benefits and recognition to same-sex couples.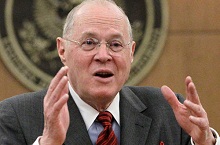 What they said
Justice Anthony Kennedy, speaking for the 5-4 majority, said DOMA was unconstitutional because it violated the right to liberty and to equal protection for gay couples. "By seeking to displace this protection and treating those persons as living in marriages less respected than others, the federal statute" violates the Constitution, he said.
Dissenting were Justices John Roberts, Antonin Scalia, Samuel Alito and Clarence Thomas.
Arguments March 27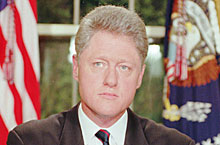 What is the Defense of Marriage Act?
Passed by Congress and signed into law by President Clinton in 1996, the Defense of Marriage Act, or DOMA, for the first time defined marriage for federal purposes as a union between a man and a woman and allowed states to deny legal recognition to same-sex marriages performed outside their borders. The measure also barred the federal government from recognizing same-sex marriages licensed by states.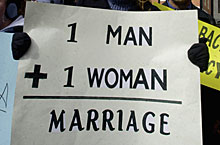 What prompted the passage of DOMA?
In 1996 same-sex marriage was legal nowhere in the country, but the Hawaii Supreme Court had hinted it might allow such marriages. In Congress, lawmakers worried that if gay marriage became law in one state, all states would be forced to honor such marriages through the Constitution's "full faith and credit" clause, which requires states to abide by court judgments. DOMA was passed to head off that prospect.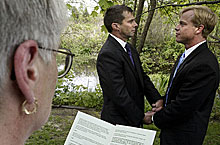 What has changed since DOMA became law?
In 2004, Massachusetts became the first state to legalize gay marriage. Since then, eight other states have followed. Judges in California, Massachusetts and New York have declared DOMA unconstitutional. In 2011, the Obama administration said the Justice Department would no longer defend DOMA in court, and House Republicans responded by saying they would appoint lawyers to take up its defense.
– Obama administration shifts legal stance on gay marriage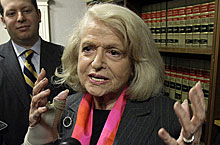 What is the case the Supreme Court heard?
The court has agreed to hear the case of Edith Windsor, an 83-year-old widow from New York who was given a $363,000 tax bill by the Internal Revenue Service after her female spouse died in 2009. The two had lived together for 44 years and were married in Canada in 2007. The U.S. government said Windsor did not qualify as a "surviving spouse" under the federal law. A married heterosexual couple would not have had to pay any tax.
The attorneys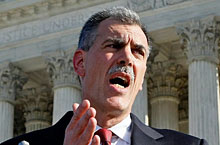 Donald B. Verrilli Jr. | Opposing
Donald B. Verrilli Jr. will argue on behalf of the White House in opposing DOMA. Verrilli, a graduate of Yale and Columbia law School, clerked for Supreme Court Justice William J. Brennan Jr. Verrilli went from private practice to the Justice Department in 2009 and became deputy counsel to the president in the White House in 2010. He was named solicitor general in 2011.
– Obama administration urges Supreme Court to strike down Prop. 8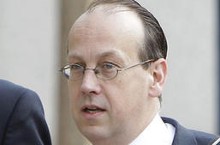 Paul Clement | Supporting
Paul Clement will argue for the House of Representatives in support of DOMA. A Georgetown University School of Foreign Service and Harvard Law School alumnus, Clement clerked for Justice Antonin Scalia and succeeded Ted Olson as solicitor general in the George W. Bush administration.
Proposition 8: Decision | June 26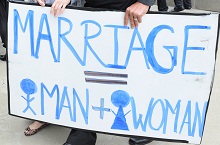 Prop. 8 backers had no standing
The Supreme Court cleared the way for same-sex marriages to resume in California as the justices, in a procedural ruling, turned away the defenders of Proposition 8.
The court's action, while not a sweeping ruling, sends the case back to California, where state and federal judges and the state's top officials have said same-sex marriage is a matter of equal rights.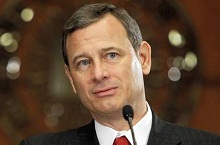 What they said
Chief Justice John Roberts, speaking for the 5-4 majority, said the private sponsors of Proposition 8 did not have legal standing to appeal after the ballot measure was struck down by a federal judge in San Francisco.
"We have never before upheld the standing of a private party to defend the constitutionality of a state statute when state officials have chosen not to," he said. "We decline to do so for the first time here."
Justices Ruth Bader Ginsburg, Stephen Breyer, Antonin Scalia and Elena Kagan joined to form the majority.
Arguments March 26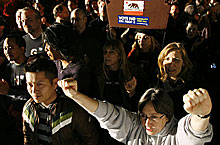 What is Prop. 8?
On Nov. 4, 2008, California voters passed Proposition 8. The ballot measure, which amended the state constitution to define marriage as a union "between a man and a woman," won with 52% of the vote.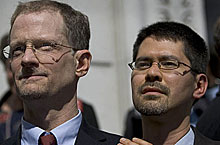 What prompted Prop. 8 to be placed on the ballot?
In May 2008, the California Supreme Court ruled that under the state constitution all persons have a basic right to marry and the state has no justification for not allowing same-sex couples to marry. The ruling opened the door for many gay couples in the state to marry. But the court's decision prompted opponents of same-sex marriage to place Proposition 8 on the November 2008 ballot.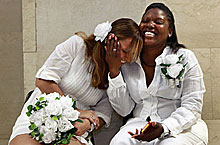 What has changed since Prop. 8 was approved?
Prior to voters approving Proposition 8, in addition to California, Massachusetts and Connecticut allowed same-sex marriage. Since then Vermont, Iowa, New Hampshire, New York, Maryland, Washington and Maine as well as the District of Columbia have legalized gay marriage. Additionally, public opinion surveys show that there is a rising acceptance of same-sex marriage in America.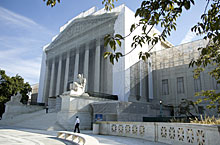 What case did the Supreme Court consider?
The U.S. Supreme Court will consider California's Proposition 8 to decide whether the voters' ban on same-sex marriage wrongly denies gays and lesbians an equal right to marry. The court could decide whether the Constitution's promise of equal treatment gives gays and lesbians a right to marry. But the justices also left themselves the option to rule narrowly or even to duck a decision.
– Supreme Court to rule on California's Prop. 8 ban on gay marriage
The attorneys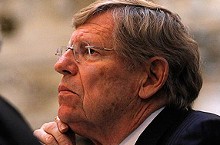 Ted Olson | Opposing
Ted Olson, who held top legal positions in both the Reagan and George W. Bush administrations, is a prominent Supreme Court litigator. His cases include Bush v. Gore, which he argued for Bush after the presidential election in 2000, and the Citizens United case in 2010, in which the court overturned restrictions on corporate political spending in 2010. His support for gay marriage has alienated some of his longtime conservative friends and allies.
– The conservative legal star who is fighting for gay marriage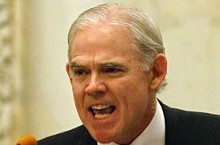 Charles Cooper | Supporting
Charles J. Cooper will argue for supporters of Proposition. 8. He clerked for Supreme Court Justice William H. Rehnquist and succeeded Ted Olson, his adversary in this hearing, as head of the Office of Legal Counsel at Justice. Cooper has been the lead attorney for Protect Marriage, the sponsors of Proposition 8.
– Gay marriage foes want Supreme Court to step into California case
Audio | Complete oral arguments
Hollingsworth v. Perry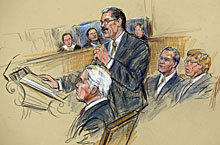 United States v. Windsor