Campaign money
Legislation
Consulting
Other
Central Basin Water District
The Central Basin Municipal Water District is a water wholesaler that sells imported water to communities and companies in southeast Los Angeles County.
Until 2011, Tom Calderon had a $12,000-a-month consulting contract with the district, providing legislative and political advice.
Campaign finance records show that four of the five Central Basin board members in 2011 had received donations from from Ron Calderon, Tom Calderon or his wife, Marcella Calderon.
Connected contracts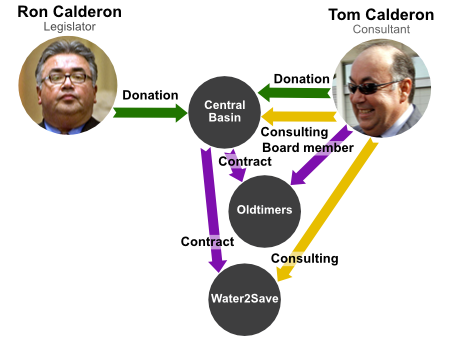 Between 2006 and 2011, Central Basin paid more than $2.5 million to the Oldtimers Foundation, a local nonprofit. During that time, Tom Calderon was the Oldtimers' board president.
The district received a grant from the Department of Energy to build a water recycling system. Instead of following the original proposal and partnering with Lake Forest-based HydroEarth, the district chose to contract instead with Water2Save, a firm that had paid Tom Calderon $140,000 a year. Plans later changed again and the Water2Save contract with the district was never paid out.
The FBI has requested records from the district relating its contracts and a dispute with a rival water district.
In the Capitol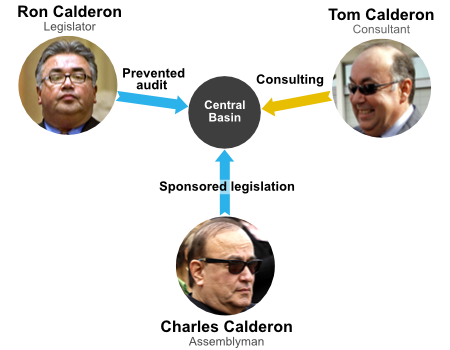 Ron and Charles Calderon have defended the water district's interests in Sacramento.
In 2009, Ron Calderon lobbied a colleague in the state Legislature to help prevent an audit of Central Basin's books despite calls from officials in cities served by the district.
In 2011, Charles Calderon proposed legislation that would have reduced the fees Central Basin's customers pay while increasing the cost for cities elsewhere in Los Angeles.
Recall efforts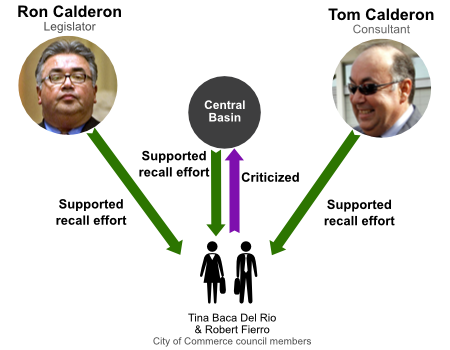 Tom and Ron Calderon, as well as Central Basin officials and contractors, helped finance a recall effort in 2008 against two council members in the City of Commerce who were critics of the water district.
The targets of the campaign, Tina Baca Del Rio and Robert Fierro, had raised objections to a proposed Central Basin water line that would have supplied a nearby power plant.
Ron and Tom Calderon donated a total of $2,500 to California Citizens for Good Government, a committee that supported the Commerce recall and several similar campaigns. A former Central Basin board member donated $5,000.
More
---
Hilex Poly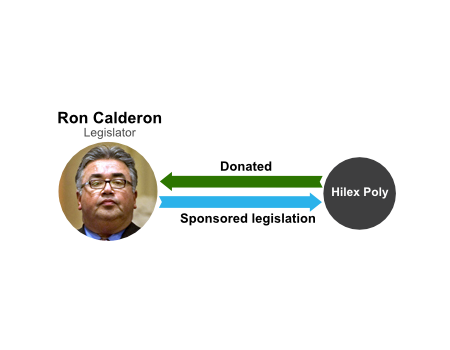 Hilex Poly is the world's largest producer of recycled plastic bags.
In 2011 and 2012, Ron Calderon sponsored bills that would have required companies to use recycled content in bags, and forced grocery stores to only buy bags printed with a recycling message. One of these bills was sought by Hilex Poly. In 2013, Ron Calderon and other members of the California Latino Legislative Caucus voted down a proposed ban on plastic shopping bags.
During that time, Ron Calderon and the Latino caucus received large donations from Hilex Poly: $15,000 to the Latino caucus' political committee and $3,500 to campaign accounts held by Ron Calderon, who later returned $1,850.
More
---
Pacific Hospital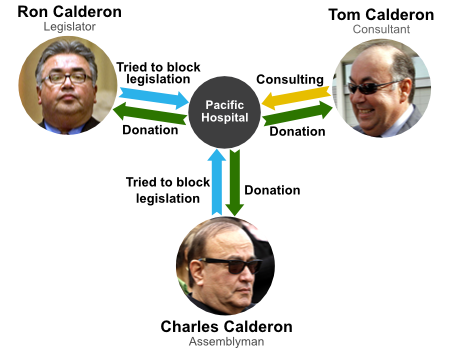 Long Beach-based Pacific Hospital and other healthcare companies owned by Michael Drobot have earned hefty profits from California's insurance program for injured workers.
The companies have employed Tom Calderon as a consultant. Drobot, his companies and his employees have donated at least $176,000 to the Calderon brothers' political campaigns since 2001.
Tom, Ron and Charles Calderon each worked to block a 2012 bill that would have cut into the companies' profits by changing the state program. Though the measure ultimately passed, Ron and Charles Calderon were among nine lawmakers who voted against it.
More
---
StudentsFirst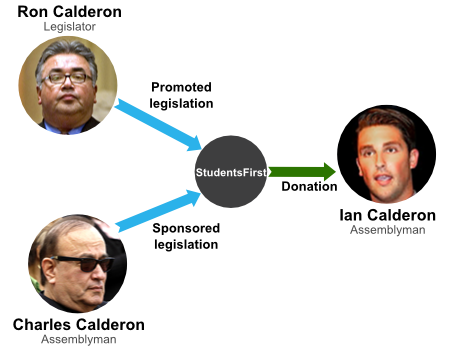 Ian Calderon, Charles' son, won an Assembly seat representing Whittier in 2012. He advanced from the primary after education advocacy group StudentsFirst and an Indian gaming coalition funded a last-minute, $600,000 independent campaign to support him.
The organizations' money was three times the amount Ian had raised for himself.
Before StudentsFirst paid for its first cable TV ad supporting Ian, Charles Calderon had agreed to sponsor a bill sought by the organization.
The measure faced opposition from other education activists, though, and was dropped. Ron Calderon has since inserted key parts of the failed proposal into other bills.
More
Correction: The legislation sought by StudentsFirst was never filed. The graphic incorrectly referred to the proposal as a bill.