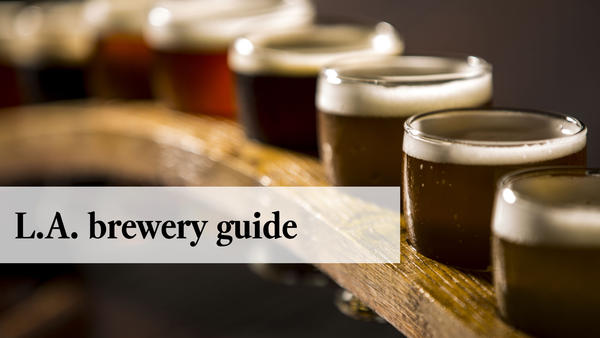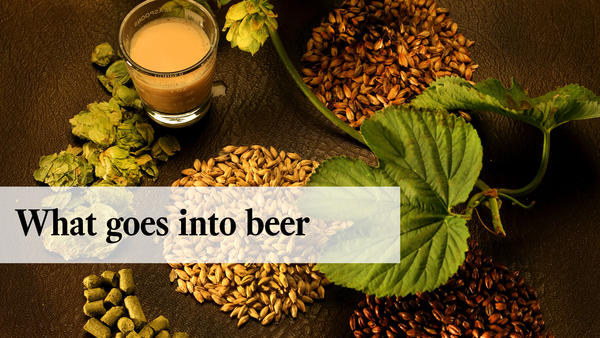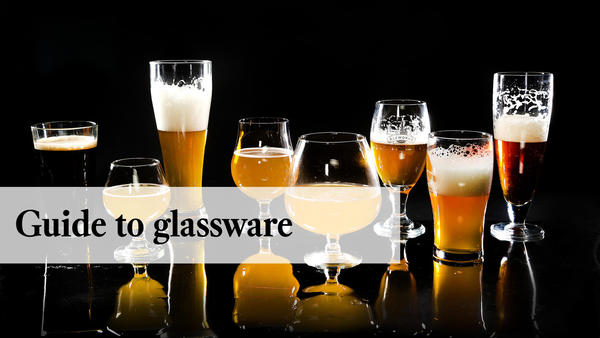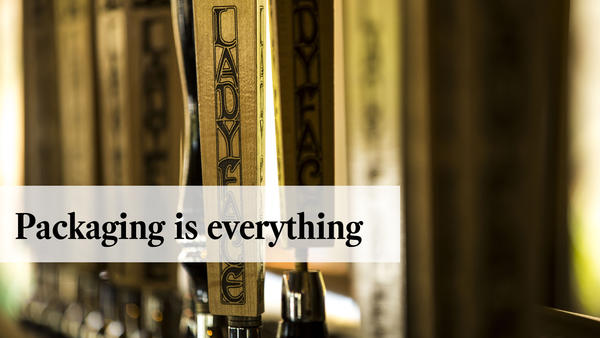 Just a few years ago, only a handful of brew houses were operating in L.A. County. But the craft brewing culture has finally taken hold in the Southland. There are now more than 30 craft breweries and brewpubs spread across the Los Angeles area, from the Antelope Valley to the South Bay, and many more are planning to open in the months and years to come.
From ambitious production sites, such as Golden Road Brewing and Three Weavers Brewing, to neighborhood hangouts focused on small batch brews, including Highland Park Brewery and Ladyface Ale Companie, L.A.'s craft beer scene offers a wide variety of styles and environments. There are breweries focused on exploring the flavors of West Coast-style hoppy beers and breweries specializing in wood-aged sour brews; there also are world-class beers being made in L.A. that can stand next to the best from San Diego, Portland, Ore., and Denver.
The scene is young but growing fast, with hot spots around the county, such as the bustling South Bay scene, where some of the best breweries have set up shop, and a quickly developing downtown nexus in the arts district.
This guide to craft breweries in the Los Angeles area can help you discover your next favorite beer, whether it's poured at the taproom of a production brewery (an operation focused on distributing its product in bottles, cans or kegs to bars, restaurants and retailers) or served alongside a burger at a local brewpub (colloquially, a brewery that also serves food, technically a brewery-restaurant that sells at least 25% of its beer on-site).
If you're unsure where to start, take a look at our map and find what's closest to you, or begin with the handful of highlighted breweries that showcase some of the highest-quality, most interesting or most eye-opening craft beers being made in Los Angeles.
---
Where to find the best craft beer in L.A.
Absolution Brewing Co. (taproom)
This Torrance craft brewery puts a modern spin on Old World brewing traditions; its lineup of small-batch brews is skewed toward IPAs that showcase the aromas of modern hop varieties and the flavors of British malts. Growler fills are available in the taproom, which also offers nonalcoholic craft root beer and cream soda.
(310) 490-4860
Alosta Brewing Co. (taproom)
Serving the eastern San Gabriel Valley, Alosta offers a wide selection of styles, both classic and with classic California twists (sage-tinged Saison Blue, chai-infused Swindler's Spice). The tap list trends toward the drinkable, low-ABV (alcohol by volume) side, and the blond ale Sally is now available in cans to go.
692 Arrow Grand Circle, Covina
(626) 470-7897
Angel City Brewing (taproom)
Angel City's spacious, Art Deco-inspired public house in the downtown arts district includes gallery and performance spaces, and the brewery holds many events that take advantage of the historic building. Traditional takes on German styles are offered alongside inventive experimental brews that have included a Mexican Coke-inspired beer and even an avocado ale.
(213) 622-1261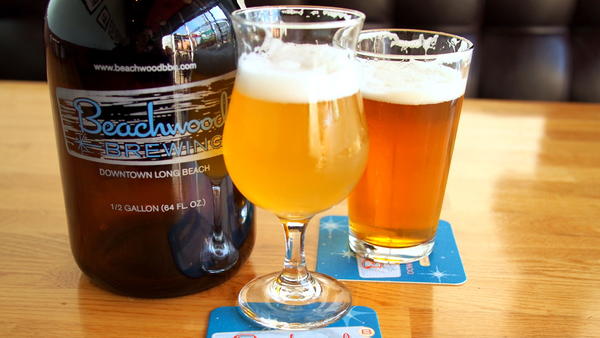 Beachwood Brewing and BBQ (brewpub)
The beer geeks know that this Long Beach brewpub makes some of the best in the city. In particular, the IPAs by brewmaster Julian Shrago and his team are brilliant examples of the aromas and flavors of the hop plant. Beer is treated with an uncommon level of respect here, and the list of guest taps is just as compelling as the excellent house beers.
(562) 436-4020
Belmont Brewing Co. (brewpub)
The sister location to downtown's Bonaventure Brewing Co., this brewpub in Long Beach offers a similar lineup of brewed-in-house ales and a similarly wonderful patio to enjoy them on. Stop by for a weekend brunch at the brewpub, and try one of the beer blends they offer. These mixes of stouts, blond ales and pale ales are a throwback to the British tradition of publicans mixing brews to create a different pint.
(562) 433-3891
Bonaventure Brewing Co. (brewpub)
There is no better spot to grab a fresh beer after a walking tour of downtown L.A.'s architecture than the patio of the brewpub inside the Westin Bonaventure Hotel. Brewmaster Jeff Blackwell offers a handful of core beers, including its signature Strawberry Blonde Ale. Lunch, dinner and bar snacks are available from the brewpub alongside guest taps from craft beer stalwarts.
404 S. Figueroa St., Los Angeles
(213) 236-0802
Bravery Brewing Co. (taproom)
Directed by brewer Brian Avery and co-owned by R. Lee Army, Bravery Brewing is an oasis on the border of the Mojave Desert that has earned the respect of beer lovers throughout the Southland. The tap list is a mix of lighter, drinkable options; Belgian-influenced brews, and bold choices from the brewery's barrel-aging program that feature brandy, tequila and other spirits. The tasting room often showcases live music, and bottles are available along with growler fills.
(661) 951-4677
Claremont Craft Ales (taproom)
British expat Simon Brown's take on a neighborhood pub on the eastern border of Los Angeles County offers a bevy of IPAs, including a rye IPA, an oaked red IPA and a coffee IPA. The brewers concentrate on getting fresh beer into the underserved region, and the taproom was built to be a comfortable gathering place. They even host an occasional weekend yoga class.
1420 N. Claremont Blvd., No. 204c, Claremont
(909) 625-5350
Congregation Ale House (brewpub)
The mini-chain of beer-focused gastro pubs expanded into Azusa in 2013, and brewmaster Caleb McLaughlin has crafted everything from drinkable farmhouse ales to bold and punchy Belgian strong ales to pair with the sausages and pizzas coming out of the kitchen. The beers made at the Azusa pub are also available at the Pasadena and Long Beach locations.
(626) 334-2337
Eagle Rock Brewery (taproom)
One of the oldest craft breweries in Los Angeles, the Eagle Rock Brewery taproom (actually in Glassell Park) has become a favorite neighborhood hangout and beer tour stop best known for Populist IPA and Manifesto Wit. Dialed-in seasonal brews, one-off specialties and even the occasional sour and wood-aged beer draw crowds, and food trucks are a regular addition on weekends.
(323) 257-7866
El Segundo Brewing Co. (taproom)
The South Bay powerhouse has earned a reputation as L.A.'s IPA brewery with a deep lineup of pale ales, IPAs and double IPAs that prove that not all hoppy brews taste the same. There's more than bitterness to beers like the intensely fruity Mayberry IPA and the tropical Hammerland, and the brewery's newly expanded tasting room is the place to discover just how different IPAs can taste.
(310) 529-3882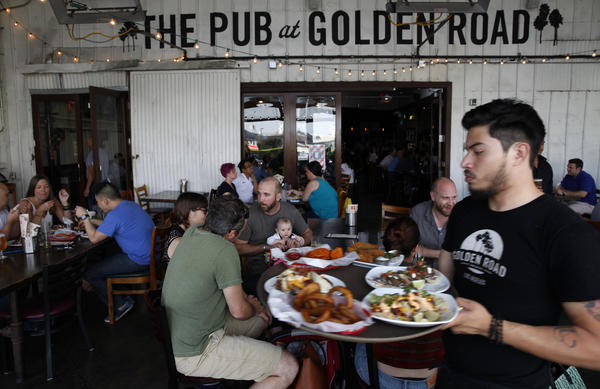 Golden Road Brewing Co. (brewpub)
The largest craft brewery in Los Angeles has become one of the most family-friendly spots to enjoy a pint, and the pub has a large patio, lawn games and a private events space with a speak-easy vibe. Plenty of vegan- and vegetarian-friendly options are offered alongside imperial pints of house beers like the pungent Wolf Among Weeds double IPA and the refreshing and crisp 329 Days of Sun Lager. You can also grab cans to go and get a growler filled.
5410 W. San Fernando Road, Los Angeles
(213) 542-6039
Highland Park Brewery (brewpub)
Highland Park Brewery, nestled in the back room of the hip Hermosillo Bar on York Boulevard, is run by Craftsman Brewing Co. and Father's Office alum Bob Kunz, and the small-batch IPAs, Belgian ales and wood-aged wild beers are delicate and full of character. Growler fills and the occasional bottle release are available to go, and the Hermosillo regularly features a triple-A tap list heavy on local breweries alongside California wines and tasty snacks.
(323) 739-6459
Kinetic Brewing Co. (brewpub)
The Antelope Valley brewpub is expanding in a big way, adding more production capacity and lots more room for patrons to enjoy such beers as Propulsion IPA and the eminently drinkable Torque session IPA. The kitchen offers pub-grub with a Los Angeles flair (duck confit poutine, Korean barbecue tacos), and the brewers create a beer infused with creative ingredients (papaya and mango in an IPA, chocolate and coconut in a stout) every Tuesday.
735 W. Lancaster Blvd., Lancaster
(661) 942-2337
King Harbor Brewing Co. (brewpub)
The year-old Redondo Beach craft brewery has developed a loyal local following on the strength of its three core beers and comfortable tasting room. Abel Brown is an American brown ale with a light body that's bolstered with an addition of cold brewed coffee, the eponymous IPA is an explosion of tropical hop aromas, and the California Saison features local lemon peel and lemon verbena.
(310) 542-8657
King Harbor Brewing Co. Waterfront Tasting Room (taproom)
Just a yardarm away from pioneering craft beer bar Naja's Place, along Redondo Beach's International Boardwalk, this cozy outpost of King Harbor Brewery pours some excellent IPAs, saisons and specialty brews that all pair well with fresh sea air. Bottles, growlers and "crowlers" (32-ounce cans filled and sealed on demand) are available to go, and the location can't be beat.
132 International Boardwalk, Redondo Beach
(310) 374-1400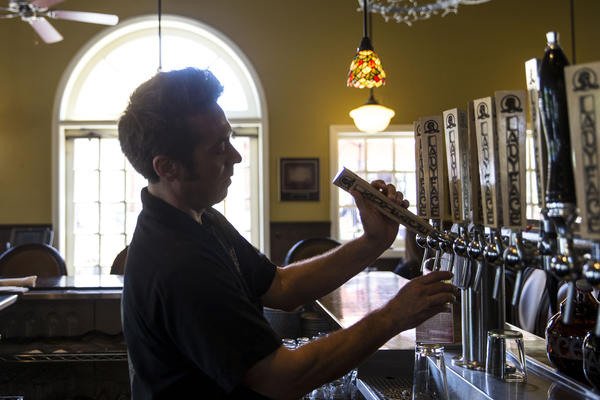 Ladyface Ale Companie (brewpub)
Agoura Hills' Ladyface Ale Companie feels as if it's a world away from the bustling hot spots of L.A.'s craft beer scene, but the brews (and the food) are worth the drive up the 101 Freeway. An assortment of delicate Belgian ales and some local-favorite hoppy brews anchor the tap list, but the brewery's expanding barrel program is even more exciting. The patio at Ladyface is a picturesque setting to explore the magic of beer and food pairings.
29281 Agoura Road, Agoura Hills
(818) 477-4566
MacLeod Ale Brewing Co. (taproom)
Craft beer is a niche market, and MacLeod Ale is a niche within a niche. The Van Nuys brewery specializes in English-style ales served in the traditional way. This means bitters and English pale ales that are cask-conditioned and served at a balmy 58 degrees in imperial pints. Brewer Andy Black uses plenty of specially British malts, hops and yeast, and he has a knack for teasing subtle flavors from low-alcohol beers.
(818) 631-1963
Monkish Brewing Co. (taproom)
Part of the concentration of craft operations in Torrance, Monkish focuses on Belgian styles, interesting ingredients (lotus seed and hibiscus flower, for example) and wood-aged beers. Founder and brewer Henry Nguyen is not afraid of the funk, and he's obsessively collected a veritable menagerie of microorganisms in used wine barrels and giant oak vats to create his sour and wild ales.
(310) 295-2157
Mumford Brewing (taproom)
Joining the blossoming craft beer quarter in downtown L.A.'s arts district, Mumford Brewing opened quietly with a smaller footprint than the neighboring Angel City Brewery and soon-to-open Arts District Brewing and Iron Triangle Brewery. The style-blurring Black Mamba, an "American black ale," is the standout brew that layers citrusy hops on top of a roasted malt body, while the easy-drinking L.A. Crema is a more refreshing option. You can also have an oversized can (a.k.a. a "crowler") filled and sealed at the bar to enjoy at home.
(213) 346-9970
Ohana Brewing Co. tasting room (taproom)
Ohana's beers are brewed in an industrial space near downtown. Instead of an on-site taproom, the father-and-son team behind the brewery decided to open a tasting room nearby in their native Alhambra to showcase their wares. Just steps away from destination beer bar 38 Degrees Ale House on 1st Street, the Ohana Tasting Room offers taster-sized pours, growler fills and merchandise.
(213) 748-2337
Pac City Brewery (taproom)
One of the first craft breweries to open in the San Fernando Valley, Pacoima's Pac City Brewery is a small operation run out of a nondescript industrial park between the 5 and the 210 freeways. Founder Robert Cortez is hard at work introducing the vibrant flavors of craft beer to his neighborhood, and the laid-back tasting room has become a popular weekend hangout for locals thirsty for a taste of craft beer.
12780 Pierce St., No. 5, Pacoima
(213) 219-1921
Pacific Plate Brewing (taproom)
You won't find a lot of classic styles at this Monrovia nano-brewery, but the inventive brews, such as Horchata Stout, Cardamom Ginger Saison and Mango IPA, feature all manner of creative additions. Pacific Plate might be one of the smallest breweries in Los Angeles, but there is nothing small about the flavors of its beer.
(626) 239-8456
Phantom Carriage (taproom)
This atmospheric space is filled with the used wine barrels required to create the sour brews that Phantom Carriage specializes in, and a revolving list of blended house beers is available along with guest taps, cold-brewed coffee and a deep bottle list. Snacks and sandwiches are prepared on-site, and this young brewery-blendery-cafe is already developing a fervent fan base in Carson.
(310) 538-5834
Progress Brewing (taproom)
Formerly known as Federal Brewing, this South El Monte brewery is providing approachable craft brews to the San Gabriel Valley and offering an underserved community a gateway to the world of craft beer. A selection of rotating seasonal brews is offered alongside the core lineup, and food trucks regularly pull up to the taproom in the evenings.
1822 Chico Ave., South El Monte
(626) 552-9603
Red Car Brewery (brewpub)
Long before the South Bay became the center of craft beer in Los Angeles, this brewpub off Torrance Boulevard was pouring English-inspired ales and serving up sandwiches, pizza and pasta. They make a potent South Bay IPA for hop lovers, as well as a more balanced (and lower alcohol) British-style pale ale if you'd rather settle in for a few pints. Growlers are available to-go, and it's one of the South Bay's most kid-friendly craft beer locations.
(310) 782-0222
San Fernando Brewing Co. (taproom)
The offerings are limited but promising at the newest production brewery to open in the San Fernando Valley. SFB opened in July 2105 with just one beer (Stoney Stout), and they rolled out a new style weekly through the summer. The taproom is open Thursdays through Sundays, and growler fills — and more styles of beer — are planned for the future.
Sanctum Brewing Co. (taproom)
Inside the Pomona Packing Plant is a brewery that uses some interesting ingredients to distinguish its brews. From honey and Fuji apples in the Newtonian Ale to elderflower and tangerines in Tange, and even turnips in Hamish the Red, the beers at Sanctum are certainly inventive. Growlers and the occasional special release bottle are available, and a portion of proceeds from beer sales is donated to charity.
560 E. Commercial St., Unit 21, Pomona
(909) 345-0253
San Pedro Brewing Co. (brewpub)
Open since 1999, this San Pedro brewpub is one of the oldest in Los Angeles, and the beers just keep getting better. The menu's loaded with sandwiches and seafood treats, and the brews cover the classic brewpub styles (IPAs, amber ale, blond ale) with a few welcome surprises (like the Longshoreman Pilsner, a perfect choice to enjoy on the patio).
(310) 831-5663
Smog City Brewing Co. (taproom)
There are a lot of breweries in the South Bay, but none is more well regarded or well rounded than Smog City in Torrance. From palate-pummeling IPAs (Amarilla Gorilla, Hop Tonic) to quaffable lagers (Lil' Bo Pils) to farmhouse ales featuring locally foraged fruit (Kumquat Saison, brewed in partnership with the nonprofit Food Forward, whose aims is to eliminate produce waste), some of the best beers in Los Angeles are being crafted by the creative minds behind Smog City, and beer fans are catching on.
1901 Del Amo Blvd., Unit B, Torrance
(310) 320-7664
Stone Company Store (taproom)
The only Los Angeles outpost of the San Diego craft powerhouse, the Stone Company Store in Old Town Pasadena features the brewery's year-round offerings and special releases, which are available to sip on the cozy patio or to take home in growlers, bottles or even kegs. Plenty of merchandise is also available, and the brewery hosts the occasional educational event and special guest.
220 S. Raymond Ave., No. 103, Pasadena
(626) 440-7243
Strand Brewing Co. (taproom)
The first production craft brewery to open in the now jam-packed Torrance, Strand Brewing long ago outgrew its tiny brewery and tasting room, which seemed to always overflow with loyal local fans. It's secured a lease and permits for a larger facility and plans to open the new taproom this summer. Strand's signature 24th Street Pale Ale balances big hop character with plenty of malt, and it's made the brewery many fans.
Original location: 23520 Telo Ave., Torrance
(310) 517-0900
Coming soon: 2201 Dominguez St., Torrance
The Brewery at Abigaile (brewpub)
Craft beer has had a hard time finding a foothold in the region's hard-partying beach towns, but this Hermosa Beach brewpub serves up some top-tier IPAs alongside elevated pub food in a historic venue with a killer view. Things can get crowded on weekend evenings, but the Brewery at Abigaile is one of the hidden gems of the L.A. craft beer scene.
1301 Manhattan Ave., Hermosa Beach
(310) 798-8227
The Dudes' Brewing Co. (taproom)
The beach house garage vibe of this Torrance taproom belies the technology in the state-of-the-art brewery that's producing cans of such fan favorites as Double Trunk IPA and Grandma's Pecan brown ale. Tasters, growler fills and a jovial atmosphere are on offer, and the Dudes bring a dash of irreverence to the L.A. craft beer scene.
Three Weavers Brewing (taproom)
The first craft brewery in Inglewood, Three Weavers launched in 2014 with a solid lineup of core beers including Expatriate IPA, Deep Roots ESB and Stateside — a session IPA that's as good as it gets. The taproom offers growler fills and features a spacious deck for alfresco sipping, and there's a lot of space for its planned expansion.
1031 W. Manchester Blvd., Inglewood
(310) 400-5830
Timeless Pints (taproom)
Timeless Pints opened in Lakewood adjacent to the Long Beach Airport in 2013, and the brewery has developed eye-catching branding and a long list of flavorful ales. Hoppy IPAs are particularly well represented, with variations, such as a black IPA, red IPA and white IPA, offered. The taproom is open Thursdays through Sundays, and growler fills are available.
(562) 490-0099
Wolf Creek Brewery (brewpub and tasting room)
With two locations serving the Santa Clarita Valley, Wolf Creek offers both a brewpub with a lengthy menu and a straightforward taproom for pints and growler fills. Founder and brewmaster Rob McFerren makes some classic German styles, like Howlin' Heff and even a Dunkelweiss (a style rarely seen at SoCal breweries), and there are plenty of hoppy ales to pair with the brewpub food.
Brewpub:
27746 N. McBean Parkway, Valencia
(661) 263-9653
Tasting room:
25108 Rye Canyon Loop, Valencia
(661) 294-9977
UPDATE:
August 5, 11:18 a.m. This guide has been updated to include seven new brewpubs and taprooms: Belmont Brewing Co., Claremont Craft Ales, King Harbor Brewing Co. Waterfront Tasting Room, Mumford Brewing, Pac City Brewery, Red Car Brewery and San Fernando Brewing Co.
---
What goes into making beer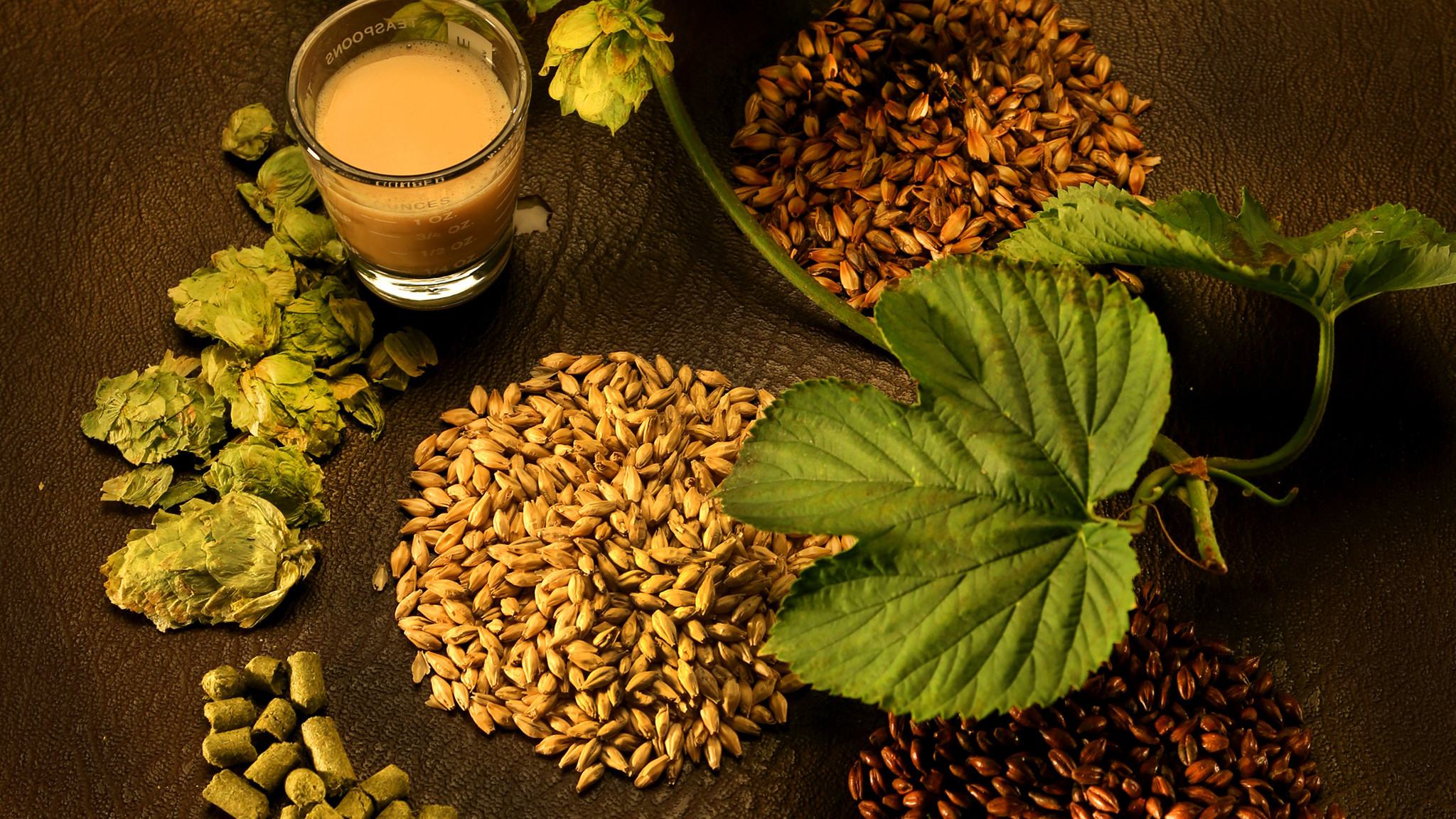 Even in the landscape of unbridled creativity and experimentation, most craft beer is still made with just four basic ingredients. Water and malted barley are steeped to create the sweet wort (a.k.a. unfermented beer), while hops are boiled in the wort to add a balancing bitterness and different flavors.
Brewer's yeast is added to the cooled liquid, and fermentation adds alcohol and carbonation to create beer. The skilled brewer can coax a nearly limitless array of flavors, aromas, colors and textures from the simple ingredients. Here are the basics on the many varieties of the four core components of craft beer.
Begin with malted barley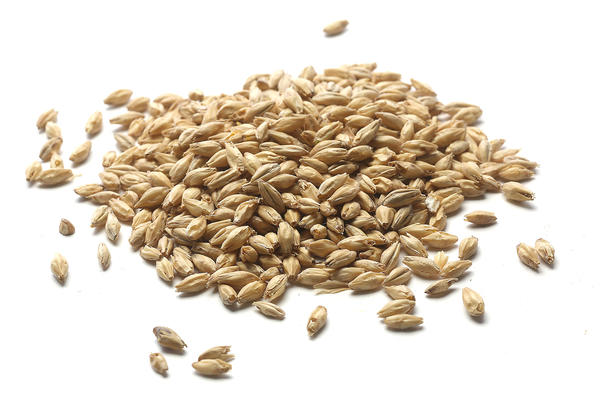 Malted barley is the foundation of beer. In addition to providing the fermentable sugars and enzymes required in the brewing process, malt lends a vast range of flavors to beer. How the germinated barley kernels are dried determines what flavor they'll have. A light kilning results in pale malt with a flavor like water crackers. Aggressive roasting will create dark or even black malt, with flavors similar to coffee and chocolate.
Malt can be stewed to create caramel flavors or toasted for complexity. Non-barley grains such as wheat and oats (or unmalted barley) are common ingredients as well, and these adjuncts can add flavor, texture or just more alcohol to a brew. A delicate pilsner will showcase the clean flavor of pale malts, while an inky stout will be roasty and acidic from the well-done malts; adding oats to the stout will provide a fuller body and a creamier head.
It's the yeast that makes the beer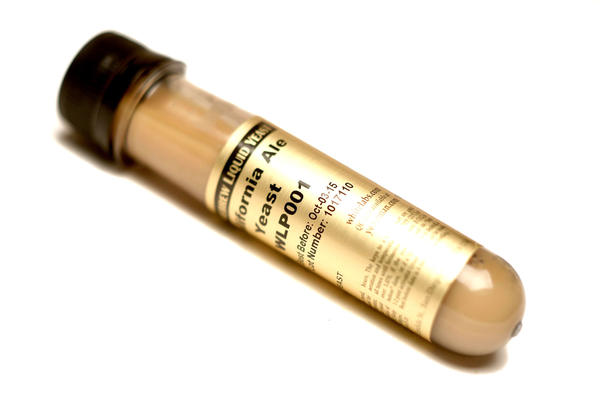 Brewers, it's said, make wort (the unfermented sweet liquor made by boiling hops and malt), but it's the yeast that makes the beer. The microorganisms gobble up all the malt sugars and excrete the alcohol, carbon dioxide and myriad flavor compounds that make beer so intoxicating and delicious. While there are two main species of brewer's yeast for the creation of ales and lagers (Saccharomyces cerevisiae and Saccharomyces pastorianus, respectively), there are dozens of strains that create different flavor profiles in the final beer. Ale yeast likes to go to work at the top of the fermenting beer in relatively warm conditions. English ale yeasts produce more fruity esters, while the California ale yeast that dominates craft-brewed beers is prized for the lack of character it imbues. Lager yeast ferments on the bottom of the beer, and it works best at cool temperatures and with long periods of post-fermentation conditioning. Lager yeast is tougher to work with, and lager beers are more time- and equipment-intensive than ales — a major reason why they are less common than ales in the craft brewing world.
What water can bring to beer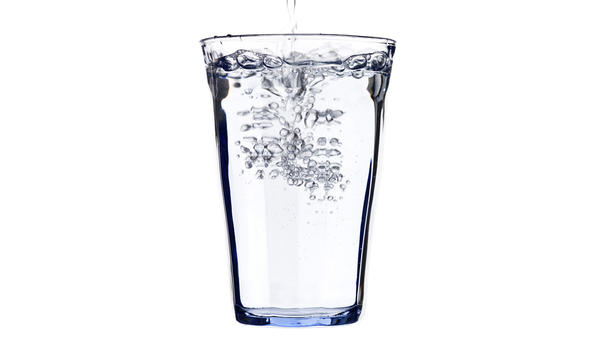 It's not the most exciting ingredient in your brew, but water is on everybody's mind these days. Subtle differences in water chemistry can have big effects on beer flavor. Historically, a brewery was limited in what beer styles it could make well by the water available. The ancestors of the IPA — the 17th century pale ales from Burton-on-Trent in England — were notable because sulfate-rich water highlighted the hop bitterness. The soft water of Pilzen allowed the unique character of the Saaz hops to shine, giving rise to the hoppy golden lagers now called pilsners. The hard water of Munich paired well with dark malts and created the dunkel style. Modern breweries can treat their brewing water to fit the beer they want to brew.
Hops, the defining ingredient in American craft beer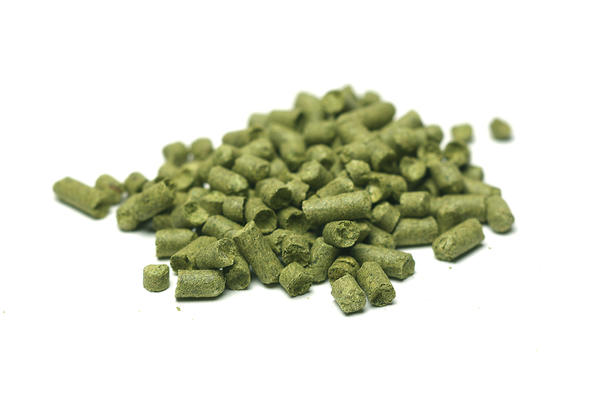 The pungent catkin of the Humulus lupulus vine, hops provide both beer's bitterness and its delightful aroma. Acids in hops provide the bitter balance to beer's malt sweetness, act as an antimicrobial and preservative agent, and lend scents to it — ranging from bright and citrusy to deep and earthy. Hoppy doesn't have to mean bitter, though, as hops added late in the brewing process (or even after fermentation, as in dry-hopping) don't add bitterness to a brew — just flavor and aroma. Hops are the defining ingredient in the American craft beer industry, which was built on the unique grapefruit and pine resin aromas of classic American hop varieties such as Cascade and Centennial. The so-called noble hops of Continental Europe (like Saaz or Hallertau) are zesty and spicy, while the earthy and fruity Fuggles and Goldings from England are equally distinct. New varieties are bred by hop cultivators to improve yield and hardiness, as well as for their new flavors. Many younger American varietals are intensely tropical and juicy, and craft brewers can't get enough of them.
Cherries, herbs, coffee: Craft brewers' creative touches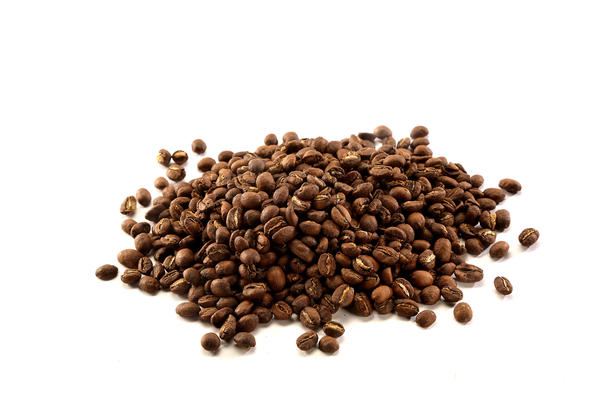 You may have heard of the centuries-old Bavarian beer purity law — now called the Reinheitsgebot — that dictated that beer could include only water, barley and hops (the Germans added yeast to the list in the late 17th century). It was a law that had more to do with tax revenue and political power than with keeping beer pure, and brewers have always flavored their brews with the bounty of the world around them. From cherries to herbs to coffee and even Graham crackers, just about anything has been tried by craft brewers. They're not all just stunt beers either. The additions of coriander and dried orange peel are all but required in Belgian witbiers, while the coffee-infused beers of L.A.'s craft brewing scene are some of the best in the country.
---
A clear-cut guide to glassware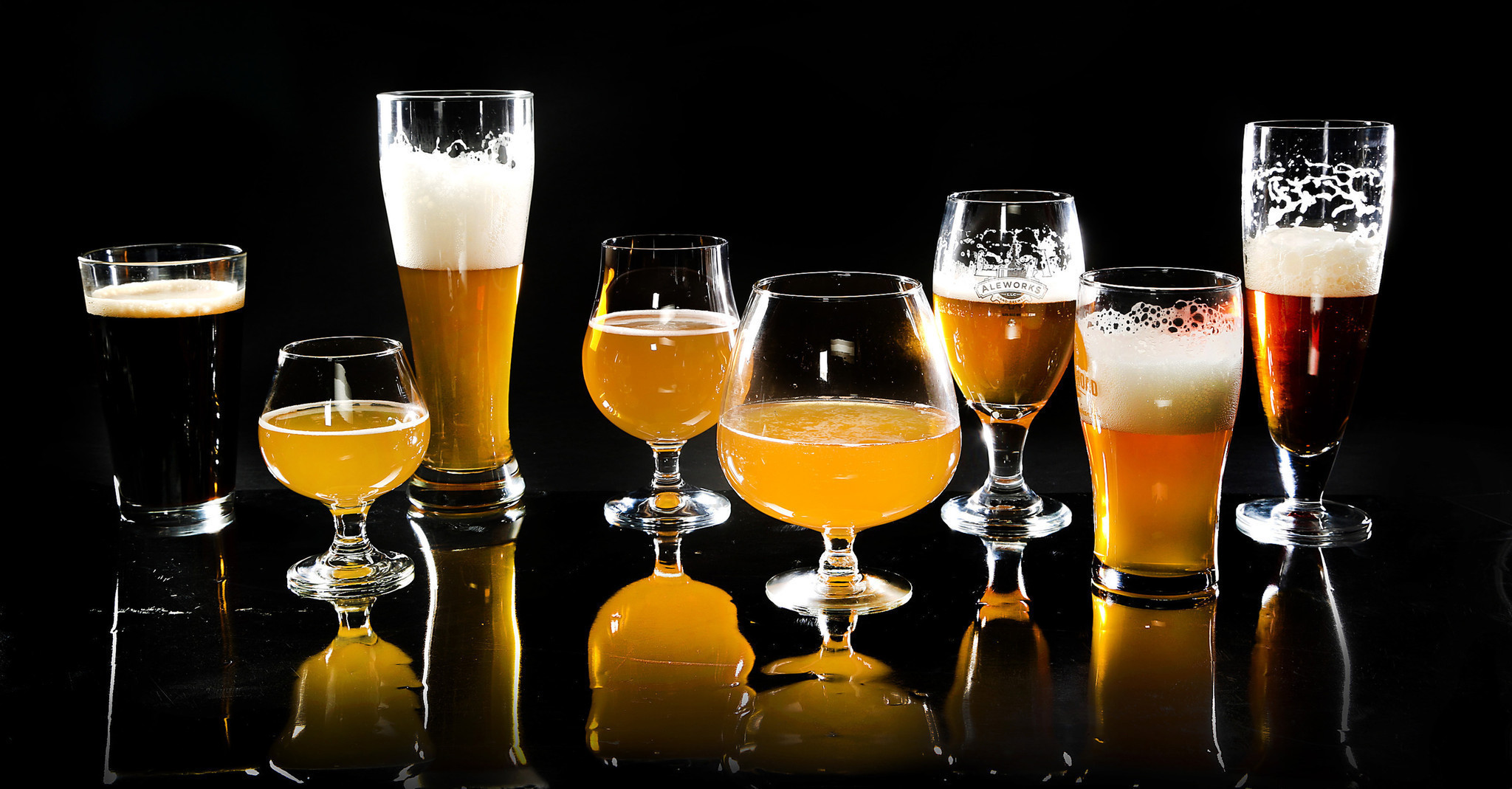 Craft beer is outgrowing the one-size-fits-all pint glass, and beer lovers are discovering a vast array of specialty glasses designed to further elevate the beverage. Wine lovers may scoff at serving a Sauvignon Blanc in the same voluminous goblet designed for Pinot, and cocktail crafters wouldn't serve a gin martini in a Collins glass, but beer is too often relegated to whatever glass is handy (or worse yet, not poured into a glass at all). As craft beer continues to find fans, many are discovering that the simple choice of which glass to use for which beer has a big effect on the drinking experience.
The best beer bars will serve each brew in a glass that best showcases that beer's particular qualities. Stronger beers typically get smaller glasses. Beyond that guideline, glass design actually has a lot of influence on the beer-drinking experience. Aroma is a critical component of tasting beer, and a glass with an inward taper helps to trap aromas and deliver them to your nose. Shape can also influence head retention — a slight flare supports more foam, and most styles should be served with a full inch of head atop the liquid beer.
A glass should show off the visual appeal of a beer, help emphasize the beer's strong points and hold a quantity appropriate for the style. The right glass won't make a mediocre beer into a great one, but the wrong glass can certainly mask subtle qualities of a complex beer. While it isn't a requirement for a good beer bar to use a variety of glassware, it can be an indicator of how seriously a venue takes its beer program. While this is hardly exhaustive, here's a list of style-appropriate beer glassware.
Why a pint glass might not be worthy of your craft beer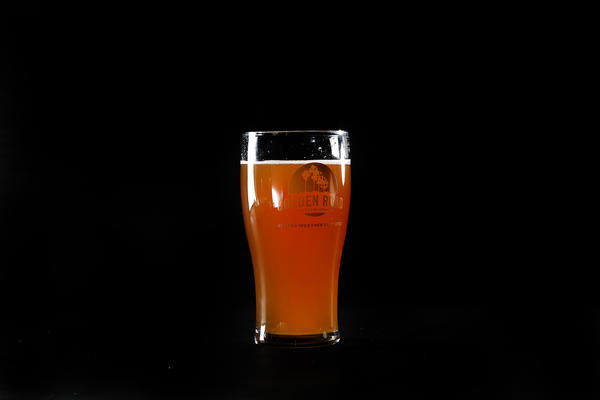 Styles: British styles, pale ales, lagers, stouts and porters
The most commonly found beer glass is undoubtedly the shaker pint glass. These flared glasses were never meant for beer. They originated as the second half of a cocktail shaker, but their low cost, durability and ease of stacking made them a popular choice and a one-glass-fits-all option for bars across the country. They're little more than serviceable for beer. The flared sides let aroma escape, and it's all too common to find a "pint" glass that holds only 14 or 12 ounces. At least they're easy to hold. The nonic pints common in Britain have a bulge below the lip; this signature feature makes the glass both easier to stack and harder to drop. While a true nonic pint will hold a full 20 ounces, the shape is seen in many different capacities.
Reach for a pilsner glass when you need to show off that pillowy head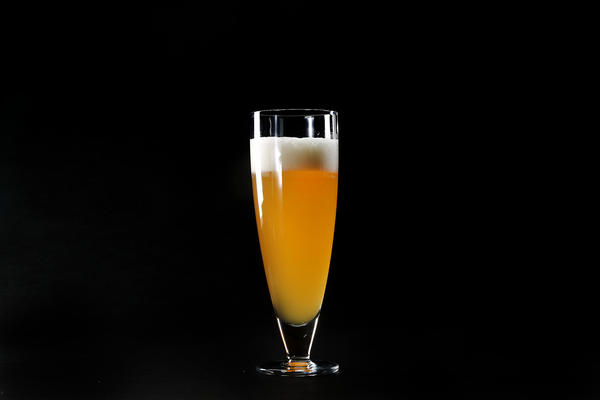 Styles: Pilsners, other golden lagers, session IPAs
Pilsner glasses are tall and slender, built to show off the brilliant clarity and sparkling effervescence of their namesake golden lagers. The gently flared sides help support the pillowy head prized in the style. Pilsner glasses usually hold 14 to 20 ounces. The classic continental lagers are having a resurgence in the U.S. craft beer industry, and these glasses are an elegant accompaniment to the balanced and drinkable lagers.
Tulip glasses go with just about everything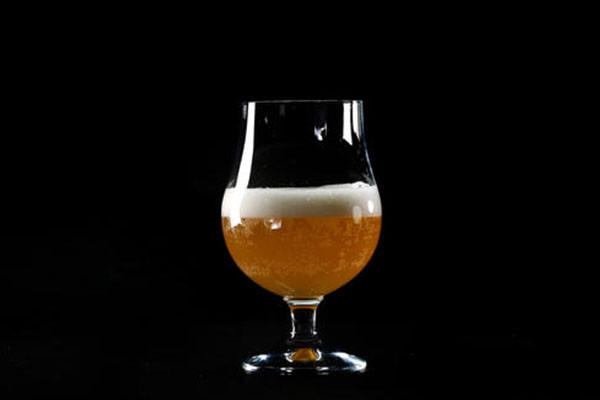 Styles: Belgian ales, IPAs and other highly aromatic styles
Originating in Belgium, the tulip shape is one of the most versatile glass styles in the beer world. The inward taper before the flared lip holds in aromas, while the flare helps support the voluminous head often seen in Belgian ales. The stem and foot allow the drinker to easily hold the glass; tulips are easily cradled in the palm of the hand if a beer needs to be warmed slightly. IPAs, robust porters, farmhouse ales and Scotch ales are all equally at home in a tulip glass — there's hardly a style that doesn't fit. If you're going to have only a few dedicated beer glasses on hand at home, make them tulips (ideally with a capacity of around 16 ounces).
Snifter glass etiquette: Fill just to the halfway point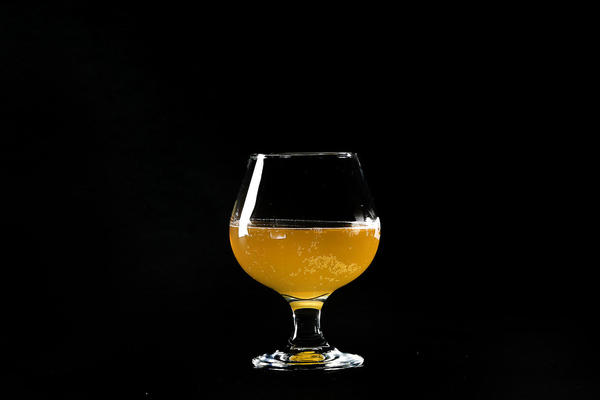 Styles: Imperial stouts, barley wines, old ales and other high-alcohol brews
Usually smaller than the brandy glasses on which it's based, the beer snifter is designed to concentrate the aroma of a potent brew and encourage the contemplative swirl-and-sip consumption of complex styles. Capacities from 8 to 12 ounces are most common, though these glasses should only be filled to about the halfway point, to ensure there's plenty of room for all those scents to collect.
A big, strong beer demands a big, strong goblet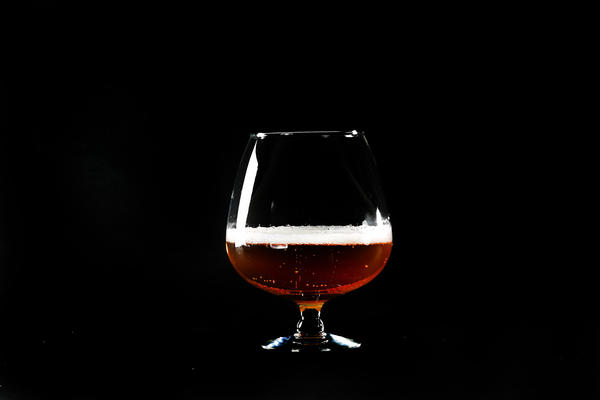 Styles: Strong Belgian ales, bocks, stouts
Similar to both a snifter and a tulip, "goblet" is a catch-all term for a stemmed glass with a fairly straight-sided bowl. The Belgian brewers love to create signature shapes and designs for goblets to pair with their brands, and it's commonly used at beer bars for moderately strong Old World styles, imperial IPAs and big stouts.
The tall curves of a Weissbier vase help contain extra-foamy heads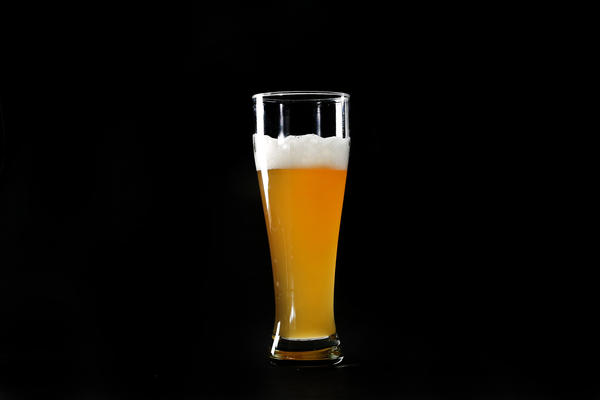 Styles: Hefeweizens, Belgian witbiers and other wheat beers
These tall and gently curvaceous glasses are oversized to help contain the masses of head that wheat beers like German hefes and Belgian wits are known to produce; the extra protein in the wheat makes these brews extra-foamy. Sometimes they'll get garnished with a slice of lemon or orange, and they also make a fine vessel for a mixed-at-home shandy or radler.
---
The pros and cons of kegs, bottles, cans and growlers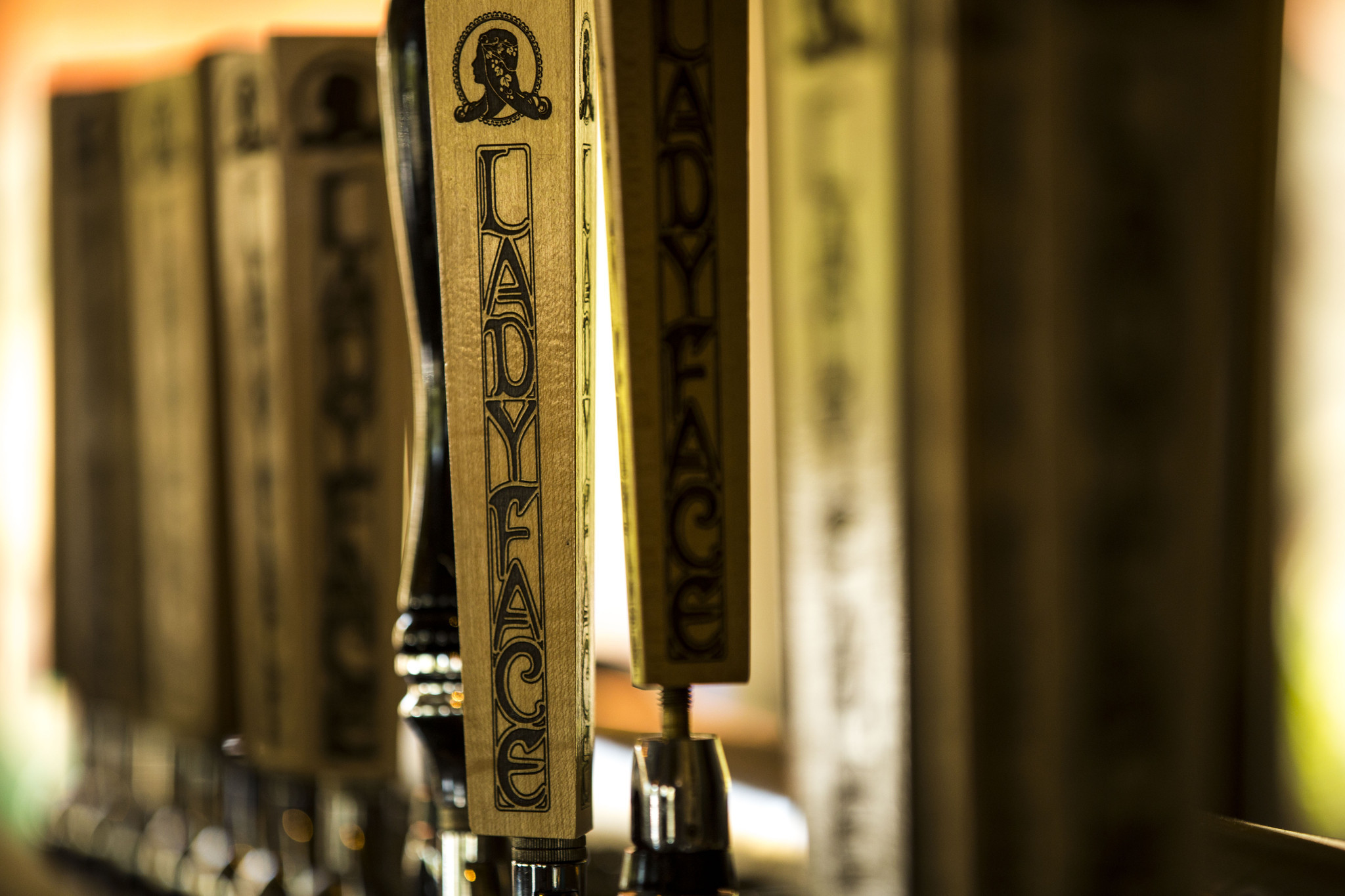 In the days before craft beer challenged the dominance of American lager beers, the hierarchy of how a brew was packaged was simple: Draft was best, glass was an acceptable convenience, and cans were relegated to bargain brands and barbecues.
In today's complex beer marketplace of multinational conglomerates, craft breweries and imported brands, the lines are not so clearly drawn. There are many choices for the modern beer consumer, and each method for getting beer from the brewery to your glass has its pros and cons.
Kegs are nearly ideal, but watch out for dirty tap lines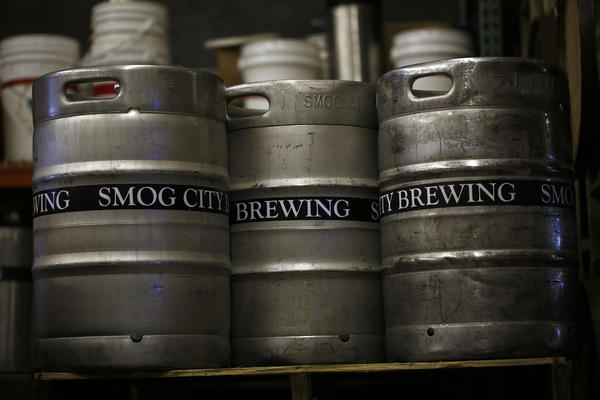 Few things in the world of craft beer are finer than a freshly (and correctly) poured pint of draft beer. A good beer bar will serve the tapped brew at the correct temperature and with the correct levels of carbonation. The craft beer industry is built on kegged beer, and kegs provide a nearly ideal environment for the storage of beer. They prevent exposure to light and oxygen, and they're an economical way of storing and serving beer. In the craft beer world, there are two common sizes: the half-barrel (about 15 gallons) and the tall and slim "sixtel," which holds one-sixth of a barrel (about 5 gallons). Kegs of craft beer should always be stored cold, and they have a shelf life of about two months.
Pros: Sealed kegs not only prevent harmful exposure, they also provide versatile service options, such as long-draw draft systems and portable picnic taps. Draft infrastructure is ubiquitous, kegs are nearly endlessly reusable, and they're an economical and easy method of distribution for even small breweries.
Cons: Of course, lots can go wrong when serving kegged beer, and the most common (and dire) issue is when a bar has dirty tap lines. The hoses that carry the beer from the keg to the spout can harbor various yeasts and bacteria that will taint the flavor of an otherwise delicious pint unless they're regularly cleaned and flushed. If you've ever had a draft pour that tasted like nickels or sour milk or was oddly hazy, then you've experienced dirty draft lines. Improperly carbonated beer (either really foamy or nearly flat) is also all too common in bars and restaurants.
Avoid "skunky" beer: Reach for brown glass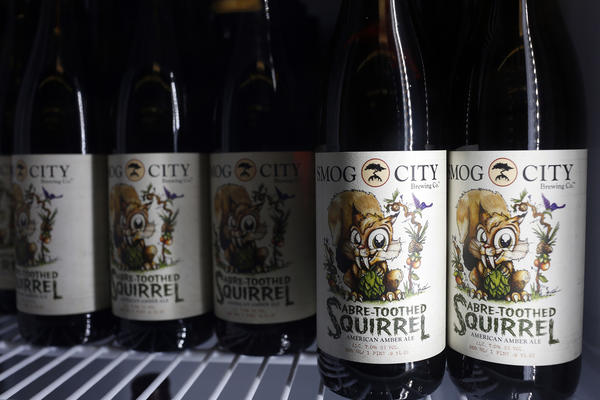 Bottled beer dominated the marketplace for decades, and bottle-conditioning is a traditional aspect to many Belgian and Old World styles. This refermentation in the bottle provides a natural carbonation and increased stability. It's still used by some producers today, particularly for specialty brews and Belgian styles.
Pros: A variety of sizes, including the common 12-ounce longnecks and 3-liter jeroboams (or even larger). Glass is easily and readily recyclable.
Cons: Glass is comparatively heavy and, of course, breakable, but the worst aspect of bottles is when they're made of clear or green glass. Beer is extremely sensitive to UV light; when a beer is "light struck," the UV radiation causes a chemical reaction resulting in that skunky aroma that anyone who's had a Corona on the beach is familiar with. (Clear and green glass don't block the UV light as well as brown glass.)
Think of cans as mini-kegs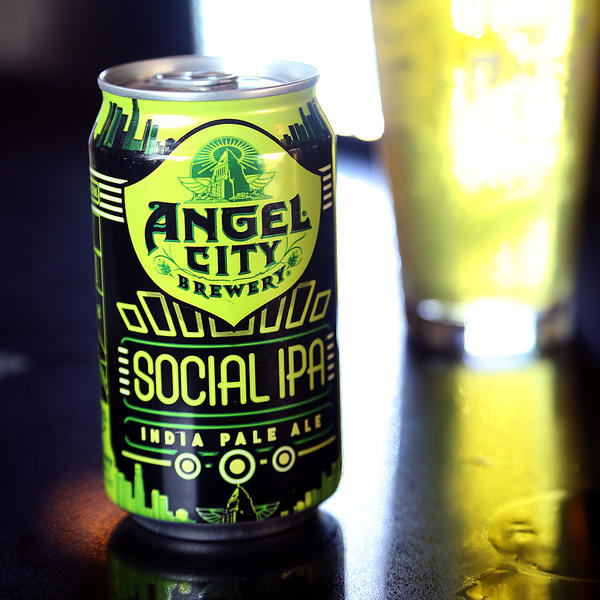 The new darling of craft breweries across the country, it's increasingly common to find a variety of craft brews packaged in cans at local retailers. Cans have long had a bad rap for tainting the flavor of beer, but that really only happens when you're drinking directly from the pop-top. Modern cans are lined to prevent any direct beer-on-metal contact. (Pour your craft beer from a can into a glass and you'd never know.)
Pros: Cans are an ideal vessel for beer storage — think of them like a mini-keg that prevents any light or oxygen from affecting the brew. They're lighter and more durable than bottles and can go places that glass bottles can't (like the trail and the pool), and are also easily recyclable.
Cons: Currently, the lining inside cans is made with BPA, the troublesome compound that many believe can cause health issues. The Food and Drug Administration, however, says only infants and children need to worry about BPA exposure — and they shouldn't be drinking your IPA anyway. Aluminum refining is also notoriously damaging to the environment.
Growlers: Fresh draft beer at home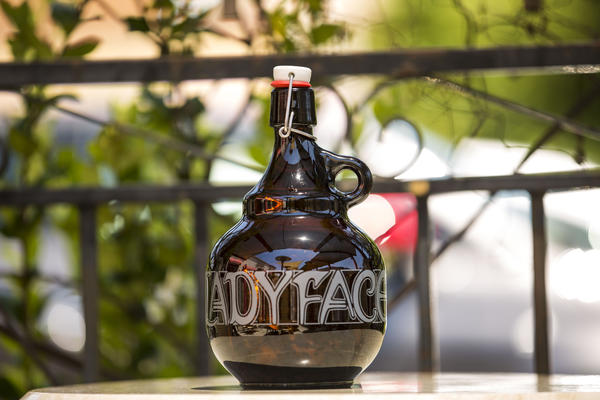 "Growler" is the colloquial term for the jug that local brewers can fill from their taps so you can enjoy their brews at home. They come in a variety of shapes, sizes and styles, but the most common are 1- and 2-liter glass jugs with either a screw-on cap or a ceramic stopper affixed to a bail-top. Due to laws and regulations in California, only breweries and their tasting rooms can fill growlers (in many other states, any beer retailer can fill growlers), and there are some specific laws about how the containers must be labeled. Each brewery abides by those regulations slightly differently, and as a result some will fill blank jugs or even jugs from other breweries, but more will only fill a growler that features their own name, logo and address.
Pros: Fresh draft beer at home! Often, filling a growler at a local brewery is more economical than buying the same beer in bottles, and you can usually get fills of beers that aren't otherwise available packaged.
Cons: Growlers have a shelf-life of only a few days once filled, and once that seal is broken it's best to finish the jug in a single evening. You'll get the best results if you keep the growler cold once it is filled.
---
Additional credits
Food Editor: Amy Scattergood
Additional photography: Kent Nishimura, Rick Loomis,
Brian van der Brug, Julie Verive, Getty Images/iStockphoto
Photo editor: Kathy M.Y. Pyon
Digital production: Sean Greene, Sahil Chinoy
Digital editors: Alexandra Le Tellier, Rene Lynch
Copy editor: Bobbi Olson